When:
December 5, 2021 @ 2:00 pm – 4:00 pm
2021-12-05T14:00:00-05:00
2021-12-05T16:00:00-05:00
Where:
Fleck Dance Theatre - 3rd Floor
207 Queens Quay W
Toronto, ON M5J 1A7
Canada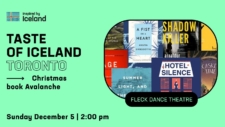 Andri Snær Magnason will be in attendance as a guest at the Taste of Iceland event in Toronto! The event will be giving away copies of his book, On Time and Water (March 30, 2021).
The pre-registration form for the event is available here.
Roland Gulliver, director of the Toronto International Festival of Authors, welcomes literary enthusiasts to Fleck Dance Theatre for an engaging discussion about the beloved Icelandic tradition of Jólabókaflóð, also known as the "Christmas book avalanche." During the round table, Icelandic Writer and Poet Thora Hjörleifsdóttir, Icelandic Writer Einar Kárason, Canadian author of The Bjorkan Sagas, Harold R. Johnson, and internationally bestselling Canadian Novelist Shari Lapena discuss the Jólabókaflóð custom and parallels to Canadian culture. In line with Jólabókaflóð traditions, Inspired by Iceland: North America is gifting a wrapped book to each attendee after the event for guests to open with their families during the upcoming holiday celebrations.
ABOUT ON TIME AND WATER
A few years ago, Andri Snær Magnason, one of Iceland's most beloved writers and public intellectuals, was asked by a leading climate scientist why he wasn't writing about the greatest crisis mankind has faced. Magnason demurred: he wasn't a specialist, he said; it wasn't his field. But the scientist persisted: "If you cannot understand our scientific findings and present them in an emotional, psychological, poetic or mythological context," he told him, "then no one will really understand the issue, and the world will end."
Based on interviews and advice from leading glacial, ocean, climate, and geographical scientists, and interwoven with personal, historical, and mythological stories, Magnason's response is a rich and compelling work of narrative nonfiction that illustrates the reality of climate change—and offers hope in the face of an uncertain future. Moving from reflections on how one writes an obituary for an iceberg to exhortation for a heightened understanding of human time and our obligations to one another, throughout history and across the globe, On Time and Water is both deeply personal and globally-minded: a travel story, a world history, and a desperate plea to live in harmony with future generations. Already a massive bestseller in Iceland, and selling in two dozen territories around the world, this is a book unlike anything that has yet been published on the current climate emergency.
ABOUT ANDRI SNÆR MAGNASON
Andri Snær Magnason is one of Iceland's most celebrated writers. He has won the Icelandic Literary Prize for fiction, children's fiction, and non-fiction. In 2009, Magnason co-directed the documentary Dreamland, which was based on his book Dreamland: A Self-Help Manual for a Frightened Nation (forthcoming from Open Letter). In 2010, Magnason was awarded the Kairos Prize, presented to outstanding individuals in the field of intercultural understanding. Magnason ran for president of Iceland in 2016 and came third out of nine candidates.
Get your copy of On Time and Water from Biblioasis here!
https://www.biblioasis.com/wp-content/uploads/2021/11/magnason-toronto.jpg
788
1399
biblioasis
http://biblioasis.com/wp-content/uploads/2014/12/BIBLIOASIS-Logo-500x500-White-300x300.png
biblioasis
2021-11-29 10:20:12
2021-12-01 09:58:02
Taste of Iceland Toronto