Marcello Di Cintio at Word on the Street Saskatoon!
When:
September 17, 2022 @ 2:45 pm – 3:45 pm
2022-09-17T14:45:00-04:00
2022-09-17T15:45:00-04:00
Where:
The Refinery
609 Dufferin Ave
Saskatoon
Saskatchewan S7N 1C4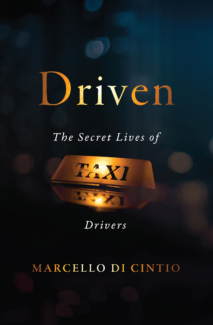 Join Marcello Di Cintio, author of Driven: The Secret Lives of Taxi Drivers (May 4, 2021), at Word on the Street in Saskatoon! Marcello will be reading at the Nonfiction event alongside Jerry Haigh (Reindeer Reflections). The event will take place on Saturday, September 17 at 2:45PM CST.
More details here.
Order your copy of Driven here!
Shortlisted for the Bressani Literary Prize • A Globe and Mail Book of the Year • A CBC Books Best Canadian Nonfiction of 2021
In conversations with drivers ranging from veterans of foreign wars to Indigenous women protecting one another, Di Cintio explores the borderland of the North American taxi.
"The taxi," writes Marcello Di Cintio, "is a border." Occupying the space between public and private, a cab brings together people who might otherwise never have met—yet most of us sit in the back and stare at our phones. Nowhere else do people occupy such intimate quarters and share so little. In a series of interviews with drivers, their backgrounds ranging from the Iraqi National Guard, to the Westboro Baptist Church, to an arranged marriage that left one woman stranded in a foreign country with nothing but a suitcase, Driven seeks out those missed conversations, revealing the unknown stories that surround us.
Travelling across borders of all kinds, from battlefields and occupied lands to midnight fares and Tim Hortons parking lots, Di Cintio chronicles the many journeys each driver made merely for the privilege to turn on their rooflight. Yet these lives aren't defined by tragedy or frustration but by ingenuity and generosity, hope and indomitable hard work. From night school and sixteen-hour shifts to schemes for athletic careers and the secret Shakespeare of Dylan's lyrics, Di Cintio's subjects share the passions and triumphs that drive them.
Like the people encountered in its pages, Driven is an unexpected delight, and that most wondrous of all things: a book that will change the way you see the world around you. A paean to the power of personality and perseverance, it's a compassionate and joyful tribute to the men and women who take us where we want to go.
Marcello Di Cintio is the author of four books, including Walls: Travels Along the Barricades which won the Shaughnessy Cohen Prize for Political Writing and the W. O. Mitchell City of Calgary Book Prize, and Pay No Heed to the Rockets: Palestine in the Present Tense – also a W. O. Mitchell Prize winner. Di Cintio's magazine writing has appeared in publications such as The International New York Times, The Walrus, Canadian Geographic and Afar. Di Cintio has served as a writer-in-residence at the Calgary Public Library, the University of Calgary, and the Palestine Writing Workshop, and he teaches nonfiction writing at the annual WordsWorth youth writing residency.
https://www.biblioasis.com/wp-content/uploads/2020/02/9781771963848_FC-scaled.jpg
2560
1675
biblioasis
http://biblioasis.com/wp-content/uploads/2014/12/BIBLIOASIS-Logo-500x500-White-300x300.png
biblioasis
2022-09-12 10:50:41
2022-09-12 10:50:41
Marcello Di Cintio at Word on the Street Saskatoon!