Poetry Reading: Luke Hathaway & Alexandra Oliver
When:
August 24, 2022 @ 7:00 pm – 8:30 pm
2022-08-24T19:00:00-04:00
2022-08-24T20:30:00-04:00
Where:
Biblioasis Bookshop
1520 Wyandotte St E
Windsor, ON N9A 3L2
Canada

Join us for an evening of poetry! Luke Hathaway (The Affirmations) and Alexandra Oliver (Hail, the Invisible Watchman) will be reading from their latest collections of poetry. The event will take place at Biblioasis Bookshop on Wednesday, August 24 at 7PM. More details here.
About the space: wheelchair accessible, no public restrooms, mask recommended.
Get your copy of The Affirmations here!
Get your copy of Hail, the Invisible Watchman here!
"…a trans-mystical work of love and change…"—Ali Blythe, author of Hymnswitch
The mystics who coined the phrase 'the way of affirmation' understood the apocalyptic nature of the word yes, the way it can lead out of one life and into another. Moving among the languages of Christian conversion, Classical metamorphosis, seasonal transformation, and gender transition, Luke Hathaway tells the story of the love that rewired his being, asking each of us to experience the transfiguration that can follow upon saying yes—with all one's heart, with all one's soul, with all one's mind, with all one's strength … and with all one's body, too.
Luke Hathaway is a trans poet who teaches English and Creative Writing at Saint Mary's University in Kjipuktuk/Halifax. He has been before now at some time boy and girl, bush, bird, and a mute fish in the sea. His book Years, Months, and Days was named a best book of 2018 in The New York Times. He mentors new librettists as a faculty member in the Amadeus Choir's Choral Composition Lab, and makes music with Daniel Cabena as part of the metamorphosing ensemble ANIMA.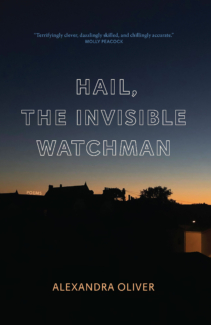 ABOUT HAIL, THE INVISIBLE WATCHMAN
The poems in Hail, the Invisible Watchman are as tidy as a picket-fence—and as suggestive. Behind the charms of iambs lurks a dark exploration of domestic and social alienation. Metered rhyme sets the tone like a chilling piano score as insidiousness creeps into the neighbourhood. A spectral narrator surveils social gatherings in the town of Sherbet Lake; community members chime in, each revealing their various troubles and hypocrisies; an eerie reimagining of an Ethel Wilson novel follows a young woman into a taboo friendship with an enigmatic divorcée. In taut poetic structures across three succinct sections, Alexandra Oliver's conflation of the mundane and the phantasmagoric produces a scintillating portrait of the suburban uncanny.
Alexandra Oliver was born in Vancouver, BC. She is the author of three collections published through Biblioasis: Meeting the Tormentors in Safeway (2013; recipient of the Pat Lowther Memorial Award), Let the Empire Down ( 2016), and Hail, the Invisible Watchman (2022). Her libretto for From the Diaries of William Lyon Mackenzie King, conceived in conjunction with composer Scott Wilson at the University of Birmingham, was performed by Continuum Music in Toronto in December, 2017. Oliver is a past co-editor of Measure for Measure: An Anthology of Poetic Meters (Everyman's Library/Random House, 2015) as well as of the formalist journal The Rotary Dial. She has performed her work for CBC Radio and NPR, as well as at The National Poetry Slam and numerous festivals and conferences. Oliver holds an MFA in Creative Writing from the University of Southern Maine's Stonecoast program and a Ph.D. in English and Cultural Studies from McMaster University. She lives in Burlington, Ontario with her husband and son.
https://www.biblioasis.com/wp-content/uploads/2022/08/poetry-biblio.jpg
503
960
biblioasis
http://biblioasis.com/wp-content/uploads/2014/12/BIBLIOASIS-Logo-500x500-White-300x300.png
biblioasis
2022-08-09 10:05:02
2022-08-09 10:05:02
Poetry Reading: Luke Hathaway & Alexandra Oliver