Apr
15
Sat
Clark Blaise at Imagination Festival

@ Morrin Centre
Apr 15 @ 5:30 pm – 6:30 pm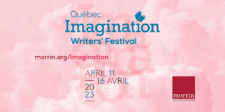 Join author Clark Blaise at the Imagination Festival, where he will be discussing his recent book This Time, That Place with host Laura Rohard! The event will take place at the Morrin Centre on Saturday, April 15 at 5:30PM ET.
Tickets and details here.
Order Clark's books now at La Maison Anglaise and the Festival will receive 30% of the sale! Click here.
Or, get your copy of This Time, That Place from Biblioasis here!
Check out Clark Blaise's other works here.
"Blaise is probably the greatest living Canadian writer most Canadians have never heard of."—Quill & Quire
"If you want to understand something about what life was like in the restless, peripatetic, striving, anxiety-ridden, shimmer cultural soup of the late twentieth and early twenty-first centuries," writes Margaret Atwood, "read the stories of Clark Blaise." This Time, That Place draws together twenty-four stories that span the entirety of Blaise's career, including one never previously published. Moving swiftly across place and time, through and between languages—from Florida's Confederate swamps, to working-class Pittsburgh, to Montreal and abroad—they demonstrate Blaise's profound mastery of the short story and reveal the range of his lifelong preoccupation with identity as fallacy, fable, and dream.
This Time, That Place: Selected Stories confirms Clark Blaise as one of the best and most enduring masters of the form—on either side of our shared borders.
Clark Blaise (1940–), Canadian and American, is the author of 20 books of fiction and nonfiction. A longtime advocate for the literary arts in North America, Blaise has taught writing and literature at Emory, Skidmore, Columbia, NYU, Sir George Williams, UC-Berkeley, SUNY-Stony Brook, and the David Thompson University Centre. In 1968, he founded the postgraduate Creative Writing Program at Concordia University; he after went on to serve as the Director of the International Writing Program at Iowa (1990-1998), and as President of the Society for the Study of the Short Story (2002-present). Internationally recognized for his contributions to the field, Blaise has received an Arts and Letters Award for Literature from the American Academy (2003), and in 2010 was made an Officer of the Order of Canada.
Apr
22
Sat
Emily Urquhart at GritLit

@ Homewood Suites by Hilton Hamilton
Apr 22 @ 12:30 pm – 2:30 pm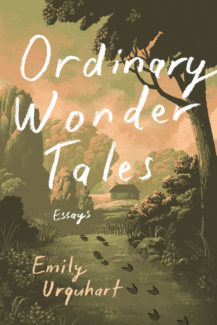 Emily Urquhart, author of Ordinary Wonder Tales, will be appearing at GritLit in Hamilton! Emily will be running a creative writing workshop at the Homewood Suites by Hilton Hamilton on Saturday, April 22 at 12:30PM (ET).
More details here.
Grab your copy of Ordinary Wonder Tales here!
"This book is magical in every sense of the term."—Amanda Leduc, author of The Centaur's Wife and Disfigured: On Fairy Tales, Disability, and Making Space
A journalist and folklorist explores the truths that underlie the stories we imagine—and reveals the magic in the everyday.
"I've always felt that the term fairy tale doesn't quite capture the essence of these stories," writes Emily Urquhart. "I prefer the term wonder tale, which is Irish in origin, for its suggestion of awe coupled with narrative. In a way, this is most of our stories." In this startlingly original essay collection, Urquhart reveals the truths that underlie our imaginings: what we see in our heads when we read, how the sight of a ghost can heal, how the entrance to the underworld can be glimpsed in an oil painting or a winter storm—or the onset of a loved one's dementia. In essays on death and dying, pregnancy and prenatal genetics, radioactivity, chimeras, cottagers, and plague, Ordinary Wonder Tales reveals the essential truth: if you let yourself look closely, there is magic in the everyday.
Emily Urquhart is a journalist with a doctorate in folklore. Her award-winning work has appeared in Longreads, Guernica, and The Walrus and elsewhere, and her first book was shortlisted for the Kobo First Book Prize and the BC National Award for Canadian Nonfiction. Her most recent book, The Age of Creativity: Art, Memory, my Father and Me, was listed as a top book of 2020 by CBC, NOW Magazine and Quill & Quire. She is a nonfiction editor for The New Quarterly and lives in Kitchener, Ontario.