Apr
8
Sat
Luke Hathaway at LaHave Books

@ LaHave Books
Apr 8 @ 4:00 pm – 6:00 pm
Come on down to LaHave Books, where poet Luke Hathaway will be reading from his latest collection, The Affirmations. Luke will be joined in reading and conversation by fellow poets Lisa McCabe and Michael Goodfellow. The event will take place on Saturday, April 8 at 4PM ADT.
Get your copy of The Affirmations here!
Winner of the 2021 Confederation Poets Prize • One of The Times' Best Poetry Books of 2022 • A CBC Best Poetry Book of 2022
"…a trans-mystical work of love and change…"—Ali Blythe, author of Hymnswitch
The mystics who coined the phrase 'the way of affirmation' understood the apocalyptic nature of the word yes, the way it can lead out of one life and into another. Moving among the languages of Christian conversion, Classical metamorphosis, seasonal transformation, and gender transition, Luke Hathaway tells the story of the love that rewired his being, asking each of us to experience the transfiguration that can follow upon saying yes—with all one's heart, with all one's soul, with all one's mind, with all one's strength … and with all one's body, too.
Luke Hathaway is a trans poet who teaches English and Creative Writing at Saint Mary's University in Kjipuktuk/Halifax. He has been before now at some time boy and girl, bush, bird, and a mute fish in the sea. His book Years, Months, and Days was named a best book of 2018 in The New York Times. He mentors new librettists as a faculty member in the Amadeus Choir's Choral Composition Lab, and makes music with Daniel Cabena as part of the metamorphosing ensemble ANIMA.
Apr
27
Thu
Pascal's Fire: Montreal Launch!

@ De Stiil Booksellers
Apr 27 @ 7:00 pm – 8:00 pm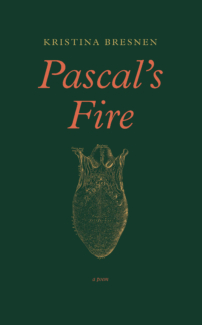 Join us for the launch of Kristina Bresnen's debut poetry collection, Pascal's Fire! Kristina will be reading from the collection, followed by a Q&A and book signing. The launch will take place at De Stiil Booksellers on Thursday, April 27 at 7PM.
Get your copy of Pascal's Fire here!
An unnamed speaker navigates a world where God comes in the shape of a cardinal, speaks in the voice of Georgia O'Keeffe, and paints the desert with bones.
Driven by sound, heartbreak, and the baffling limits and possibilities of language, a nameless speaker sets out into a dream-like wilderness where lyric and narrative meet, time dissolves, and figures as various as Moses, the apostle Paul, Virginia Woolf, Blaise Pascal, and Zora Neale Hurston gather in a colloquy. Born from a region of preachers and stuttering prophets, from the gift of tongues and psalms of lament and praise, Pascal's Fire negotiates the wonder of the unknown and the tension of belief and confronts the vulnerability of speech where it brushes up against death and grief, wind and desert heat, unquenchable thirst and the steady sound of an IV drip.
Kristina Bresnen has published poems in Canada and the US. She is from Montreal and currently lives in Vancouver.
May
27
Sat
Richard Sanger Memorial Event

@ Cecil Community Centre
May 27 @ 12:00 pm – 2:00 pm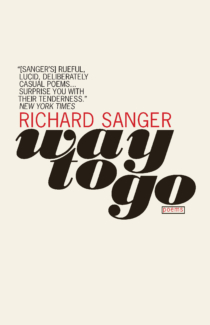 Join us for a memorial to Richard Sanger and a launch for his forthcoming collection Way to Go (April 4 2023). The event will take place at the Cecil Community Centre in Toronto on Saturday, May 27.
Time and details TBA.
Order your copy of Way to Go here!
A jubilant, irreverent, generous collection by a poet facing terminal illness.
Following his New York Times Best of the Year Dark Woods, Richard Sanger's fourth and final book is a clear-eyed and big-hearted inventory of the passions of a life well lived. Understated, tender, archly funny and achingly generous, Way to Go is a joyful catalog of Sanger's loves and a last gift from an irrepressibly jubilant poet.
So many springs and falls and pounces,
So many vintages crushed
And dripping through our fingers,
So many nights and letters ending love,
You'd think we'd long since drained the cup.
Richard Sanger (1960–2022) grew up in Ottawa and lived in Toronto. He published three poetry collections and a chapbook, Fathers at Hockey (2020); Dark Woods, was named one of the top ten poetry books of 2018 by the New York Times. His plays included Not Spain, Two Words for Snow, Hannah's Turn, and Dive as well as translations of Calderon, Lorca, and Lope de Vega. He also published essays, reviews, and poetry translations.