Doireann Ní Ghríofa at the Belfast Book Festival
When:
June 11, 2021 @ 2:00 pm – 3:00 pm
2021-06-11T14:00:00-04:00
2021-06-11T15:00:00-04:00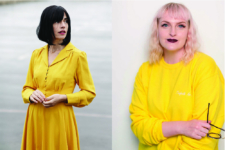 Join Doireann Ní Ghríofa (virtually, of course) at the Belfast Book Festival on June 11, 2021 at 7 PM IST / 2 PM EDT for Life, Death & The Body In Ireland: Doireann Ní Ghríofa & Sophie White. Hosted by Aine Toner, the event features Doireann Ní Ghríofa and Sophie White, two of Ireland's most exciting, innovative writers.
The event costs £3, and you can register now here!
ABOUT A GHOST IN THE THROAT
When we first met, I was a child, and she had been dead for centuries.
On discovering her murdered husband's body, an eighteenth-century Irish noblewoman drinks handfuls of his blood and composes an extraordinary lament. Eibhlín Dubh Ní Chonaill's poem travels through the centuries, finding its way to a new mother who has narrowly avoided her own fatal tragedy. When she realizes that the literature dedicated to the poem reduces Eibhlín Dubh's life to flimsy sketches, she wants more: the details of the poet's girlhood and old age; her unique rages, joys, sorrows, and desires; the shape of her days and site of her final place of rest. What follows is an adventure in which Doireann Ní Ghríofa sets out to discover Eibhlín Dubh's erased life—and in doing so, discovers her own.
Moving fluidly between past and present, quest and elegy, poetry and those who make it, A Ghost in the Throat is a shapeshifting book: a record of literary obsession; a narrative about the erasure of a people, of a language, of women; a meditation on motherhood and on translation; and an unforgettable story about finding your voice by freeing another's.
ABOUT THE AUTHOR
Doireann Ní Ghríofa is author of six critically-acclaimed books of poetry, whose awards include the Rooney Prize for Irish Literature and a Seamus Heaney Fellowship (Queen's University). Her debut book of prose is the bestselling A Ghost in the Throat, which finds the 18th-century poet Eibhlín Dubh Ní Chonaill haunting the life of a contemporary young mother, prompting her to turn detective, and of which the Sunday Times writes: "Sumptuous, almost symphonic, in its intensity … As readers, we should be grateful for her boldness. Without it, we would not have had one of the best books of this dreadful year."
Find out more about A Ghost in the Throat at Biblioasis.
https://www.biblioasis.com/wp-content/uploads/2021/05/bbf21-life-death-and-the-body-in-ireland-02.jpeg
667
1000
biblioasis
http://biblioasis.com/wp-content/uploads/2014/12/BIBLIOASIS-Logo-500x500-White-300x300.png
biblioasis
2021-05-05 16:12:35
2021-06-03 17:23:14
Doireann Ní Ghríofa at the Belfast Book Festival