Examining Trauma Narratives: Stéphanie Clermont & Elise Levine
When:
March 30, 2022 @ 7:00 pm – 8:00 pm
2022-03-30T19:00:00-04:00
2022-03-30T20:00:00-04:00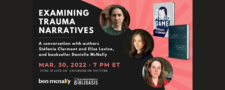 Join us virtually as Stéfanie Clermont (The Music Game) and Elise Levine (Say This) meet in conversation with bookseller Danielle McNally! The conversation will focus on examining fictional trauma narratives, a relevant theme in both books. The event will take place online on Wednesday, March 30 at 7PM ET.
You can RSVP to the livestream on Facebook, or set a reminder to watch on YouTube.
Order The Music Game here!
Order Say This here!
Not far away from here is a lake. You have to pay for access to its shores, but I know where there's a hole in the fence.
The water will be icy, but it will still be in a liquid state.
That's what I will do today. I will go through the hole in the fence and I'll dive into the icy water.
And then I'll go home.
Friends since grade school, Céline, Julie, and Sabrina come of age at the start of a new millennium, supporting each other and drifting apart as their lives pull them in different directions. But when their friend dies by suicide in the abandoned city lot where they once gathered, they must carry on in the world that left him behind—one they once dreamed they would change for the better. From the grind of Montreal service jobs, to isolated French Ontario countryside childhoods, to the tenuous cooperation of Bay Area punk squats, the three young women navigate everyday losses and fears against the backdrop of a tumultuous twenty-first century. An ode to friendship and the ties that bind us together, Stéfanie Clermont's award-winning The Music Game confronts the violence of the modern world and pays homage to those who work in the hope and faith that it can still be made a better place.
Born and raised in Ottawa, Ontario, Stéfanie Clermont travelled throughout Canada and the United States, working at a wide variety of jobs, before settling in Montreal in 2012. The Music Game, her first book, won the prestigious Ringuet Prize of the Quebec Academy of Arts and Letters, the Quebec Arts Council's prize for a new work by a young artist, and the Adrienne Choquette Prize for short stories. It was a finalist for the Grand Prix du Livre de Montréal and was included in Le Combat des livres, the French-language counterpart of Canada Reads.
Two crystalline novellas linked by one devastating crime: Say This is an immersive meditation on the interplay between memory, trauma, and narrative.
It's a cold spring in Baltimore, 2018, when the email arrives: the celebrity journalist hopes Eva will tell him everything about the sexual affair she had as a teen with her older cousin, a man now in federal prison for murder. Thirteen years earlier, Lenore-May answers the phone to the nightmare news that her stepson's body has been found near Mount Hood, and homicide is suspected. Following Eva's unsettling ambivalence towards her confusing relationship, and constructing a portrait of her cousin's victim via collaged perspectives of the slain man's family, these two linked novellas borrow, interrogate, sometimes dismantle the tropes of true crime; lyrically render the experiences of grief and dissociation; and brilliantly mine the fault lines of power and consent, silence, justice, accountability, and class. Say This is a startling exploration of the devastating effects of trauma on personal identity.
Elise Levine's Say This: Two Novellas is forthcoming in March 2022. She is also the author of the recent story collection This Wicked Tongue, the novels Blue Field and Requests and Dedications, and the story collection Driving Men Mad. Her work has appeared in publications including Ploughshares, Blackbird, The Gettysburg Review, and has appeared four times in Best Canadian Stories. She lives in Baltimore, MD, and teaches in the MA in Writing program at Johns Hopkins University.
https://www.biblioasis.com/wp-content/uploads/2022/03/tmgst-event-10x4-1.png
800
2000
biblioasis
http://biblioasis.com/wp-content/uploads/2014/12/BIBLIOASIS-Logo-500x500-White-300x300.png
biblioasis
2022-03-28 14:53:38
2022-03-28 14:53:38
Examining Trauma Narratives: Stéphanie Clermont & Elise Levine