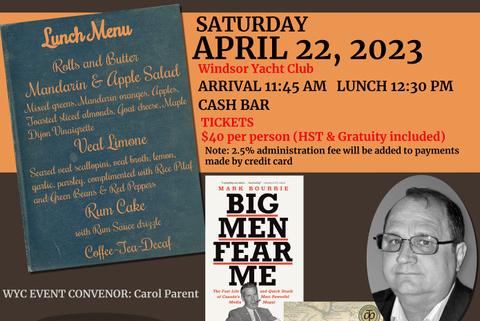 Mark Bourrie at the Windsor Yacht Club
When:
April 22, 2023 @ 11:45 am – 2:00 pm
2023-04-22T11:45:00-04:00
2023-04-22T14:00:00-04:00
Where:
Windsor Yacht Club
9000 Riverside Dr E
Windsor, ON N8S 1H1
Canada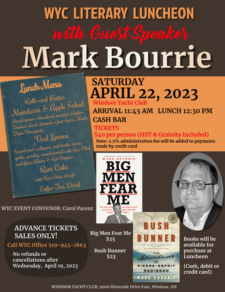 Join author Mark Bourrie at the Windsor Yacht Club! Mark will be attending a lunch at the club, where he will be reading and signing copies of his books, Big Men Fear Me and Bush Runner. The event will also feature an interview with Mark by Windsor's own poet laureate, Peter Hrastovec. The event will take place on Saturday, April 22 at 12PM ET.
Tickets are $40 per person. To purchase tickets call the WYC Office at 519-945-1863.
More details here.
Get your copy of Big Men Fear Me here!
Get your copy of Bush Runner, here!
The remarkable true story of the rise and fall of one of North America's most influential media moguls.
When George McCullagh bought The Globe and The Mail and Empire and merged them into the Globe and Mail, the charismatic 31-year-old high school dropout had already made millions on the stock market. It was just the beginning of the meteoric rise of a man widely expected to one day be prime minister of Canada. But the charismatic McCullagh had a dark side. Dogged by the bipolar disorder that destroyed his political ambitions and eventually killed him, he was all but written out of history. It was a loss so significant that journalist Robert Fulford has called McCullagh's biography "one of the great unwritten books in Canadian history"—until now.
In Big Men Fear Me, award-winning historian Mark Bourrie tells the remarkable story of McCullagh's inspirational rise and devastating fall, and with it sheds new light on the resurgence of populist politics, challenges to collective action, and attacks on the free press that characterize our own tumultuous era.
WINNER OF THE 2020 RBC TAYLOR PRIZE • AS SEEN ON GLOBAL NEWS-TV'S THE MORNING SHOW
Murderer. Salesman. Pirate. Adventurer. Cannibal. Co-founder of the Hudson's Bay Company.
Known to some as the first European to explore the upper Mississippi, and widely as the namesake of ships and hotel chains, Pierre-Esprit Radisson is perhaps best described, writes Mark Bourrie, as "an eager hustler with no known scruples." Kidnapped by Mohawk warriors at the age of fifteen, Radisson assimilated and was adopted by a powerful family, only to escape to New York City after less than a year. After being recaptured, he defected from a raiding party to the Dutch and crossed the Atlantic to Holland—thus beginning a lifetime of seized opportunities and frustrated ambitions.
A guest among First Nations communities, French fur traders, and royal courts; witness to London's Great Plague and Great Fire; and unwitting agent of the Jesuits' corporate espionage, Radisson double-crossed the English, French, Dutch, and his adoptive Mohawk family alike, found himself marooned by pirates in Spain, and lived through shipwreck on the reefs of Venezuela. His most lasting venture as an Arctic fur trader led to the founding of the Hudson's Bay Company, which operates today, 350 years later, as North America's oldest corporation.
Sourced from Radisson's journals, which are the best first-hand accounts of 17th century Canada, Bush Runner tells the extraordinary true story of this protean 17th-century figure, a man more trading partner than colonizer, a peddler of goods and not worldview—and with it offers a fresh perspective on the world in which he lived.
Mark Bourrie is an Ottawa-based author, lawyer, and former journalist. He holds a master's in Journalism from Carleton University and a PhD in History from the University of Ottawa. In 2017, he was awarded a Juris Doctor degree and was called to the Bar in 2018. He has won numerous awards for his journalism, including a National Magazine Award, and received the RBC Charles Taylor Prize in 2020 for his book Bush Runner: The Adventures of Pierre Radisson.
https://www.biblioasis.com/wp-content/uploads/2022/11/23-04-22-WYC-Literary-Luncheon.jpeg
622
480
biblioasis
http://biblioasis.com/wp-content/uploads/2014/12/BIBLIOASIS-Logo-500x500-White-300x300.png
biblioasis
2022-11-08 11:21:21
2023-03-10 15:16:57
Mark Bourrie at the Windsor Yacht Club