On Decline Virtual Launch
When:
September 9, 2021 @ 5:30 pm – 6:30 pm
2021-09-09T17:30:00-04:00
2021-09-09T18:30:00-04:00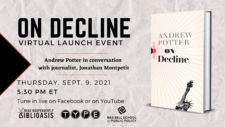 Join us for the virtual launch of our next Field Note, Andrew Potter's On Decline! We'll be streaming live on Facebook and on YouTube on Thursday, Sept. 9 at 5:30PM EDT. Andrew Potter will be be joined in conversation by Jonathan Montpetit, journalist with CBC. Stick around until the end, and you could win a copy of On Decline!
ABOUT ON DECLINE
What if David Bowie really was holding the fabric of the universe together?
The death of David Bowie in January 2016 was a bad start to a year that got a lot worse: war in Syria, the Zika virus, terrorist attacks in Brussels and Nice, the Brexit vote—and the election of Donald Trump. The end-of-year wraps declared 2016 "the worst … ever." Four even more troubling years later, the question of our apocalypse had devolved into a tired social media cliché. But when COVID-19 hit, journalist and professor of public policy Andrew Potter started to wonder: what if The End isn't one big event, but a long series of smaller ones?
In On Decline, Potter surveys the current problems and likely future of Western civilization (spoiler: it's not great). Economic stagnation and the slowing of scientific innovation. Falling birth rates and environmental degradation. The devastating effects of cultural nostalgia and the havoc wreaked by social media on public discourse. Most acutely, the various failures of Western governments in their responses to the COVID-19 pandemic. If the legacy of the Enlightenment and its virtues—reason, logic, science, evidence—has run its course, how and why has it happened? And where do we go from here?
ABOUT ANDREW POTTER
Andrew Potter is an associate professor (professional) at the Max Bell School of Public Policy. A former journalist, between 2011 and 2016 Andrew Potter was managing editor and then editor in chief of the Ottawa Citizen, and from 2006 to 2011 he was a public affairs columnist for Maclean's Magazine. He is also a former Director of the McGill Institute for the Study of Canada. Potter is the author of The Authenticity Hoax: How We Get Lost Finding Ourselves, and the co-author, with Joseph Heath, of the best-selling book The Rebel Sell: Why the Culture Can't be Jammed.
Order your copy from Biblioasis here!
https://www.biblioasis.com/wp-content/uploads/2021/08/potter-launch.jpg
1080
1920
biblioasis
http://biblioasis.com/wp-content/uploads/2014/12/BIBLIOASIS-Logo-500x500-White-300x300.png
biblioasis
2021-08-27 15:09:06
2021-09-08 09:53:52
On Decline Virtual Launch