On the Origin Virtual Launch
When:
September 15, 2021 @ 6:00 pm – 7:00 pm
2021-09-15T18:00:00-04:00
2021-09-15T19:00:00-04:00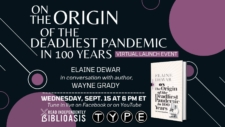 You're invited to the virtual launch of the next compelling addition to our Field Notes series, Elaine Dewar's On the Origin of the Deadliest Pandemic in 100 Years! We'll be streaming live on Wednesday, Sept. 15 at 6PM EDT. Elaine Dewar will be be joined in conversation by Wayne Grady, Canadian writer, editor, and translator. Stick around until the end, and you could win a copy of On the Origin of the Deadliest Pandemic in 100 Years!
You can watch on Facebook Live or on YouTube! Stay tuned for more details.
ABOUT ON THE ORIGIN OF THE DEADLIEST PANDEMIC IN 100 YEARS
In this compelling whodunnit, Elaine Dewar reads the science, follows the money, and connects the geopolitical interests to the spin.
When the first TV newscast described a SARS-like flu affecting a distant Chinese metropolis, investigative journalist Elaine Dewar started asking questions: Was SARS-CoV-2 something that came from nature, as leading scientists insisted, or did it come from a lab, and what role might controversial experiments have played in its development? Why was Wuhan the pandemic's ground zero—and why, on the other side of the Atlantic, had two researchers been marched out of a lab in Winnipeg by the RCMP? Why were governments so slow to respond to the emerging pandemic, and why, now, is the government of China refusing to cooperate with the World Health Organization? And who, or what, is DRASTIC?
Locked down in Toronto with the world at a standstill, Dewar pored over newspapers and magazines, preprints and peer-reviewed journals, email chains and blacked-out responses to access to information requests; she conducted Zoom interviews and called telephone numbers until someone answered as she hunted down the truth of the virus's origin. In this compelling whodunnit, she reads the science, follows the money, connects the geopolitical interests to the spin—and shows how leading science journals got it wrong, leaving it to interested citizens and junior scientists to pull out the truth.
ABOUT ELAINE DEWAR
Elaine Dewar—author, journalist, television story editor—has been honoured by nine National Magazine awards, including the prestigious President's Medal, and the White Award. Her first book, Cloak of Green, delved into the dark side of environmental politics and became an underground classic. Bones: Discovering the First Americans, an investigation of the science and politics regarding the peopling of the Americas, was a national bestseller and earned a special commendation from the Canadian Archaeological Association. The Second Tree: of Clones, Chimeras, and Quests for Immortality, won Canada's premier literary non-fiction prize from the Writers' Trust. Called "Canada's Rachel Carson," Dewar aspires to be a happy warrior for the public good.
Order your copy from Biblioasis here!
https://www.biblioasis.com/wp-content/uploads/2021/08/dewar-launch.jpg
1080
1920
biblioasis
http://biblioasis.com/wp-content/uploads/2014/12/BIBLIOASIS-Logo-500x500-White-300x300.png
biblioasis
2021-08-27 15:12:32
2021-09-08 09:55:52
On the Origin Virtual Launch