Quickie Reads with Kristyn Dunnion & Shannon Quinn
When:
December 7, 2021 @ 7:00 pm – 8:00 pm
2021-12-07T19:00:00-05:00
2021-12-07T20:00:00-05:00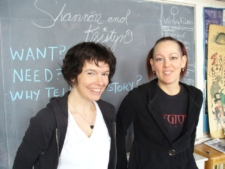 Join in virtually for this fast and furious live literary event featuring Poetess Shannon Quinn, reading from her new collection Mouthful of Bees, published by Mansfield Press (November 2021), and Authoress Kristyn Dunnion, reading from the ReLit Award winning Stoop City, published by Biblioasis (September 22, 2020). The event will be hosted on Zoom on December 7 at 7PM EDT. There will also be a book giveaway!
More details available on Kristyn Dunnion's author page on Facebook here.
Link to join here!
ABOUT STOOP CITY
Welcome to Stoop City, where your neighbours include a condo-destroying cat, a teen queen beset by Catholic guilt, and an emergency clinic staffed entirely by lovelorn skeptics. Couples counseling with Marzana, her girlfriend's ghost, might not be enough to resolve past indiscretions; our heroine could need a death goddess ritual or two. Plus, Hoofy's not sure if his missing scam-artist boyfriend was picked up by the cops, or by that pretty blonde, their last mark. When Jan takes a room at Plague House, her first year of university takes an unexpected turn—into anarcho-politics and direct action, gender studies and late-night shenanigans with Saffy, her captivating yet cagey housemate.
From the lovelorn Mary Louise, who struggles with butch bachelorhood, to rural teens finding—and found by—adult sexualities, to Grimm's "The Golden Goose" rendered as a jazz dance spectacle, Kristyn Dunnion's freewheeling collection fosters a radical revisioning of community. Dunnion goes wherever there's a story to tell—and then, out of whispers and shouts, echoes and snippets, gritty realism and speculative fiction, illuminates the delicate strands that hold us all together.
ABOUT KRISTYN DUNNION
Kristyn Dunnion grew up in Essex County, the southernmost tip of Canada, and now lives in Toronto. She is the author of six books, including Tarry This Night and The Dirt Chronicles, a Lambda Literary Award finalist. Her short fiction is widely published, most recently in Best Canadian Stories 2020, Foglifter, Orca: A Literary Journal, and Toronto 2033. Dunnion works supporting homeless adults with serious mental illness, and has been a healthy food advocate for marginalized communities in Davenport-Perth, where she resides.
Get your copy of Stoop City from Biblioasis here!
https://www.biblioasis.com/wp-content/uploads/2021/11/257413094_4641232719248053_3992513832260334354_n.jpg
720
960
biblioasis
http://biblioasis.com/wp-content/uploads/2014/12/BIBLIOASIS-Logo-500x500-White-300x300.png
biblioasis
2021-11-17 15:22:01
2021-11-17 15:22:01
Quickie Reads with Kristyn Dunnion & Shannon Quinn