Stoop City Virtual Book Launch
When:
September 22, 2020 @ 7:00 pm – 8:00 pm
2020-09-22T19:00:00-04:00
2020-09-22T20:00:00-04:00
Contact:
Facebook Live by Biblioasis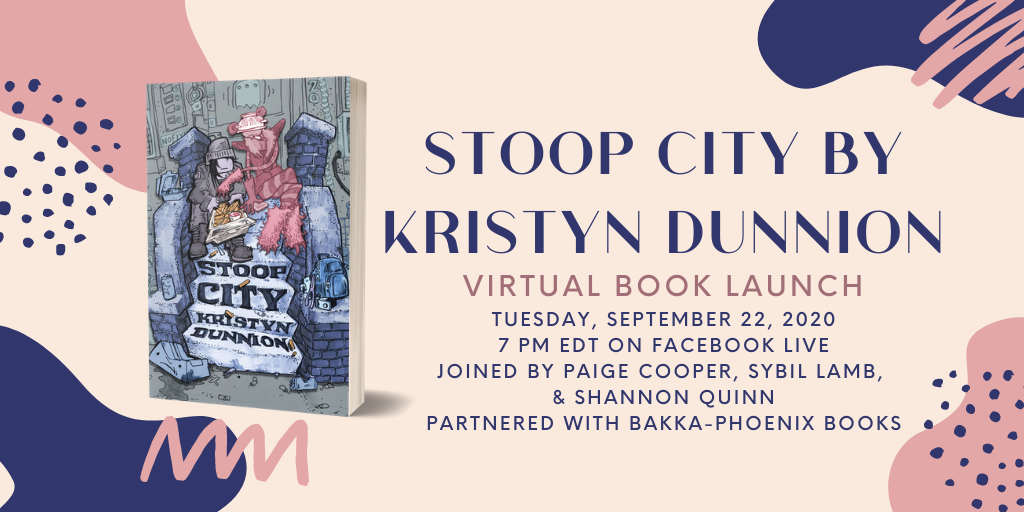 You're invited to the virtual book launch for Kristyn Dunnion's STOOP CITY. Kristyn will be joined for the event by Paige Cooper, Sybil Lamb, and Shannon Quinn. Biblioasis is partnering with Bakka-Phoenix Books as the co-host. Tune in on September 22 at 7 PM for a reading, discussion, and even book bingo! You could win a signed copy of the short story collection.
We'll be streaming the event live on on our Facebook page. The video link will be shared closer to the event date.
ABOUT STOOP CITY:
Welcome to Stoop City, where your neighbours include a condo-destroying cat, a teen queen beset by Catholic guilt, and an emergency clinic staffed entirely by lovelorn skeptics. Couples counseling with Marzana, her girlfriend's ghost, might not be enough to resolve past indiscretions; our heroine could need a death goddess ritual or two. Plus, Hoofy's not sure if his missing scam-artist boyfriend was picked up by the cops, or by that pretty blonde, their last mark. When Jan takes a room at Plague House, her first year of university takes an unexpected turn—into anarcho-politics and direct action, gender studies and late-night shenanigans with Saffy, her captivating yet cagey housemate.
From the lovelorn Mary Louise, who struggles with butch bachelorhood, to rural teens finding—and found by—adult sexualities, to Grimm's "The Golden Goose" rendered as a jazz dance spectacle, Kristyn Dunnion's freewheeling collection fosters a radical revisioning of community. Dunnion goes wherever there's a story to tell—and then, out of whispers and shouts, echoes and snippets, gritty realism and speculative fiction, illuminates the delicate strands that hold us all together.
ABOUT KRISTYN DUNNION:
Kristyn Dunnion grew up in Essex County, the southernmost tip of Canada, and now lives in Toronto. She is the author of six books, including Tarry This Night and The Dirt Chronicles, a Lambda Literary Award finalist. Her short fiction is widely published, most recently in Best Canadian Stories 2020, Foglifter, Orca: A Literary Journal, and Toronto 2033. Dunnion works supporting homeless adults with serious mental illness, and has been a healthy food advocate for marginalized communities in Davenport-Perth, where she resides. Visit her website: http://kristyndunnion.com/
ABOUT PAIGE COOPER:
Paige Cooper's debut collection of short stories, Zolitude, won the 2018 Concordia University First Book Prize, and was nominated for the Scotiabank Giller Prize, the Governor General's Literary Award for Fiction, the Paragraphe Hugh MacLennan Prize for Fiction, and the Danuta Gleed Award. CBC, Toronto Star, The Walrus, Globe and Mail, The Puritan, and Quill & Quire all listed it among their best books of 2018. She's the editor of Best Canadian Stories 2020. Visit her website: www.paigecooper.com
ABOUT SYBIL LAMB:
Sybil Lamb is the author of the forthcoming illustrated YA novel The Girl Who Was Convinced Beyond All Reason that She Could Fly (Arsenal Pulp Press, October 2020). Her writing and art have appeared in books, magazines, comix, alleys and tattoos. Her novel I've Got a Time Bomb was published by Topside Press. Visit her website: http://www.lilybutterland.com/home/
ABOUT SHANNON QUINN:
Shannon Quinn is the author of two collections of poetry. Quinn lives in Toronto, Dish with One Spoon Territory. She has a passion for cats and sweatpants and when possible, cats in sweatpants. Visit her website: www.shannonquinnpoetry.com
BAKKA-PHOENIX BOOKS:
Pick up a copy of STOOP CITY at Bakka-Phoenix Books or your other local independent bookstore, or pre-order it online:
https://www.bakkaphoenixbooks.com/
http://biblioasis.com/wp-content/uploads/2014/12/BIBLIOASIS-Logo-500x500-White-300x300.png
0
0
biblioasis
http://biblioasis.com/wp-content/uploads/2014/12/BIBLIOASIS-Logo-500x500-White-300x300.png
biblioasis
2020-08-27 14:13:06
2020-09-09 17:36:53
Stoop City Virtual Book Launch