The Practice of Translation
When:
June 26, 2021 @ 2:00 pm – 3:00 pm
2021-06-26T14:00:00-04:00
2021-06-26T15:00:00-04:00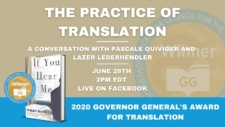 Join us for a conversation with Pascale Quiviger and Lazer Lederhendler as we celebrate If You Hear Me's Governor General Literary Award for Translation win. Quiviger and Lederhendler will discuss their writing processes, the translation process, and reflect on their time working together on If You Hear Me.
The event will also include a Q&A with the audience and a book giveaway! Stay tuned for more details on our Facebook page here.
Buy a copy of the book here!
ABOUT IF YOU HEAR ME
In an instant, a life can change forever. After he falls from a scaffold on the construction site where he works, David, deep in a coma, is visited regularly by his wife, Caroline, and their six-year-old son Bertrand. Yet despite their devotion, there seems to be no crossing the divide between consciousness and the mysterious world David now inhabits. Devastated by loss and the reality that their own lives must go on, the mourners face difficult questions. How do we communicate when language fails? When, and how, do we move forward? What constitutes a life, and can there be such a thing as a good death? All the while, David's inner world unfolds, shifting from sensory perceptions, to memories of loved ones, to nightmare landscapes from his family's past in WWII Poland.
Elegantly translated by Lazer Lederhendler, If You Hear Me is a gripping account of a woman's struggle to let go of the husband whose mind is lost to her while his body lives on in the bittersweet present, and a deft rendering of the complexity of grief, asking what it means to be alive and how we learn to accept the unacceptable—while at the same time bearing witness to the enduring power of hope, and the ways we find peace in unexpected places.
ABOUT PASCALE QUIVIGER
Born in Montreal, Pascale Quiviger studied visual arts, earned an M.A. in philosophy and did an apprenticeship in print-making in Rome. She has published four novels, a book of short stories and a book of poems, and has written and illustrated two art books. Her novel The Perfect Circle won the Governor General's Literary Award for Fiction in French, and, in English translation, was a finalist for the Giller Prize. The Breakwater House was a finalist for the Prix France-Québec, and If You Hear Me was translated into Spanish. A resident of Italy for more than a decade, Pascale Quiviger now lives with her family in Nottingham, England.
ABOUT LAZER LEDERHENDLER
Lazer Lederhendler is a full-time literary translator specializing in Québécois fiction and non-fiction. His translations have earned awards and distinctions in Canada, the U.K., and the U.S.A. He has translated the works of noted authors including Gaétan Soucy, Nicolas Dickner, Edem Awumey, Perrine Leblanc, and Catherine Leroux. He lives in Montreal with the visual artist Pierrette Bouchard.
https://www.biblioasis.com/wp-content/uploads/2021/06/Translation_Event.jpeg
1080
1920
biblioasis
http://biblioasis.com/wp-content/uploads/2014/12/BIBLIOASIS-Logo-500x500-White-300x300.png
biblioasis
2021-06-03 16:41:07
2021-06-03 16:41:07
The Practice of Translation