The World at My Back: Ottawa Launch!
When:
May 7, 2023 @ 6:00 pm – 8:00 pm
2023-05-07T18:00:00-04:00
2023-05-07T20:00:00-04:00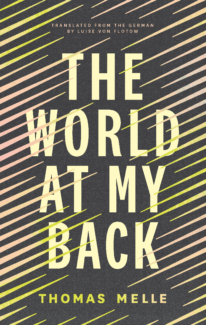 Join us in Ottawa for the launch of The World at My Back by Thomas Melle, translated by Luise von Flotow! The launch, hosted by Luise von Flotow, will take place on Sunday, May 7 at 6PM.
More details TBA.
Grab your copy of The World at My Back here!
A FINALIST FOR THE GERMAN BOOK PRIZE • TRANSLATED INTO EIGHTEEN LANGUAGES
Addicted to culture, author Thomas Melle has built up an impressive personal library. His heart is in these books, and he loves to feel them at his back, their promise and challenge, as he writes. But in the middle of a violent dissociative episode, when they become ballast to his increasingly manic self, he disperses almost overnight what had taken decades to gather. Nor is this all he loses: descending further into an incomprehensible madness, he loses friendships and his career as a novelist and celebrated playwright, but the most savage cruelty is that he no longer either knows or understands himself.
Vulnerable and claustrophobic, shattering and profoundly moving, Thomas Melle's The World at My Back is a book dedicated to the impossibility of reclaiming what has been lost, its lines both a prayer and reminder that, on the other side of madness, other possibilities await.
Born in Bonn, Germany, Thomas Melle studied at the University of Tübingen, the University of Texas at Austin, and the Free University of Berlin. His novels Sickster and 3000 Euros were finalists for German Book Prize in 2011 and 2014 respectively. Melle is also a prolific playwright and translator. His translations from English to German have ranged from plays by William Shakespeare to novels by William T. Vollmann. The World at My Back, also a finalist for the German Book Prize, was a bestseller in Germany. It was made into a highly successful stage play, and has been translated into eighteen languages. Thomas Melle lives in Berlin.
Luise von Flotow teaches translation studies at the University of Ottawa School of Translation and Interpretation. Her recent translations include, from German, They Divided the Sky by Christa Wolf, and Everyone Talks About the Weather…We Don't by Ulrike Meinhof; and, from French, The Four Roads Hotel by France Théoret. She has twice been a finalist for the Governor General's Award for Literary Translation.
https://www.biblioasis.com/wp-content/uploads/2022/10/9781771964517_FC-1.jpg
2481
1575
biblioasis
http://biblioasis.com/wp-content/uploads/2014/12/BIBLIOASIS-Logo-500x500-White-300x300.png
biblioasis
2023-04-27 10:25:28
2023-04-27 10:38:20
The World at My Back: Ottawa Launch!