Things Are Against Us Virtual Launch
When:
September 26, 2021 @ 2:00 pm – 3:00 pm
2021-09-26T14:00:00-04:00
2021-09-26T15:00:00-04:00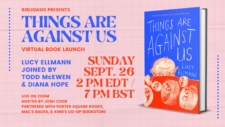 You're invited to join us for the virtual launch of Lucy Ellmann's debut essay collection, Things Are Against Us!
Tune in live on Sunday, September 26 at 2PM EDT / 7PM BST. Lucy Ellmann will be joined in conversation by Todd McEwen and Diana Hope. The event will be hosted by Josh Cook. Biblioasis is partnering with King's Co-op Bookstore (Halifax, NS), Porter Square Books (Cambridge, MA), and Mac's Backs (Cleveland Heights, OH) for the event. There will be a reading, discussions, an audience Q&A, and a book giveaway. You could win a copy of THINGS ARE AGAINST US!
We'll be streaming live on Facebook and YouTube. RSVP to stay up to date!
ABOUT THINGS ARE AGAINST US
"It's somehow hard not to be optimistic in the hands of a writer so angry and intelligent."—Patrick Ness, Guardian
Things fall apart; the centre cannot hold. As Yeats pointed out, things have a lot to answer for. These satirical essays jauntily tackle the obstinacy, incorrigibility, and recalcitrance of things, Laura Ingalls Wilder's unimpressive descriptions of the construction of bobsleds and door latches, and the way we try to stand on our own two feet, put our best foot forward, remain footloose and fancy-free, and inevitably put our foot in it. They also cover the first suggestion the internet offers when you look up the word 'women' (spoiler: it's shoes) and other annoyances (some fatal) of male supremacy, the nobility of buttons, and what the rejection of tourists by Jordanian donkeys should mean for global travel (stop!). Ingrid Bergman and Jane Austen come into it somewhere (Helen Gurley Brown was forcibly removed).
Early versions of some of these essays have appeared in international outlets of record, but others are brand-new and ready for your delectation.
ABOUT LUCY ELLMANN
Here's the thing: Lucy Ellmann is extremely shy. She's so awkward and self-conscious that meeting strangers, or almost anyone, exhausts her. She's lousy at remembering names. She cannot add or subtract. She hates having appointments in her diary and prefers to wear the same outfit every day. She's a helpless iconoclast much prone to anger. She's also distrustful, lazy, and easily hurt. She is not a team player. She prefers interrupting people to organising them, and cries if she doesn't get her way. She fears she's neglected everybody she knows, and vice versa—not to mention people she doesn't know. She can't stand protocol, committees, business hours, ceremonial occasions, and filling out forms. And she never wants to be carried through a crowd on a palanquin. Otherwise, the world's her oyster! She has written seven novels, including Sweet Desserts (Guardian Fiction Prize) and Ducks, Newburyport (Goldsmiths Prize, James Tait Black Memorial Prize), and an illustrated book for adults, called Tom the Obscure. This is her first essay collection.
Order your copy of Things Are Against Us from Biblioasis here!
https://www.biblioasis.com/wp-content/uploads/2021/09/ellmann-launch.jpg
924
1640
biblioasis
http://biblioasis.com/wp-content/uploads/2014/12/BIBLIOASIS-Logo-500x500-White-300x300.png
biblioasis
2021-09-08 09:44:47
2021-09-22 12:15:15
Things Are Against Us Virtual Launch