White Shadow at Vancouver Writers Fest
When:
October 22, 2021 @ 1:00 pm – 2:30 pm
2021-10-22T13:00:00-04:00
2021-10-22T14:30:00-04:00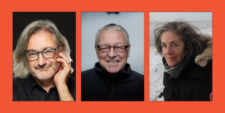 Complex Histories With Gary Barwin, Roy Jacobsen, and Kathleen Winter
Roy Jacobsen will be appearing at Vancouver Writers Fest for this virtual event discussing his Booker-shortlisted novel, The Unseen, and the follow up, White Shadow. Roy will be joined in conversation with fellow authors Gary Barwin (Nothing the Same, Everything Haunted) and Kathleen Winter (Undersong: A Novel). Find out how these authors balance their stories with the weight of historic realism, and the balance between truth and fiction.
The event is virtual and will be livestreamed. Purchase your tickets here!
ABOUT THE UNSEEN
Islanders are never afraid: if they were, they wouldn't be able to live here. Born on the Norwegian island that bears her name, Ingrid Barrøy's world is circumscribed by storm-scoured rocks and the moods of the sea by which her family lives and dies. But her father dreams of building a quay that will end their isolation, and her mother longs for the island of her youth, and the country faces its own sea change: the advent of a modern world, and all its attendant unpredictability and violence. Brilliantly translated into English by Don Bartlett and Don Shaw, The Unseen is a profoundly moving exploration of family, resilience, and fate.
ABOUT WHITE SHADOW
No-one can be alone on an island . . . But Ingrid is alone on Barrøy, the island that bears her name, and the war of her childhood has been replaced by a new, more terrible present: the Nazi occupation of Norway. When the bodies from a bombed vessel carrying Russian prisoners of war begin to wash up on the shore, Ingrid can't know that one will not only be alive, but could be the answer to a lifetime of loneliness—nor can she imagine what suffering she will endure in hiding her lover from the German authorities, or the journey she will face, after being wrenched from her island as consequence for protecting him, to return home. Or especially that, surrounded by the horrors of battle, among refugees fleeing famine and scorched earth, she will receive a gift, the value of which is beyond measure.
ABOUT ROY JACOBSEN
Born in Oslo to a family that came from northern Norway, Roy Jacobsen has twice been nominated for the Nordic Council's Literary Award. He is the author of more than fifteen novels and is a member of the Norwegian Academy for Language and Literature. In 2009 he was shortlisted for the Dublin Impac Award for his novel The Burnt-Out Town of Miracles. Another novel, Child Wonder, won the Norwegian Booksellers' Prize and was a Barnes and Noble Discover Great New Writers Selection. The Unseen, the first of a series of novels about Ingrid and her family, was a phenomenal bestseller in Norway and was shortlisted for the 2017 Man Booker International Prize and the 2018 International Dublin Literary Award, selected as a 2020 Indie Next pick in North America, and named a New York Times New and Noteworthy book. White Shadow, the second Barrøy novel, was published in North America by Biblioasis in 2021.
Get your copy of The Unseen here!
Get your copy of White Shadow here!
https://www.biblioasis.com/wp-content/uploads/2021/09/jacobsen-vwf.jpg
850
1700
biblioasis
http://biblioasis.com/wp-content/uploads/2014/12/BIBLIOASIS-Logo-500x500-White-300x300.png
biblioasis
2021-09-08 10:21:01
2021-09-08 10:21:01
White Shadow at Vancouver Writers Fest