Jun
7
Wed
1934: Chatham Launch!

@ Sons of Kent Brewery
Jun 7 @ 7:00 pm – 9:00 pm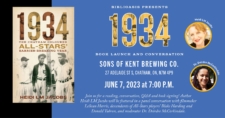 Join us at Sons of Kent Brewery for the launch of 1934: The Chatham Coloured All-Stars' Barrier-Breaking Year by Heidi LM Jacobs! Heidi will be featured in a panel conversation with filmmaker LeSean Harris, descendants of All-Stars players' Blake Harding and Donald Tabron, and moderator Dr. Deirdre McCorkindale. Refreshments will be provided. The launch will take place on Wednesday, June 7 at 7PM.
More details here.
Order 1934 here!
The true story of the first Black team to win an Ontario Baseball Amateur Association championship.
The pride of Chatham's East End, the Coloured All-Stars broke the colour barrier in baseball more than a decade before Jackie Robinson did the same in the Major Leagues. Fielding a team of the best Black baseball players from across southwestern Ontario and Michigan, theirs is a story that could only have happened in this particular time and place: during the depths of the Great Depression, in a small industrial town a short distance from the American border, home to one of the most vibrant Black communities in Canada.
Drawing heavily on scrapbooks, newspaper accounts, and oral histories from members of the team and their families, 1934: The Chatham Coloured All-Stars' Barrier-Breaking Year shines a light on a largely overlooked chapter of Black baseball. But more than this, 1934 is the story of one group of men who fought for the respect that was too often denied them.
Rich in detail, full of the sounds and textures of a time long past, 1934 introduces the All-Stars' unforgettable players and captures their winning season, so that it almost feels like you're sitting there in Stirling Park's grandstands, cheering on the team from Chatham.
Heidi LM Jacobs' previous books include the novel Molly of the Mall: Literary Lass and Purveyor of Fine Footwear (NeWest Press, 2019), which won the Stephen Leacock Medal for Humour in 2020, and 100 Miles of Baseball: Fifty Games, One Summer (with Dale Jacobs, Biblioasis, 2021). She is a librarian at the University of Windsor and one of the researchers behind the award-winning Breaking the Colour Barrier: Wilfred "Boomer" Harding & the Chatham Coloured All-Stars project.
Jun
15
Thu
On Class: Toronto Launch!

@ Flying Books
Jun 15 @ 6:30 pm – 8:00 pm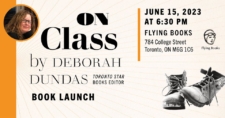 Join us in Toronto for the launch of On Class by Toronto Star books editor Deborah Dundas, the latest addition to our Field Notes series! There will a reading by the author, as well as a Q&A and book signing. The launch will take place at Flying Books on Thursday, June 15 at 6:30PM.
More details here.
Order On Class here!
Deborah Dundas is a journalist who grew up poor and almost didn't make it to university. In On Class, she talks to writers, activists, those who work with the poor and those who are poor about what happens when we don't talk about poverty or class—and what will happen when we do.
Growing up poor, Deborah Dundas knew what it meant to want, to be hungry, and to long for social and economic dignity; she understood the crushing weight of having nothing much expected of you. But even after overcoming many of the usual barriers faced by lower- and working-class people, she still felt anxious about her place, and even in relatively safe spaces reluctant to broach the subject of class. While new social movements have generated open conversation about gender and racism, discussions of class rarely include the voices of those most deeply affected: the working class and poor.
On Class is an exploration of the ways in which we talk about class: of who tells the stories, and who doesn't, which ones tend to be repeated most often, and why this has to change. It asks the question: What don't we talk about when we don't talk about class? And what might happen if, finally, we did?
Deborah Dundas grew up poor in the west end of Toronto. She is now a writer and journalist, has worked as a television producer and is currently an editor at the Toronto Star. Her work has appeared in numerous publications in Canada, the UK and Ireland including Maclean's, The Globe and Mail, The National Post, Canadian Notes and Queries, The Belfast Telegraph and The Sunday Independent. She attended York University for English and Political Science and has an MFA in Creative Non-fiction from the University of King's College. She lives in Toronto with her husband and daughter and their loving, grumpy cat Jumper.
Pascal's Fire: Vancouver Launch!
Jun 15 @ 7:00 pm – 9:00 pm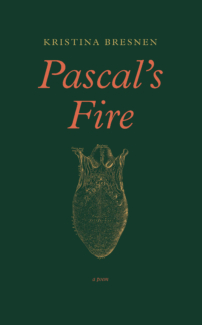 Join us in Vancouver for the launch of Kristina Bresnen's debut poetry collection, Pascal's Fire! The event will take place on Thursday, June 15.
Time and details TBA.
Grab your copy of Pascal's Fire here!
An unnamed speaker navigates a world where God comes in the shape of a cardinal, speaks in the voice of Georgia O'Keeffe, and paints the desert with bones.
Driven by sound, heartbreak, and the baffling limits and possibilities of language, a nameless speaker sets out into a dream-like wilderness where lyric and narrative meet, time dissolves, and figures as various as Moses, the apostle Paul, Virginia Woolf, Blaise Pascal, and Zora Neale Hurston gather in a colloquy. Born from a region of preachers and stuttering prophets, from the gift of tongues and psalms of lament and praise, Pascal's Fire negotiates the wonder of the unknown and the tension of belief and confronts the vulnerability of speech where it brushes up against death and grief, wind and desert heat, unquenchable thirst and the steady sound of an IV drip.
Kristina Bresnen has published poems in Canada and the US. She is from Montreal and currently lives in Vancouver.