Oct
26
Thu
Elaine Feeney at Ottawa Writers Fest

@ Christ Church Cathedral
Oct 26 @ 8:00 pm – 10:00 pm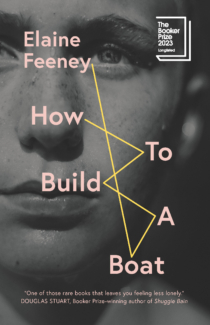 Join Elaine Feeney, author of Booker Prize-longlisted novel How to Build a Boat (Nov 7, 2023), at the Ottawa Writers Fest event The Good Life! Elaine will be joined by Darrel J. McLeod and Zalika Reid-Benta in a conversation on care, community and belonging hosted by Aara Macauley. Books will be provided by Perfect Books. The event will take place at Christ Church Cathedral on Thursday, October 26 at 8PM.
Tickets and details here.
Order How to Build a Boat here!
Longlisted for the 2023 Booker Prize • One of the Globe and Mail's "Sixty-Two Books to Read This Fall"
A funny and deeply moving novel about a boy, his dream, and the people who lend him a hand, by the acclaimed author of As You Were
Jamie O'Neill loves the colour red. He also loves tall trees, patterns, rain that comes with wind, the curvature of many objects, books with dust jackets, cats, rivers and Edgar Allan Poe. At age thirteen, there are two things he especially wants in life: to build a Perpetual Motion Machine, and to connect with his mother, Noelle, who died when he was born. In his mind these things are intimately linked. And at his new school, where all else is disorientating and overwhelming, he finds two people who might just be able to help him.
How to Build a Boat is the story of how one boy and his mission transforms the lives of his teachers, Tess and Tadhg, and brings together a community. Written with tenderness and verve, it's about love, family and connection, the power of imagination, and how our greatest adventures never happen alone.
Elaine Feeney is a writer from the west of Ireland. Her 2020 debut novel, As You Were, was shortlisted for the Rathbones Folio Prize and the Irish Novel of the Year Award and won the Kate O'Brien Award, the McKitterick Prize, and the Dalkey Festival Emerging Writer Award. Feeney has published three collections of poetry including The Radio Was Gospel and Rise, and her short story "Sojourn" was included in The Art of The Glimpse: 100 Irish Short Stories, edited by Sinéad Gleeson. Her work appears widely in The Moth, The Paris Review, The Stinging Fly, Poetry Review, and elsewhere. Feeney lectures at the University of Galway.
Oct
28
Sat
Catherine Leroux at Ottawa Writers Fest

@ Christ Church Cathedral
Oct 28 @ 8:00 pm – 10:00 pm
Join Catherine Leroux, author of The Future (trans. by Susan Ouriou), at the Ottawa Writers Fest event Another World! Catherine will be joined by Sean Michaels and Mona Awad in a conversation hosted by Rhonda Douglas on the many ways imagining other worlds, imagined histories and possible tomorrows can connect us more fully to the things that matter most. Books will be provided by Perfect Books. The event will take place at Christ Church Cathedral on Saturday, October 28 at 8PM.
Tickets and details here.
Order The Future here!
One of Tor.com's Can't Miss Speculative Fiction for Fall 2023 • Listed in CBC Books Fiction to Read in Fall 2023 • One of Kirkus Reviews' Fall 2023 Big Books By Small Presses • A Kirkus Review Work of Translated Fiction To Read Now
In an alternate history in which the French never surrendered Detroit, children protect their own kingdom in the trees.
In an alternate history of Detroit, the Motor City was never surrendered to the US. Its residents deal with pollution, poverty, and the legacy of racism—and strange and magical things are happening: children rule over their own kingdom in the trees and burned houses regenerate themselves. When Gloria arrives looking for answers and her missing granddaughters, at first she finds only a hungry mouse in the derelict home where her daughter was murdered. But the neighbours take pity on her and she turns to their resilience and impressive gardens for sustenance.
When a strange intuition sends Gloria into the woods of Parc Rouge, where the city's orphaned and abandoned children are rumored to have created their own society, she can't imagine the strength she will find. A richly imagined story of community and a plea for persistence in the face of our uncertain future, The Future is a lyrical testament to the power we hold to protect the people and places we love—together.
Catherine Leroux is the author of three highly praised novels and an innovative sequence of short stories. Her first novel, La marche en forêt (2011), was a finalist for Quebec's Booksellers' Prize. Her bestselling second novel, The Party Wall, a translation of Le mur mitoyen, won the France–Quebec Prize in the original and, in translation, was a finalist for the Scotiabank Giller Prize and the Dublin IMPAC Award. In the United States, The Party Wall was a prestigious Indies Introduce selection. Leroux's story sequence, Madame Victoria, won Quebec's Adrienne Choquette Prize and was a finalist for the Booksellers' Prize. The French original of The Future (L'avenir) won the Jacques Brossard Prize and was a finalist for the Imaginary Horizons Prize. Catherine Leroux works as a translator and editor in Montreal. She was awarded the 2019 Governor General's Literary Award for Translation.