May
27
Sat
Richard Sanger Memorial Event

@ Cecil Community Centre
May 27 @ 12:00 pm – 2:00 pm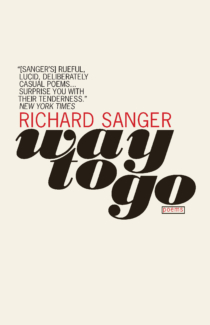 Join us for a memorial to Richard Sanger and a launch for his forthcoming collection Way to Go (April 4 2023). The event will take place at the Cecil Community Centre in Toronto on Saturday, May 27.
Time and details TBA.
Order your copy of Way to Go here!
A jubilant, irreverent, generous collection by a poet facing terminal illness.
Following his New York Times Best of the Year Dark Woods, Richard Sanger's fourth and final book is a clear-eyed and big-hearted inventory of the passions of a life well lived. Understated, tender, archly funny and achingly generous, Way to Go is a joyful catalog of Sanger's loves and a last gift from an irrepressibly jubilant poet.
So many springs and falls and pounces,
So many vintages crushed
And dripping through our fingers,
So many nights and letters ending love,
You'd think we'd long since drained the cup.
Richard Sanger (1960–2022) grew up in Ottawa and lived in Toronto. He published three poetry collections and a chapbook, Fathers at Hockey (2020); Dark Woods, was named one of the top ten poetry books of 2018 by the New York Times. His plays included Not Spain, Two Words for Snow, Hannah's Turn, and Dive as well as translations of Calderon, Lorca, and Lope de Vega. He also published essays, reviews, and poetry translations.