Martha Wilson's Nosy White Woman is coming August 20!
We're just a month out from the publication of Martha Wilson's Nosy White Woman, in which a daughter tries to explain to her mother why calling the police isn't always a good idea. A caretaking group of sisters must rely on each other, but one has a fierce drinking problem. A mother confronts the frightening environmental damage of the world in which her child must grow old. In these sixteen stories, Martha Wilson provides a powerful look at the intersection of politics and daily life in our contemporary world, showing us the banal and gritty connections that lie there.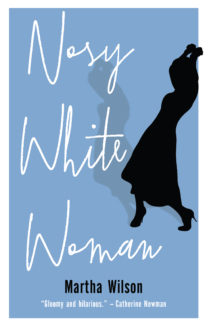 The critics are raving about Nosy White Woman:
"Resonates in that narrow space where everyday life drips with meaning and the quiet world around us breathes its secrets. Nosy White Woman both elevates the ordinary and strips back its facade to reveal the often uncomfortable truths it hides."
—Charlie Lovett, New York Times-bestselling author of The Bookman's Tale and The Lost Book of the Grail
"Nosy White Woman is a collection of compelling stories replete with delicious contradictions. Filled with sardonic, sly humour, the stories can be as touching and fleeting as daily life. The book catches today's zeitgeist, while the style is at once traditional and decidedly contemporary. I looked forward to every spare moment I could find to read this terrific collection."
—Antanas Sileika, author of Provisionally Yours and The Barefoot Bingo Caller
"If I say morally subtle, I'm worried you won't get how thrilling these stories are. And oh, they are thrilling. Martha Wilson plumbs the smallest moments of everyday life—of aging, marriage, parents and children—to unclog the biggest questions. In her gloomy and hilarious way, she makes familiar dramas, insults, and injuries—what one narrator calls "the small tragedies"—sparklingly fresh. If you're looking for crescendo and certainty, though, then don't read this absolutely quietly perfect book that I devoured through the night with a headlamp on because that's how good it is."
—Catherine Newman, author of Catastrophic Happiness and Waiting for Birdy
"Martha Wilson's curiosity about the world is wide-ranging and generous. In these fine stories, she brings a tender, courageous and precise attention to her characters' foibles and concerns, while charting the places where ordinary lives intersect with and react to the political."
—Kim Aubrey, author of What We Hold in Our Hands
"Martha Wilson is one of those authors who gives the impression of knowing all our secrets and liking us anyway. She writes with wit and compassion about ordinary people dealing as well as they can with life's immensities – growing up, getting married, becoming parents, watching their own parents age and die. Halfway through this wonderful collection of stories, I knew I would recognize Martha Wilson's voice whenever I encountered it. And I hope I will encounter it often."
—K.D. Miller, author of Late Breaking and the Rogers Writers' Trust-shortlisted All Saints
Can't wait to hear more from Martha Wilson? Here's an interview: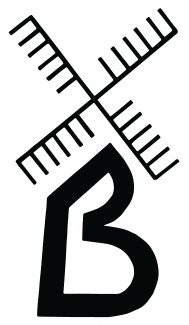 A Biblioasis Interview with Martha Wilson, author of Nosy White Woman
For those who are coming to your work for the first time, can you tell us a little about yourself and your writing?
I'm interested in the small events of daily life. My favourite moments are when I notice some weird little detail or transaction, often something I nearly miss. I might feel the faintest poke at the back of my brain: "Hang on; what was that?" I love that we can stop and assess what just happened, like a video replay. In one of Barbara Pym's novels there's a character in a cafe who observes a tiny moment of friction between a customer and a waitress, and he asks himself, "Now what have I seen? Something or nothing?" I've thought about that passage a lot over the years.
How did this collection come together?
I write really slowly, and it took me a long time to finish these stories. One thing I've found satisfying about finally completing the book is that it seemed to free up some space in my brain for other writing and for future projects. Sometimes I turn an idea over and over in my mind for years, trying to figure out what it means, or meant, or could mean, or might have meant. Once I had those remembered elements pinned down at last, after a long time of letting them tumble around, I felt a satisfying sense of things clicking into place—a sense of doneness, of finishing. That was an unanticipated pleasure.
If you could pick one thing you'd like your reader to take away from this book, what would it be?
We all think, want, plan so many of the same crazy things. Reading is so private and internal and kind of unsharable; but it's also being inside another person's head. It's pretty intimate! And I'm always fascinated when it turns out that some weird notion I'm afraid I made up is, in fact, evidently quite common. It happens all the time. We're not alone! You're not alone! Whatever peculiar idea you're fretting over, millions of other people are wondering exactly the same thing. I find great comfort in that.
Your title story, "Nosy White Woman," looks at why white people are so ready to call the police, which is a hot political topic right now, but it wasn't as talked about when you first wrote the story. How did you come to new realizations about privilege as an adult, and why did you decide to write about them?
I first became aware of the phrase "driving while black" with the early Men in Black movies. So around twenty years ago. While it's played for laughs in those movies (wry jokes, but still jokes), over time I heard about it more often and realized that this was way, way beyond merely a nuisance for the people getting stopped. The two changes that underlined this reality were smartphones and social media platforms; suddenly people could record their encounters with police and post them online. And it's horrifying. A relatively calm situation can accelerate so quickly. To have to endure this ongoing possibility of violence, every day, seems exhausting and scary beyond words.
In that story, the mom is someone who hasn't assimilated this information yet. She's not a racist. She's a white woman who hasn't yet recognized this aspect of white privilege, because her experience has been so completely different. For her the police have always, only, been helpful and reasonable.
The Men in Black example is an apt one, in fact, because seeing the encounters some people have had with police officers made me feel there was a whole different world from the one I live in—a parallel universe. I thought, How have I been so naive? Am I crazy? It was a crystal-clear, extremely chilling example of white privilege that I had been utterly oblivious about. It flipped my understanding of a lot of things about the world.
Who are some short fiction writers who have inspired you?
Well, Alice Munro. I don't think she's even human, what she can do. And I love writing that's self-conscious and funny and sad, without being tricky or fancy with the language. I like plain language. I love Nicholson Baker, Julie Hecht—I chose the epigraphs for my book from their work. Sarah Shun-lien Bynum; I deeply admire her fiction collection Ms. Hempel Chronicles. It's about a middle school teacher! How cool is that? I loved that book.
How have your experiences living abroad changed your perspective and your writing?
Elections are terribly important—that's something I've come to understand. And not just the big ones; president, prime minister. Local elections matter so much. Policy has an enormous, ongoing impact on people's daily lives, and elections determine policy. I'm also surprised, and frustrated, that it's so difficult to deeply understand another place's politics. This is something I wrote a bit about in my book, in the story "Midway." Even when you earnestly try, what's going on elsewhere is slippery and nuanced and multi-layered, with all sorts of background and ramifications that are hard to parse if you don't live there. Still, we need to pay a lot more attention than we generally do.
What are you reading right now?
I just began Taffy Brodesser-Akner's Fleishman Is in Trouble, and I'm liking it a lot so far. It really gallops along—so smart and compelling. I'm rereading Crampton Hodnet, my favourite Barbara Pym book. It's not her best, but it's irresistible. (A few years ago I gave a paper at the annual Barbara Pym conference in Boston, and it remains one of the highlights of my life. I adore her.) And I've just begun a truly terrible Agatha Christie mystery set in ancient Egypt (!!). (I know.) It's called Death Comes as the End. My older daughter and I hoard Christie mysteries we track down at bookstores over the course of the year, and as soon as she finishes school for the summer we tuck into them and compare notes. Oh, and I'm reading Swann's Way, also with that daughter. She and I have a two-person book club. We are shocked—Swann is a dog. He truly is. If you haven't read it yet, I highly recommend it.
http://biblioasis.com/wp-content/uploads/2014/12/BIBLIOASIS-Logo-500x500-White-300x300.png
0
0
biblioasis
http://biblioasis.com/wp-content/uploads/2014/12/BIBLIOASIS-Logo-500x500-White-300x300.png
biblioasis
2019-07-19 13:09:54
2019-07-19 13:09:54
Martha Wilson's Nosy White Woman is coming August 20!