Revealing the Homerun Nonfiction Title of the Spring:
Fail Better: Why Baseball Matters by Mark Kingwell
Look what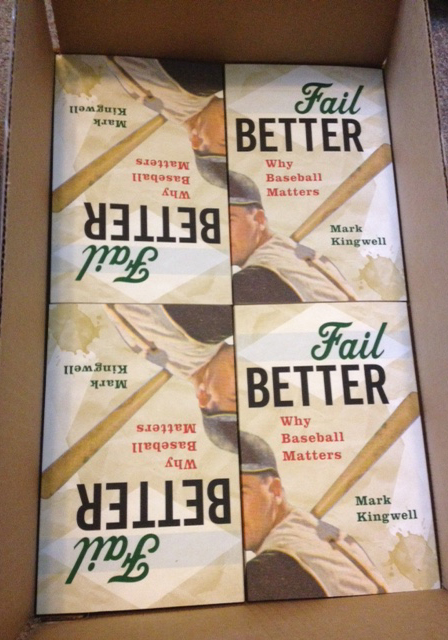 arrived in our office last week! Brand new, hot off the presses copies of Mark Kingwell's latest book, Fail Better: Why Baseball Matters. An excerpt from the book was published in The Walrus as "Philosopher up to Bat," if you want a taste of the pleasures inside this amazing cover (designed by Gordon Robertson).
Taking seriously the idea that baseball is a study in failure—a very successful batter manages a base hit in just three of every ten attempts—Mark Kingwell argues that there is no better tutor of human failure's enduring significance than this strange, crooked game of base, where geometry becomes poetry.
Weaving elements of memoir, philosophical reflection, sports writing, and humour, Fail Better is an intellectual love letter to baseball by one of North America's most engaging philosophers. Kingwell illustrates complex concepts like theoretically infinite game-space, "time out of time," and the rules of civility with accessible examples drawn from the game, its history, and his own halting efforts to hit 'em where they ain't. Beyond a "Beckett meets baseball" study in failure, Kingwell crafts a thoughtful appreciation of why sports matter, and how they change our vision of the world.
Never pretentious, always entertaining, Fail Better is set to be the homerun non-fiction title of the season.
If you can't wait to get your hands on a copy, you can always place an order via our website—or visit our bookstore in Windsor! Fail Better goes on sale April 2017.
http://biblioasis.com/wp-content/uploads/2014/12/BIBLIOASIS-Logo-500x500-White-300x300.png
0
0
biblioasis
http://biblioasis.com/wp-content/uploads/2014/12/BIBLIOASIS-Logo-500x500-White-300x300.png
biblioasis
2017-03-27 16:16:35
2017-03-27 19:54:29
Revealing the Homerun Nonfiction Title of the Spring:
Fail Better: Why Baseball Matters by Mark Kingwell