Spotlight On: WHEREVER WE MEAN TO BE by ROBYN SARAH
Ring in the new year with another fantastic title from Biblioasis' Spotlight series! For January, we're featuring a collection of poetry from Robyn Sarah, the arresting and beautifully sensory Wherever We Mean to Be: Selected Poems 1975–2015 (November 14, 2017).
This month we're also including a special reading of several poems from this collection by Robyn herself! Listen in below.
A four-decade retrospective from the winner of the 2015 Governor General's Literary Award for poetry.
Spanning forty years and ten previously published collections, Wherever We Mean to Be is the first substantial selection of Robyn Sarah's poems since 1992. Chosen by the author, the 97 poems in this new volume highlight the versatility of a poet who moves easily between free verse, traditional forms, and prose poems. Familiar favourites are here, along with lesser-known poems that collectively round out a retrospective of the themes and concerns that have characterized this poet's work from the start.
Warm, direct, and intimate, accessible even at their most enigmatic, seemingly effortless in their musicality, the poems are a meditation on the passage of time, transience, and mortality. Natural and seasonal cycles are a backdrop to human hopes and longings, to the mystery and grace to be found in ordinary moments, and the pleasures, sorrows, and puzzlements of being human in the world.
Robyn Sarah is the author of eleven collections of poems, two collections of short stories, a book of essays on poetry, and a memoir, Music, Late and Soon. Her tenth poetry collection, My Shoes Are Killing Me, won the Governor General's Award in 2015. From 2011 until 2020 she served as poetry editor for Cormorant Books. She has lived for most of her life in Montréal.
A WORD FROM THE AUTHOR
Special Reading of Seven Poems
Wherever We Mean to Be is the first selection of my poems since The Touchstone in 1992. A forty-year retrospective of my work as a poet, it is again my own selection, a new winnowing of my first five collections and of four published since. I chose the title because, in revisiting where I've been, it struck me that this phrase—the last line of a poem called "Station"—seems to embody something that runs through all of my poetry.
In "Station", a couple—"two travellers, refugees/ of our own pasts"—contemplate a space ship on the lawn of the science museum. They have not come to visit the museum; they are just passing, here for the day on business. They don't know why they feel compelled to stop; something inarticulate attends this moment as, hand in hand, they gaze blankly at the "mute ship poised for flight/ it will not take." The poem ends: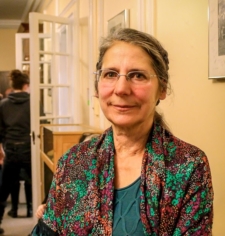 … The thought
that beats, propeller-like
above our heads
is that we're here—
wherever we were before,
wherever we mean to be.
We're here.
"Here" is where we are now—a moment in time, a position on the globe. But the present moment is nearly always infused with some awareness of past and future: memory and imagination are part of it. I think this is how humans live: with one foot in the past and one directed towards a future or an elsewhere made of promise and intention. Unlike animals, we live in a present that embodies consciousness of where we've been, and hopes/fears/schemes/dreams of where we one day may be.
We are where we are, and it isn't necessarily where we mean to be. It's this ambivalence, integral to the human moment, that fascinates me as a poet: the tug between immediate particulars and a mind that can project backward or forward in time. Those same particulars can make time stand still if we're paying close attention to where we are now. Yet stresses that thwart or divert intention can give a moment its aliveness.
A walk along a beach at dusk leads to a scramble up a cliff face to escape the incoming tide. The search for "something perfect" comes up against the demands of domesticity. A man on a scaffold and a woman below give up trying to have a conversation that way. A woman at the top of a staircase contemplates stairs that "end in mid-air, halfway down" after the man at the bottom has cut off a section he wants to reconfigure. In the mirror on a bureau that once belonged to the father she lost in childhood, a woman sees how her own face has come to resemble his mother's as she remembers it from when she was a child…
"We are where we are"—for now. In the accompanying sampler of poems I've recorded as audio, these are a few living moments caught on the fly.
Get your copy of Wherever We Mean to Be here!
Order her latest work Music, Late and Soon here!
Have a look at Robyn Sarah's other fantastic titles here!
https://www.biblioasis.com/wp-content/uploads/2021/12/Robyn-Sarah-Spotlight-2.png
800
2000
biblioasis
http://biblioasis.com/wp-content/uploads/2014/12/BIBLIOASIS-Logo-500x500-White-300x300.png
biblioasis
2022-01-03 15:48:49
2022-01-04 12:22:25
Spotlight On: WHEREVER WE MEAN TO BE by ROBYN SARAH