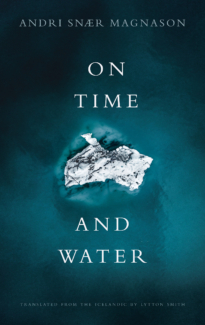 We're thrilled to share that On Time and Water (March 30, 2021) by Andri Snær Magnason, translated from the Icelandic by Lytton Smith, was longlisted for the 2022 National Translation Award! Check out the full list of nominees here.
The NTA, which is administered by ALTA, is the only national award for translated fiction, poetry, and literary nonfiction that includes a rigorous examination of both the source text and its relation to the finished English work. Featuring authors writing in 14 different languages, this year's longlists expand the prize's dedication to literary diversity in English. The selection criteria include the quality of the finished English language book, and the quality of the translation. This year's prose judges are Suzanne Jill Levine, Arunava Sinha, and Annie Tucker.
The winning translators will receive a $2,500 cash prize each. The awards will be announced at ALTA's annual awards ceremony, which in 2022 will be held virtually. The awards ceremony will air on October 6, 2022 on ALTA's Eventbrite page; this event is free and open to the public.
Order your copy of On Time and Water here!
Finalist for the 2021 Nordic Council Literature Prize • A Winnipeg Free Press Top Read of 2021
Asked by a leading climate scientist why he wasn't writing about the greatest crisis mankind has faced, Andri Snær Magnason, one of Iceland's most beloved writers and public intellectuals, protested: he wasn't a specialist, he said. It wasn't his field. But the scientist persisted: "If you cannot understand our scientific findings and present them in an emotional, psychological, poetic or mythological context," he told him, "then no one will really understand the issue, and the world will end."
Based on interviews and advice from leading glacial, ocean, climate, and geographical scientists, and interwoven with personal, historical, and mythological stories, Magnason's resulting response is a rich and compelling work of narrative nonfiction that illustrates the reality of climate change and offers hope in the face of an uncertain future. Moving from reflections on how one writes an obituary for a glacier to exhortation for a heightened understanding of human time and our obligations to one another, throughout history and across the globe, On Time and Water is both deeply personal and globally minded: a travel story, a world history, a desperate plea to live in harmony with future generations—and is unlike anything that has yet been published on the current climate emergency.
Andri Snær Magnason is one of Iceland's most celebrated writers. He has won the Icelandic Literary Prize for fiction, children's fiction, and non-fiction. In 2009, Magnason co-directed the documentary Dreamland, which was based on his book Dreamland: A Self-Help Manual for a Frightened Nation. In 2010, Magnason was awarded the Kairos Prize, presented to outstanding individuals in the field of intercultural understanding. Magnason ran for president of Iceland in 2016 and came third out of nine candidates.
Lytton Smith is a poet, professor, and translator from the Icelandic. His most recent translations include works by Kristin Ómarsdóttir, Jón Gnarr, Ófeigur Sigurðsson, and Guðbergur Bergsson. His most recent poetry collection, The All-Purpose Magical Tent, was published by Nightboat. Having earned his MFA and PhD from Columbia University, he currently teaches at SUNY Geneseo.
https://www.biblioasis.com/wp-content/uploads/2022/09/OTAW-National-Translation.png
800
2000
biblioasis
http://biblioasis.com/wp-content/uploads/2014/12/BIBLIOASIS-Logo-500x500-White-300x300.png
biblioasis
2022-09-01 16:52:32
2022-09-01 16:52:32
ON TIME AND WATER longlisted for the NATIONAL TRANSLATION AWARD!