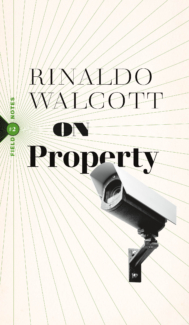 We're excited to share that Rinaldo Walcott's On Property (February 2, 2021) has been nominated for the 2022 Heritage Toronto Book Award! Check out the full list of nominees here.
Since 1974, the Heritage Toronto Awards have celebrated individuals, organizations, and the projects they create. The annual ceremony brings together these extraordinary nominees and city influencers from across its culture, development, and policy-making communities. The Heritage Toronto Book Award aims to highlight the breadth and depth of the Greater Toronto Area's heritage, covering topics from medical discoveries, to sports history to Indigenous reconciliation. The book jury assesses nominees based on the criteria of advocacy, scholarship, education, and production value.
The winner will be announced at the 47th Annual Heritage Toronto Awards event, which will be held on Monday, October 17th at The Carlu (444 Yonge Street) beginning at 5:30PM ET.
Tickets for the gala are available to purchase here.
Get your copy of On Property here!
From plantation rebellion to prison labour's super-exploitation, Walcott examines the relationship between policing and property.
That a man can lose his life for passing a fake $20 bill when we know our economies are flush with fake money says something damning about the way we've organized society. Yet the intensity of the calls to abolish the police after George Floyd's death surprised almost everyone. What, exactly, does abolition mean? How did we get here? And what does property have to do with it? In On Property, Rinaldo Walcott explores the long shadow cast by slavery's afterlife and shows how present-day abolitionists continue the work of their forebears in service of an imaginative, creative philosophy that ensures freedom and equality for all. Thoughtful, wide-ranging, compassionate, and profound, On Property makes an urgent plea for a new ethics of care.
Rinaldo Walcott is a Professor in the Women and Gender Studies Institute at the University of Toronto. His research is in the area of Black Diaspora Cultural Studies, gender and sexuality.
https://www.biblioasis.com/wp-content/uploads/2022/09/ON-PROPERTY-Heritage-Toronto-Book-Award.png
800
2000
biblioasis
http://biblioasis.com/wp-content/uploads/2014/12/BIBLIOASIS-Logo-500x500-White-300x300.png
biblioasis
2022-09-01 12:59:43
2022-09-01 13:00:35
ON PROPERTY nominated for the HERITAGE TORONTO BOOK AWARD!