A GHOST IN THE THROAT wins the JAMES TAIT BLACK BIOGRAPHY PRIZE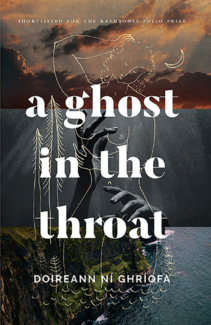 We're thrilled to share that on August 25, 2021, it was announced that Doireann Ní Ghríofa won the James Tait Black Biography Prize for her book A Ghost in the Throat!
Biography Judge Dr Simon Cooke, of the University of Edinburgh, called A Ghost in the Throat,
"A work of great and searching depth and generosity, as involving as it is luminous, that weaves poetry, memoir, biography and translation into a powerful celebration of female texts and a profound exploration of the way the voice and life of one poet echoes in the life and voice of another."
The James Tait Black Prizes for Biography and Fiction are the UK's longest-running literary awards. The winners are awarded £10,000. Doireann Ní Ghríofa won the Biography Prize while Shola von Reinhold won the Fiction Prize for their novel Lote (Jacaranda).
Doireann Ní Ghríofa's book was chosen from a biography shortlist that featured The Warrior, the Voyager, and the Artist: Three Lives in an Age of Empire (Yale) by Kate Fullagar; Black Spartacus: The Epic Life of Toussaint Louverture (Allen Lane) by Sudhir Hazareesingh; and Recollections of My Non-Existence (Granta) by Rebecca Solnit.
The winners of the £10,000 prizes were announced by author and broadcaster Sally Magnusson at a pre-recorded event at the Edinburgh International Book Festival. Learn about the James Tait Black Prizes here.
ABOUT A GHOST IN THE THROAT
When we first met, I was a child, and she had been dead for centuries.
On discovering her murdered husband's body, an eighteenth-century Irish noblewoman drinks handfuls of his blood and composes an extraordinary lament. Eibhlín Dubh Ní Chonaill's poem travels through the centuries, finding its way to a new mother who has narrowly avoided her own fatal tragedy. When she realizes that the literature dedicated to the poem reduces Eibhlín Dubh's life to flimsy sketches, she wants more: the details of the poet's girlhood and old age; her unique rages, joys, sorrows, and desires; the shape of her days and site of her final place of rest. What follows is an adventure in which Doireann Ní Ghríofa sets out to discover Eibhlín Dubh's erased life—and in doing so, discovers her own.
Moving fluidly between past and present, quest and elegy, poetry and those who make it, A Ghost in the Throat is a shapeshifting book: a record of literary obsession; a narrative about the erasure of a people, of a language, of women; a meditation on motherhood and on translation; and an unforgettable story about finding your voice by freeing another's.
Doireann Ní Ghríofa is author of six critically-acclaimed books of poetry, whose awards include the Rooney Prize for Irish Literature and a Seamus Heaney Fellowship (Queen's University). Her debut book of prose is the bestselling A Ghost in the Throat, which finds the 18th-century poet Eibhlín Dubh Ní Chonaill haunting the life of a contemporary young mother, prompting her to turn detective, and of which the Sunday Times writes: "Sumptuous, almost symphonic, in its intensity … As readers, we should be grateful for her boldness. Without it, we would not have had one of the best books of this dreadful year."
Check out A Ghost in the Throat at Biblioasis here!
https://www.biblioasis.com/wp-content/uploads/2021/08/A-GHOST-IN-THE-THROAT-JAMES-TAIT.png
800
2000
biblioasis
http://biblioasis.com/wp-content/uploads/2014/12/BIBLIOASIS-Logo-500x500-White-300x300.png
biblioasis
2021-08-26 10:25:15
2021-08-26 10:25:15
A GHOST IN THE THROAT wins the JAMES TAIT BLACK BIOGRAPHY PRIZE