An Interview with Caroline Adderson, Editor of Best Canadian Stories 2019
This year is the first year that the whole Best Canadian series is under Biblioasis' roof! Best Canadian Stories 2019 is the first book in the series (available November 19, but if you order here, we'll send it to you early!). Best Canadian Poetry 2019 is available here, and Best Canadian Essays 2019 is coming soon!
A Biblioasis Interview with Caroline Adderson, Editor of Best Canadian Stories 2019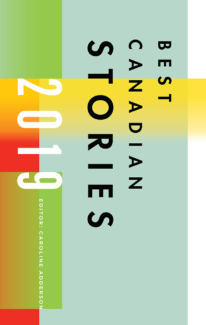 For those who are coming to your work for the first time, can you tell us a little about yourself and your writing?
I live in Vancouver. I'm the author of four novels (A History of Forgetting, Sitting Practice, The Sky Is Falling, Ellen in Pieces), two collections of short stories (Bad Imaginings, Pleased To Meet You) as well as many books for young readers. On the adult side, my books have received numerous award nominations including the Sunday Times EFG Private Bank Short Story Award, the International IMPAC Dublin Literary Award, two Commonwealth Writers' Prizes, the Governor General's Literary Award, the Rogers' Trust Fiction Prize, and the Scotiabank Giller Prize longlist. I've won some prizes too: two BC Book Prizes, three CBC Literary Awards and the Marian Engel Award for mid-career achievement, among others.  But I think my real accomplishment is that after three decades I'm still writing fiction.
What have you done in the past that prepared you to edit Best Canadian Stories? In what ways was editing this collection different from anything you've ever done?
In 2015 I edited a non-fiction book of essays and photographs, Vancouver Vanishes: Narratives of Demolition and Revival.  Besides that, my preparation has been as a mentor and a reader.  I'm the Program Director of the Writing Studio at the Banff Centre for Arts and Creativity so I read a lot of work by emerging writers, as well as by my more established Canadian peers.  I've also sat on numerous awards juries.  Best Canadian Stories is a little like the latter, except happily fifteen writers won the prize – inclusion in the collection – rather than just one.
In reading the gazillion lit mags you had to read to choose the stories in this volume, what surprises did you encounter?
The surprises are in this volume.  These were the stories that jumped out at me because of their use of language, their strangeness, the audacity of their ideas, their humour, or their sophistication.  Delight was my criterion.  It was a bit like placer mining; I kept watching for the glints in the pan.
If you could make a wish for the future of Canadian fiction, what would it be?
I wish it would be taught in schools.  When my son was in high school just a few years ago, he was assigned the same books I had to read in high school.  I'm not sure how we can develop a healthy reading culture and a thriving book economy if we don't teach our stories to our own children.
What are you reading right now?
I just came back from eleven days in Lisbon where I read three José Saramago novels.  Now I'm preparing to host a couple of events for the Vancouver Writers Fest so have four story collections on the go (one by Zalika Reid-Benta, who is  included in this volume), as well as the latest novels by Michael Crummey, Marina Endicott and Joan Thomas.  Talk about delight!
http://biblioasis.com/wp-content/uploads/2014/12/BIBLIOASIS-Logo-500x500-White-300x300.png
0
0
biblioasis
http://biblioasis.com/wp-content/uploads/2014/12/BIBLIOASIS-Logo-500x500-White-300x300.png
biblioasis
2019-11-12 17:34:54
2019-11-12 17:34:54
An Interview with Caroline Adderson, Editor of Best Canadian Stories 2019