Lucy Ellmann's DUCKS, NEWBURYPORT Shortlisted for 2019 Booker Prize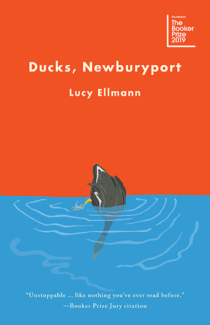 #chancetheducks
On Tuesday, September 3, 2019, it was announced that Ducks, Newburyport by Lucy Ellmann has been shortlisted for the 2019 Booker Prize!
Booker Judge Joanna MacGregor said,  "Lucy Ellmann's Ducks, Newburyport offers a radical literary form and voice. Dense to look at, challengingly epic, the novel is built around one Ohio housewife's monologue, flowing with dazzling lightness and speed. The detritus and maddening complexity of domesticity unfold in one breath, over a thousand pages. Shards of film plot and song collide with climate change anxiety; the terrors of parenting, healthcare and shopping lists wrestle with fake news and gun culture. The narrator reverberates with humour, wordplay and political rage. The writing resonates like a dissonant yet recognisable American symphony for massive forces, with riffs and themes folding back, proliferating, and gradually cohering. Its one long sentence occasionally breaks to simply describe a mountain lioness and her cubs: a meditation on nurture that will be wrapped into the violence of the ending. Lucy Ellmann has written a genre-defying novel, a torrent on modern life, as well as a hymn to loss and grief. Her creativity and sheer obduracy make demands on the reader. But Ellmann's daring is exhilarating ― as are the wit, humanity and survival of her unforgettable narrator."
In a statement, Ellmann said, "In my book I suggest you should never tell people you're happy, in case they wreck it for you. That's why I'm having trouble writing this statement about getting put on the Booker shortlist. The fact is I'm euphoric."
Biblioasis publisher and founder Dan Wells said, "We, too, are euphoric.  Ducks, Newburyport is a brilliant book, one of the most important we've been a part of as publishers.  It's a book for our times, full of rage and sorrow and wonder, a revolution in book form, and now, because of the Booker jury's endorsement, many more Canadian readers will discover it than might otherwise have been the case.  It's very gratifying.
"A few months ago, we came across the nineteenth century phrase, "to chance the ducks": it means, essentially, to do something regardless of the risks or potential for disaster.  Which pretty much describes what independent publishers around the world — with a special nod to our British counterparts, Galley Beggar Press, who first alerted us to Lucy's magisterial novel — do every day.  It's gratifying that with Ducks in particular the risk looks to be rewarded.  We're all very grateful. To chance the ducks, indeed."
Ducks, Newburyport will be published in the United States and Canada on September 10 by Windsor, Ont.-based press Biblioasis. Biblioasis titles have won the Writers' Trust of Canada's Rogers Fiction Prize, two Governor General's Literary Awards and Trillium Book Awards, as well as seen ten nominations for the Scotiabank Giller Prize. Referred to by the Globe and Mail as "the first truly great Canadian press of the 21st Century," Biblioasis celebrates its fifteenth year publishing fine books this October.
The news comes on the heels of an extraordinary burst of critical praise for the novel, with the Los Angeles Review of Books writing it "could possibly turn out to be the most important novel of the decade … Read Ducks, Newburyport. This is a novel for the idea of America today."
The Irish Times called it "Breathlessly brilliant … an extraordinary achievement of wit and imagination … this isn't just one of the outstanding books of 2019, it's one of the outstanding books of the century, so far."
Baking a multitude of tartes tatin for local restaurants, an Ohio housewife contemplates her four kids, husband, cats and chickens. Also, America's ignoble past, and her own regrets. She is surrounded by dead lakes, fake facts, Open Carry maniacs, and oodles of online advice about survivalism, veil toss duties, and how to be more like Jane Fonda. But what do you do when you keep stepping on your son's toy tractors, your life depends on stolen land and broken treaties, and nobody helps you when you get a flat tire on the interstate, not even the Abominable Snowman? When are you allowed to start swearing? With a torrent of consciousness and an intoxicating coziness, Ducks, Newburyport lays out a whole world for you to tramp around in, by turns frightening and funny. A heart-rending indictment of America's barbarity, and a lament for the way we are blundering into environmental disaster, this book is both heresy—and a revolution in the novel.
One of the premier literary awards in the English-speaking world, the Booker carries a prize purse of £50,000 and has recognized outstanding fiction since 1969. Chair of the 2019 judges, Peter Florence, said of the list's authors: "Imagine our world, familiar from news cycle disaster and grievance, with wild humour, deep insight and a keen humanity. These writers offer joy and hope."
Awarded annually to the best novel of the year written in English and published in the UK or Ireland; this year's panel is Afua Hirsch, Liz Calder, Xiaolu Guo and Joanna MacGregor, chaired by Peter Florence. Last year's winner was Milkman by Anna Burns. Previous winners include Margaret Atwood and Salman Rushdie.
Lucy Ellmann's first novel, Sweet Desserts, won the Guardian Fiction Prize. It was followed by Varying Degrees of Hopelessness, Man or Mango? A Lament, Dot in the Universe, Doctors & Nurses, and Mimi. Her short stories have appeared in magazines, newspapers and anthologies, and she has written for the New York Times, Washington Post, Guardian, Independent, Times Literary Supplement, Telegraph, New Statesman, Bookforum and The Baffler, among others. Though American by birth, she lives in Scotland.
PRAISE FOR DUCKS, NEWBURYPORT
"Breathlessly brilliant … an extraordinary achievement of wit and imagination … this isn't just one of the outstanding books of 2019, it's one of the outstanding books of the century, so far."—The Irish Times
"Ulysses has nothing on this … Once you get going, you'll be too absorbed to stop."—Cosmopolitan
"Could possibly turn out to be the most important novel of the decade … Read Ducks, Newburyport. This is a novel for the idea of America today."—Los Angeles Review of Books
"It's a book that quite restores our faith in the possibility of literary 'greatness' while questioning what forms such 'greatness' can or should take. It is certainly, in its humane range and weight, a Great American Novel. Is it any good? Oh my word, yes. Reading it at this point in times seems like an act of human solidarity, a commitment to the world of truth and reason."—Literary Review
"A wildly ambitious and righteously angry portrait of contemporary America."—The Observer
"[Readers] will recognise Ellmann's dauntless cataloguing of desires, her refusal to be anything but self-directed … It's a book about a mother's love, but also about loss and grief, and anxiety dreams about Donald Trump, and despair about mass shootings … It is also a catalogue of life's many injuries and mishaps … and of the simple joys and consolations of memory and imagination. [A] triumph."—The Guardian
"A remarkable portrait of a woman in contemporary America contemplating her own life and society's storm clouds … brilliant."—Publishers Weekly (starred review)
"A jaw-dropping miracle."—Library Journal (starred review)
"Mesmerizing, witty, maximalist…a bravura and caring inquiry into Earth's glory, human creativity and catastrophic recklessness, and the transcendence of love."—Booklist (starred review)
"Resplendent in ambition, humour and humanity … dizzying … a lifetime of memories hoarded and pored over, like the family heirlooms the narrator and her husband have inherited along with all the joy and desolation contained within them … In Ducks, Newburyport Ellmann has created a wisecracking, melancholy Mrs Dalloway for the internet age."—Financial Times
For more information about Ducks, Newburyport, please see the attached press kit. For a review copy or to schedule an interview with the author, call 519-915-3930, or write to Chloe Moore at cmoore@biblioasis.com.
ABOUT BIBLIOASIS
Biblioasis is a literary press based in Windsor, Ontario. Since 2004 we have published the best in contemporary fiction, nonfiction, poetry, and literature in translation.
http://biblioasis.com/wp-content/uploads/2014/12/BIBLIOASIS-Logo-500x500-White-300x300.png
0
0
biblioasis
http://biblioasis.com/wp-content/uploads/2014/12/BIBLIOASIS-Logo-500x500-White-300x300.png
biblioasis
2019-09-03 08:24:21
2019-09-03 08:24:21
Lucy Ellmann's DUCKS, NEWBURYPORT Shortlisted for 2019 Booker Prize