THE DISHWASHER wins the 2020 First Novel Award!
We are pleased to announce that The Dishwasher by Stéphane Larue (trans. Pablo Strauss) has won the 44th annual First Novel Award! This award honours the achievements of Canadian authors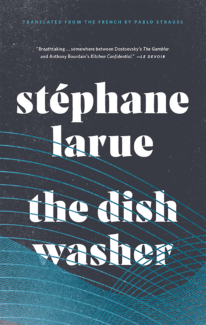 and their debut novels. The the grand prize is $60,000. The Dishwasher is the first work of translation to win the First Novel Award.
In a statement, Biblioasis publisher Dan Wells said, "We're thrilled by the news. We feel very fortunate indeed to have brought this Quebec bestseller to an English-speaking audience. It's a powerful moral story with universal appeal, and its success in translation is testament to the artistry of Stéphane's writing, both its thematic and structural brilliance and its astonishing control of language. And as a press with a very active translation program, we consider this a victory as well for Stéphane's translator, Pablo Strauss, and for translated literature as a whole. Translations are often treated as secondary in awards recognition, but should of course be valued as the complex works of art that they are. This is the first time that a translation has won this major English prize—indeed, it may be the first time in Canada that a work of translation has won any major English-language prize—and we're especially proud that it will introduce this important piece of Québécois literature to a wider audience."
Since its establishment in 1976, the Amazon Canada First Novel Award has launched the careers of some of Canada's most beloved novelists, including Michael Ondaatje, Joan Barfoot, Joy Kogawa, W. P. Kinsella, Nino Ricci, Rohinton Mistry, Anne Michaels, André Alexis, Michael Redhill, Mary Lawson, Colin McAdam, Joan Thomas, and David Bezmozgis.
The Dishwasher was selected from a shortlist which included The Western Alienation Merit Badge by Nancy Jo Cullen, Going Dutch by James Gregor, Mooncalves by Victoria Hetherington, Aria by Nazanine Hozar, and When We Were Vikings by Andrew David MacDonald. Each finalist will receive $6,000.
This year's jury consisted of Liz Harmer, Shani Mootoo, and Anakana Schofield.
On the judging process, Anakana Schofield said, "We agreed, we disagreed, we discussed, we compromised as all jurors must. I was looking for a lively and disciplined relationship with language, probing ideas, and significant promise. I was delighted to also discover invention, formal ambition, and an unusually uplifting appetite for the ludic in some of the works. Our shortlist offers a literary spectrum that samples the prodigious in scale to the quiet and dire ordinary, which is quite the achievement for first novelists."
The Dishwasher was also nominated for CBC's Canada Reads earlier this year. The New York Times Book Review called it "Vivid and moving."
Author Stéphane Larue was born in Longueuil in 1983. He received a master's in comparative literature at L'Université de Montréal and has worked in the restaurant industry for the past fifteen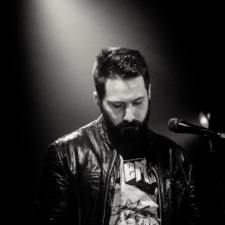 years. He lives in Montréal.
Translator Pablo Strauss Pablo Strauss grew up in British Columbia and has lived in Quebec City for over a decade. His translations of Quebec fiction include Daniel Grenier's The Longest Year (a finalist for the 2016 Governor General's Literary Award for Translation), and Maxime Raymond Bock's Baloney (Coach House Books, 2016) and Atavisms (Dalkey Archive Press, 2015). He has also published shorter translations and reviews in Granta, Geist, and The Montreal Review of Books. Pablo has worked as a dishwasher in nine restaurants in three cities.
It's October in Montreal, 2002, and winter is coming on fast. Past due on his first freelance gig and ensnared in lies to his family and friends, a graphic design student with a gambling addiction goes after the first job that promises a paycheck: dishwasher at the sophisticated La Trattoria. Though he feels out of place in the posh dining room, warned by the manager not to enter through the front and coolly assessed by the waitstaff in their tailored shirts, nothing could have prepared him for the tension and noise of the kitchen, or the dishpit's clamor and steam. Thrust on his first night into a roiling cast of characters all moving with the whirlwind speed of the evening rush, it's not long before he finds himself in over his head once again. A vivid, magnificent debut, with a soundtrack by Iron Maiden, The Dishwasher plunges us into a world in which everyone depends on each other—for better and for worse.
https://www.biblioasis.com/wp-content/uploads/2020/06/the-dishwasher-Winner-of-the-First-Novel-Award-5.png
512
1024
biblioasis
http://biblioasis.com/wp-content/uploads/2014/12/BIBLIOASIS-Logo-500x500-White-300x300.png
biblioasis
2020-06-25 13:39:30
2020-06-25 13:39:30
THE DISHWASHER wins the 2020 First Novel Award!