March already?! Even with an extra day appended to February, it seems a little soon for spring to be all but here. However, we're looking forward to the prospects of taking our reading material out from offices, homes, and cafés and into the neglected terrain of patios, park benches, and grassy knolls. Although we're still a couple weeks away from that kind of weather, the weekly roundup is already here! This week's edition is going to be a little longer than usual, since we missed last week. Enjoy!
SPRING UNBOXING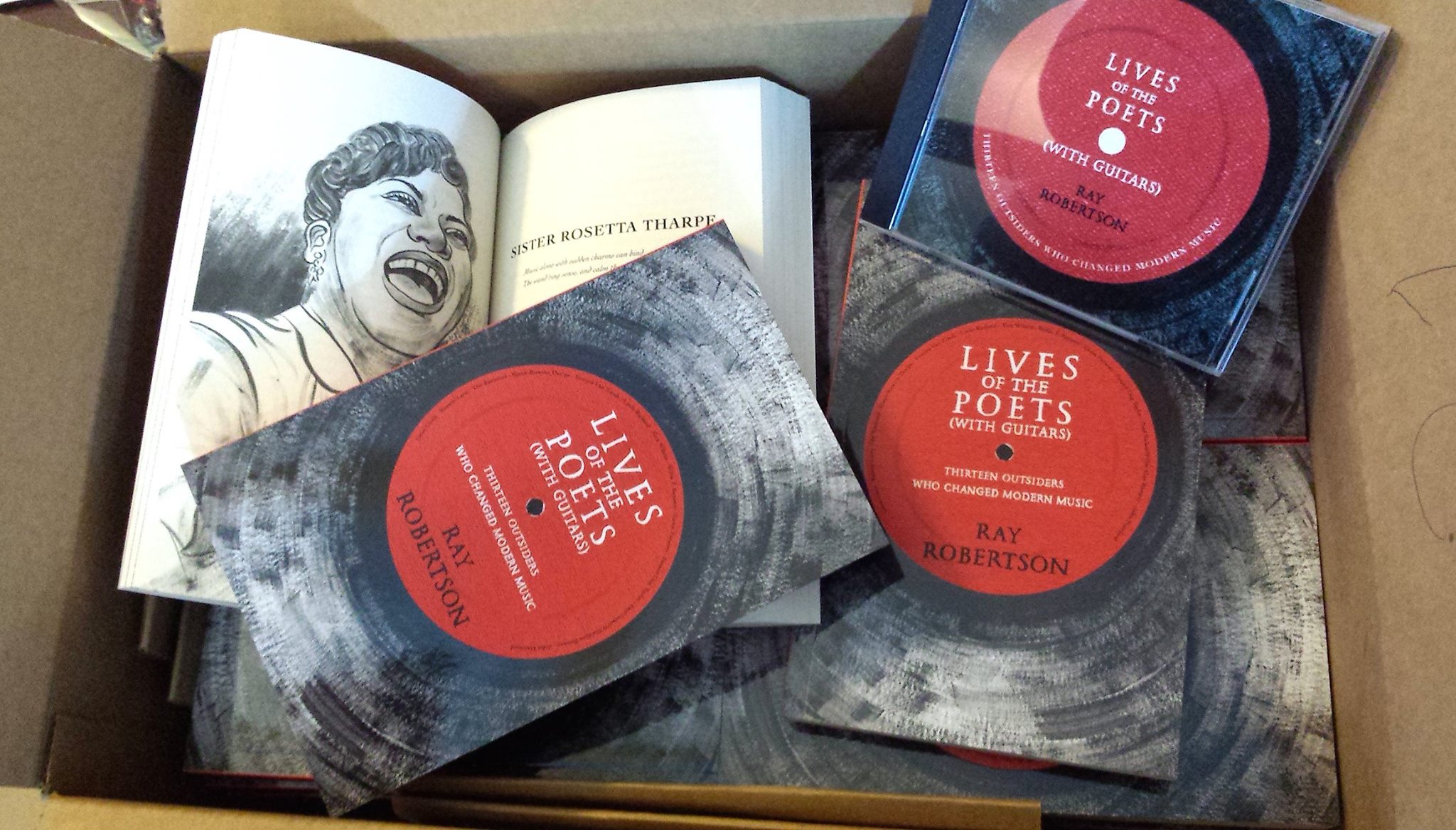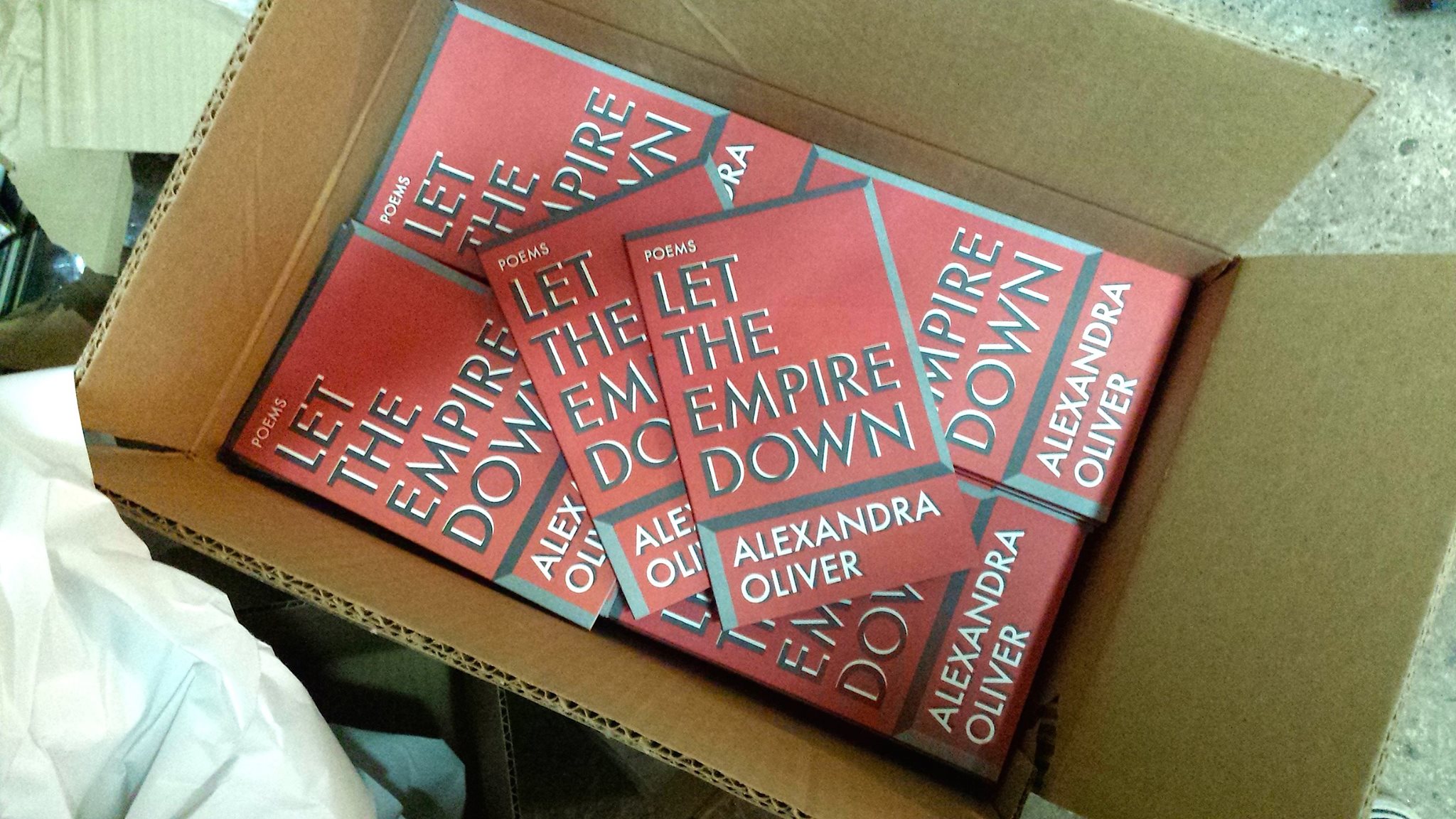 One of the most rewarding parts of working at press, besides the warm feeling of helping to usher great literature into the world, is holding the finished copy of a book for the first time. Whether you've been working with the media on promoting the book, booking flights for author tours, or typesetting the text, a book's arrival is always met with excitement and relief. We felt those things twofold this week, since two of our most anticipated titles of the year arrived from the printer. Everybody at the office jumped from their desks to check out Alexandra Oliver's 2nd collection of poetry, Let the Empire Down. The collection looks sharp and the textured cover feels great! Goes on sale in April—in time for Poetry Month. Hot on the heels of Let the Empire Down's arrival were finished copies of Ray Robertson's Lives of the Poets (with Guitars): Thirteen Outsiders Who Changed Modern Music. The book, which was designed by Chloe Cushman (who you know from her illustrations in the National Post), looks and feels great. Spot gloss on the vinyl portion of the cover really catches the eye. If you can't wait to get your hands on a copy, you can always place an order via our website—or visit our bookstore in Windsor! The book goes on sale 3/15 in Canada and 4/12 in the US.
FROM THE DEPARTMENT OF NOTES AND QUERIES
The last few months have been full of changes for Canadian Notes & Queries (CNQ), the longest-running critical literary journal in Canada. In early January, the Biblioasis office was briefly (though chaotically) transformed into the mailing station for CNQ 94. What made this especially meaningful and exciting was that it marked the first issue edited by the great Emily Donaldson, among our country's best literary critics. One of Donaldson's initiatives is to increase the magazine's social media presence—and so, the magazine has found its way to Facebook! Not long after, The Globe & Mail's Russell Smith wrote a glowing article profiling the magazine and its recent changes. Smith takes us through the history of the journal (est. 1968), reflects on its inappropriately dusty name, comments on Seth's beautiful cover designs, and spends a good deal of time interviewing Emily Donaldson. He calls CNQ "a lively, funny, intellectual, contrarian and elegant-looking magazine about Canadian literature and culture," that "has the potential to become the new Walrus." The next issue, CNQ 95, The Games Issue, is forthcoming in late March. Subscriptions can be purchased here. Here's a sneak peek of the cover, designed as always by the inimitable Seth:
RECKONING WITH THE BAD
An excellent review of Kris Bertin's Bad Things Happen appeared in a recent issue of The Toronto Star. The stories in the collection are "strongly written and often stylistically daring, but all rooted in a fundamental understanding, a generosity of spirit that, while hard-edged, bespeaks a deep humanism and empathy," wrote Robert J. Wiersema. "It's a powerful, compelling collection." Monday saw the hometown debut of Bad Things Happen at Bearly's Bar in Halifax, where Bertin tends bar. In a recent post, Parker Donham of The Contrarian wrote, "This just might be the 2016 Nova Scotia event you'll want to brag about having attended 30 years from now, when Bertin is a celebrated Canadian of letters." We're not sure about 30 years from now, but it looks like Donham is at least a little prescient: the launch was a huge success.
BEST READS FOR LONG FLIGHTS
Bertin's friend and literary tourmate Kevin Hardcastle, whose stellar debut, Debris, we released last year, is listed alongside some of this season's most acclaimed new releases in the latest issue of AFAR, the experiential travel magazine based out of San Francisco and New York City. "Hardcastle's attention to what [his characters are] hiding beneath their hardened exteriors and his strong, unique voice," writes Yutaka Dirks, "earns these stories a place beside the best of short fiction." For you West Coasters, Kris and Kevin will be reading tonight at Russell Books in Victoria, BC and tomorrow at Shelf Life Books in Calgary.
HOMETOWN BOY MAKES GOOD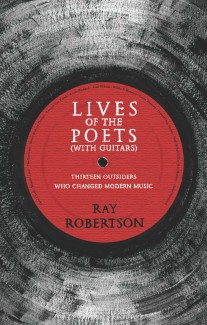 Ray Robertson recently spoke with Ellwood Shreve about Lives of the Poets (with Guitars). Apart from sporting one of the coolest names we've seen in recent months, Shreve is a writer for the The Chatham Daily News. His feature on Ray's book is pretty comprehensive, touching on aspects that make the project so neat. Our favourite is that this book was named in a Ray's previous novel, I Was There the Night He Died. You can read the feature here. Ray will be heading down the 401 this week with book launches in Toronto (March 8th), Windsor (March 9th), and Chatham (March 10th).
BOOKS THAT COULD CHANGE EVERYTHING
We were delighted to see that the good folks at CBC Books included AJ Somerset's Arms: The Culture & Credo of the Gun on their list of 12 Canadian books that could change the world. He's in good company with Lawrence Hill, Margaret Atwood, and Joseph Boyden.
CYCLING FOR A CAUSE
So – this is me. Visit https://t.co/QbuzckHhOj for details. RT's (and / or sponsorship!) MUCH appreciated. pic.twitter.com/iLc9XtMqFX

— Monsterlander (@Monsterlander) February 3, 2016

This is different from most news we share, but well worth the exception. Dan Norcott, the husband of our own Alison Moore, whose second novel, He Wants, is being published this month, suffers from a genetic disorder that causes damage to his kidneys. To raise money for the Leicester Kidney Care Appeal, Dan will be cycling with a friend to Paris in May. A great cause undertaken by a great family. If you're interested in donating, this article has several links.