Mike Barnes's BE WITH Shortlisted for the Toronto Book Award!
We're thrilled to announce that Mike Barnes's thoughtful, compassionate nonfiction book Be With has been shortlisted for the Toronto Book Award.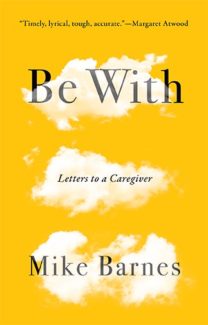 The jury wrote: "Caregiving for loved ones is a topic often left out of contemporary writing. In Be With, Mike Barnes lifts the curtain on his own experiences with dispatches to anonymous caregivers/loved ones living with the fallout of Alzheimers disease. This slim volume is filled with wisdom for the moments when caregivers may need it most—the long periods of uncertainty while waiting. While Be With may be directed to those who need it most, its in-depth look at human connection is relatable to anyone."
"It's wonderful that a book all of us care so much about here at the press has made this shortlist alongside such fine company," said Biblioasis publisher and founder Dan Wells. "Mike Barnes's Be With is a book about care, and is as generous and profound and beautiful a book as there is on the subject: We're thankful that the jurors saw the value in this slim wonder of a book."
Be With: Letters to a Caregiver is what its title promises: four dispatches to an anonymous long-term caregiver. In brief passages that cast fresh light on what it means to live with dementia, Barnes shares trials, insights, solace—and, ultimately, inspiration. Meant to be a companion in waiting rooms, on bus routes, or while a loved one naps, Be With is a dippable source of clarity for harried readers who might only have time for a few lines or paragraphs. Mike Barnes writes with sensitivity and grace about fellowship, responsibility, and joyful relatedness—what it means to simply be with the people that we love.
Established by Toronto City Council in 1974, the Toronto Book Awards honour authors of books of literary or artistic merit that are evocative of Toronto. The annual awards offer $15,000 in prize money: finalists receive $1,000 and the winning author is awarded $10,000. The Toronto Book Awards celebrates books that are evocative of Toronto.
The other shortlisted authors are Ian Williams (Reproduction), Cary Fagan (The Student), Dionne Brand (Theory), and Didier Leclair (This Country of Mine). The winner will be announced at a ceremony October 2 at the Bram and Bluma Appel Salon at 759 Yonge St.
PRAISE FOR BE WITH
"Timely, lyrical, tough, accurate."
—Margaret Atwood
"Beautiful."
—Annette Hamm, CHCH-TV
"My heart lodged in my throat and my eyes stayed glassy over the brief duration of Be With: Letters to a Caregiver. It's a lovely, loving, and unflinching work … He shares knowledge ("The truth is, there's no graceful way to take control of someone's life away from them") and he asks questions ("How much room in your own heart?") any caregiver must consider. He also asserts his primary insight: "But being with in person trumps all else. It's the one way of caring most likely to be right, and the least likely to be regretted. "
—Toronto Star
"Barnes shares a tender exaltation…with a clear and melodic tenor; there's poetry in his myriad introspections, and a willingness to put everything on the table, good, bad, and heart-wrenching. This is a powerful book for those who have experienced similar trials, regardless of length of time or severity."
—Publishers Weekly
"In their simplicity and even-handed tone, the letters achieve their author's difficult aim: they present as a literary Third Man, a friendly, authoritative voice in the dark that will lead its at-the-end-of-their-tether listeners through to the endgame…What really matters, he concludes, is the hardest thing, being there with her. 'For every thousand pages describing how living is shattered by this dread disease, there should be at least one page observing how living goes on within it.' Be With has 156 pages of them."
—Literary Review of Canada
"Powerful…the short, digestible letters are written with a realistic understanding of busy, exhausted caregivers' time and energy and stay true to the book's title, emphasizing the deceptively simple need to just "be with" – to witness, see, and accept. Poignant but never heavy-handed, it's a relevant and empathetic book that meets caregivers where they are."
—Open Book
"The particulars of Mary's dementia give this brief book universal appeal. The author effectively humanizes himself as a man who has made errors, who wishes he had done things differently, and who has his own psychological burdens to bear…A book that tells the reader that you are not alone, whoever you are."
—Kirkus Reviews
ABOUT MIKE BARNES
Mike Barnes is the author of ten books of poetry, short fiction, novels, and memoir, including the novel The Adjustment League and The Lily Pond: A Memoir of Madness, Mystery, Myth and Metamorphosis. He has won the Danuta Gleed Award and a National Magazine Awards Silver Medal for his short fiction, and the Edna Staebler Award for nonfiction. He lives in Toronto.
http://biblioasis.com/wp-content/uploads/2014/12/BIBLIOASIS-Logo-500x500-White-300x300.png
0
0
biblioasis
http://biblioasis.com/wp-content/uploads/2014/12/BIBLIOASIS-Logo-500x500-White-300x300.png
biblioasis
2019-08-15 15:55:25
2019-08-15 15:55:25
Mike Barnes's BE WITH Shortlisted for the Toronto Book Award!