Forthcoming from Biblioasis: The Unseen by Roy Jacobsen
This week the ARCs for The Unseen came in! We are super excited about this book here at the Bibliomanse—not only was it shortlisted for the 2017 Man Booker International Prize and for the 2018 International Dublin Literary Award, but acclaimed literary critic Eileen Battersby said it was "Easily among the best books [she had] ever read."
This stunning novel was translated from the Norwegian by Don Bartlett and Don Shaw into beautiful, lyrical English, but don't take our word for it—read an excerpt for yourself!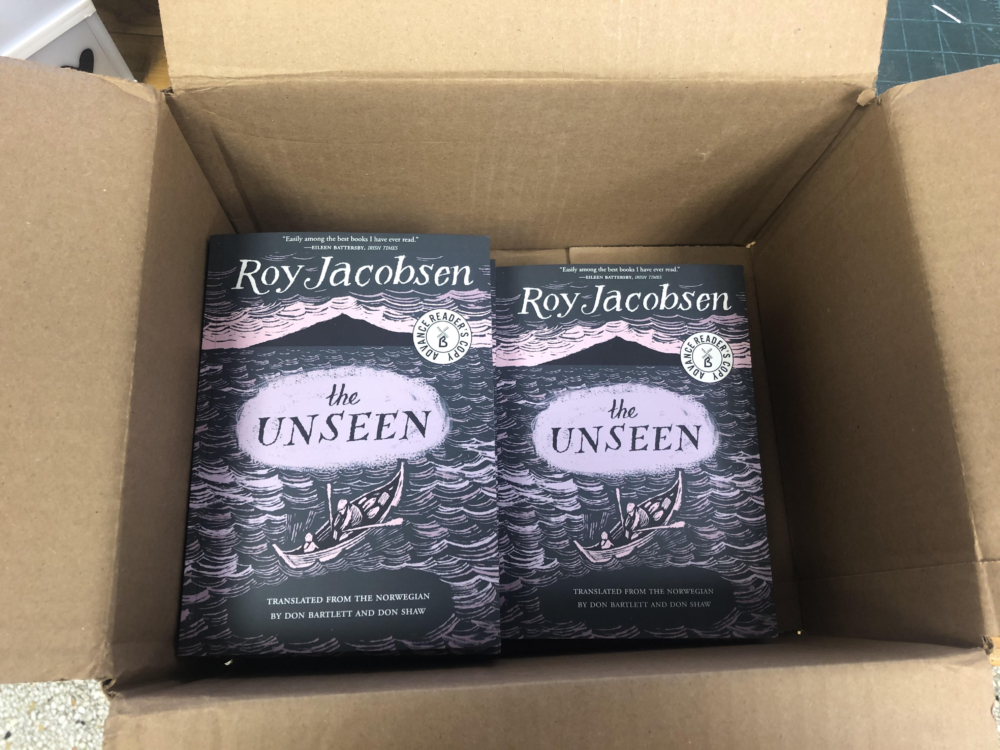 Whatever is washed ashore on an island belongs to the finder, and the islanders find a lot. It might be cork or barrels or hemp or driftwood or flotage — green and brown glass balls to stop fishing nets sinking — which old Martin Barrøy disentangles from the piles of seaweed when the storm has  blown over, then sits down in the boat shed to fasten new nets around, making them look like new. There might be a wooden toy for Ingrid, there might be fish boxes and oars, gaffs, bow rollers, bailers, poles, planks and the remains of boats. One winter night a whole wheelhouse was washed ashore. They used the horse to drag it onto dry land and left it there in the south of the island so that Ingrid could sit in the skipper's swivel chair and turn the brass and mahogany wheel as she looked out over the meadows and stone walls that roll like waves across the island.
…
On rare occasions they find a message in a bottle, a mixture of longing and personal confidences intended for others than the finders, but which, if they were to have reached the intended recipient, would have caused them to weep tears of blood and move all heaven and earth. Now in all their indifference the islanders open the bottles, pick out the letters and read them, if they understand the language they are written in, that is, and reflect on the contents, superficial, vague reflections — messages in bottles are mythical vehicles of yearning, hope and unfulfilled lives — and then they put the letters in a chest reserved for objects which can neither be possessed nor discarded, and boil the bottles and rill them with redcurrant juice, or else simply place them on the windowsill in the barn as a kind of proof of their own emptiness, leaving the sunbeams to shine through them and turn green before refracting downwards and settling in the dry straw littering the floor.

But one autumn morning Hans Barrøy finds a whole tree that the storm has torn up and deposited on the southern tip of the island. An enormous tree. He can't believe his eyes.
English translation copyright © 2016
by Don Bartlett & Don Shaw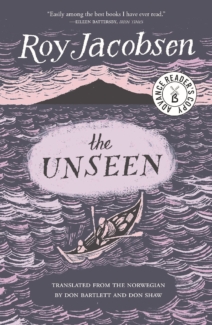 Born on the Norwegian island that bears her name, Ingrid Barrøy's world is circumscribed by storm-scoured rocks and the moods of the sea by which her family lives and dies. But her father dreams of building a quay that will end their isolation, and her mother longs for the island of her youth, and the country faces its own sea change: the advent of a modern world, and all its attendant unpredictability and violence. Brilliantly translated into English by Don Bartlett and Don Shaw, The Unseen is a profoundly moving exploration of family, resilience, and fate.
The Unseen comes out on April 7, 2020 in Canada and the U.S., so keep your eyes open for it in the New Year!
ABOUT ROY JACOBSEN
Roy Jacobsen is a Norwegian novelist and short-story writer. Born in Oslo, he made his publishing début in 1982 with the short-story collection Fangeliv (Prison Life), which won Tarjei Vesaas' debutantpris. He is winner of the prestigious Norwegian Critics Prize for Literature and two of his novels have been nominated for the Nordic Council's Literature Prize: Seierherrene (The Conquerors) in 1991 and Frost in 2004. The Burnt-Out Town of Miracles was published in Britain in 2008. Jacobsen lives in Oslo.
ABOUT DON BARTLETT
Don Bartlett is the acclaimed translator of Karl Ove Knausgard's auto-fictional sequence My Struggle, as well as of novels by Jo Nesbo and Per Petterson. He lives in Norfolk, England.
ABOUT DON SHAW
Don Shaw, co-translator, is a teacher of Danish and author of the standard Danish-Thai/Thai-Danish dictionaries.
http://biblioasis.com/wp-content/uploads/2014/12/BIBLIOASIS-Logo-500x500-White-300x300.png
0
0
biblioasis
http://biblioasis.com/wp-content/uploads/2014/12/BIBLIOASIS-Logo-500x500-White-300x300.png
biblioasis
2019-11-26 16:17:14
2019-11-26 16:17:14
Forthcoming from Biblioasis: The Unseen by Roy Jacobsen