MUSIC, LATE AND SOON a finalist for THE MAVIS GALLANT PRIZE FOR NON-FICTION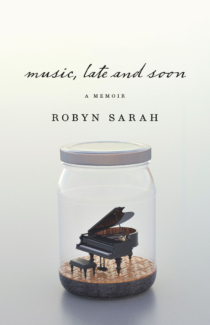 We're thrilled to share that on Friday, October 15, Music, Late and Soon (August 24, 2021) by Robyn Sarah was announced as a finalist for the Mavis Gallant Prize for Non-fiction, presented by the Quebec Writers' Foundation! The winner will be announced during a live-streamed gala event hosted by Giller prize-winning author Sean Michaels on November 24 at 7PM.
Since 1988, the QWF Literary Awards have celebrated the best books and plays published or performed by English-language writers and translators in Quebec, as well as those translating English works from Quebec into French. Each award comes with a purse of $3,000.
The other finalists for the Mavis Gallant Prize include: Tanya Bellehumeur-Allatt's Peacekeeper's Daughter: A Middle-East Memoir (Thistledown Press), Karen Messing's Bent Out of Shape (Between the Lines), André Picard's Neglected No More: The Urgent Need to Improve the Lives of Canada's Elders in the Wake of a Pandemic (Random House Canada), and Samir Shaheen-Hussain's Fighting for a Hand to Hold: Confronting Medical Colonialism Against Indigenous Children in Canada (McGill-Queen's University Press).
The winner will be announced during a live-streamed gala event hosted by Giller prize-winning author Sean Michaels on November 24 at 7PM.
ABOUT MUSIC, LATE AND SOON
A poet rediscovers the artistic passion of her youth—and pays tribute to the teacher she thought she'd lost.
After thirty-five years as an "on-again, off-again, uncoached closet pianist," poet and writer Robyn Sarah picked up the phone one day and called her old piano teacher, whom she had last seen in her early twenties. Music, Late and Soon is the story of her return to studying piano with the mentor of her youth. In tandem, she reflects on a previously unexamined musical past: a decade spent at Quebec's Conservatoire de Musique, studying clarinet—ostensibly headed for a career as an orchestral musician, but already a writer at heart. A meditation on creative process in both music and literary art, this two-tiered musical autobiography interweaves past and present as it tracks the author's long-ago defection from a musical career path and her late re-embrace of serious practice. At its core is a portrait of an extraordinary piano teacher and of a relationship remembered and renewed.
ABOUT ROBYN SARAH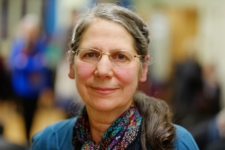 Robyn Sarah is the author of eleven collections of poems, two collections of short stories, and a book of essays on poetry. Her tenth poetry collection, My Shoes Are Killing Me, won the Governor General's Award for poetry in 2015.  In 2017 Biblioasis published a forty-year retrospective, Wherever We Mean to Be: Selected Poems, 1975-2015. Sarah's writing has appeared widely in Canada, the United States, and the U.K.  Her poems have been anthologized in Best Canadian Poetry, 15 Canadian Poets x 2 and x 3, The Bedford Anthology of Literature, and The Norton Anthology of Poetry, and a dozen of them were broadcast by Garrison Keillor on The Writer's Almanac. From 2011 until 2020 she served as poetry editor for Cormorant Books. She has lived for most of her life in Montréal.
Get your copy of Music, Late and Soon here!
https://www.biblioasis.com/wp-content/uploads/2021/10/MUSIC-LATE-AND-SOON-mavis-gallant-finalist.png
800
2000
biblioasis
http://biblioasis.com/wp-content/uploads/2014/12/BIBLIOASIS-Logo-500x500-White-300x300.png
biblioasis
2021-10-18 12:40:52
2021-10-18 12:40:52
MUSIC, LATE AND SOON a finalist for THE MAVIS GALLANT PRIZE FOR NON-FICTION