New Office and New Arrivals
New office who dis big pile of boxes
A major perk of our new digs: we now have room to receive shipments of books right here in the place where we make, mail, and shout about them. This is a major upgrade to our previous system, which I fondly call "driving furiously to a storage locker to meet the guy with the big truck because there's nowhere for him to park at the bookshop and he just called to tell us he'd be there ten minutes ago."
The first arrival: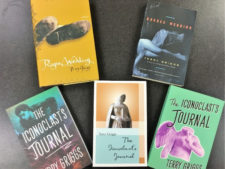 A two-for-one of Terry Griggs' The Iconoclast's Journal (June 12, 2018), which we're bringing back into print via ReSet, a series that republishes overlooked Canadian classics. If you click the first link, our web store will display the Canadian edition, designed with its place in the series in mind. US stores will carry a second version, which features a cheeky, purple, partially headless angel that captures the spirit of this madcap picaresque, which wheels effortlessly between ribald slapstick and sharp critique of the Victorian era in which it's set. It's an addictive read, the perfect summer getaway from a world that's sadly lacking in companionable pigs. Or maybe that's just me?
The Iconoclast's Journal was first published as Rogues' Wedding in 2002 and hence it is no stranger to multiple covers: check out this photo, featuring the original hardcover and paperback covers in the top row, and down below from left to right: our 2018 ARC, Canadian, and US editions. You can read more about the unusual experience of republishing a novel over at All Lit Up, where Terry herself takes us behind the scenes and between the covers.
The second arrival:
An ARC run of Harriet Paige's Man with a Seagull on His Head, and I cannot shut up about it.  This book has captivated our entire office with its quiet wisdom and original plot. To wit: on a hot summer day, Ray Eccles, a city clerk "past the age when anything interesting was likely to happen to him," is struck on the head by a dying seagull, and though he's never touched a paintbrush in his life, when he wakes he finds himself compelled to obsessively repeat the last thing he saw before he was knocked out: an unknown woman on the beach. As Ray's paintings take the art world by storm, Paige shifts the novel's lens to Jennifer, his anonymous muse, who ponders the surprising turns and odd connections that characterize a life. Seagull doesn't drop until OCTOBER 9 HOW WILL I STAND IT.
Hey, what's back here…
https://www.biblioasis.com/wp-content/uploads/2018/05/Seagull-IJ-arrival.jpg
2513
6875
biblioasis
http://biblioasis.com/wp-content/uploads/2014/12/BIBLIOASIS-Logo-500x500-White-300x300.png
biblioasis
2018-05-16 12:45:23
2018-05-18 12:52:47
New Office and New Arrivals