Next Week at Biblioasis: We Welcome Benedek Totth, author of DEAD HEAT
The winner of Hungary's Margó Award for Best First Book of Prose soon to be available in English:
DEAD HEAT
Written by Stephen King's Hungarian translator, Dead Heat shocks and then stays with you. It's like Lord of the Flies meets Friday Night Lights. 
Next week Benedek will be at the bookstore (1520 Wyandotte St E) on Friday, October 25 at 7 PM. Come on out for an unforgettable reading! 
Can't make Friday? He will be in Ann Arbor at Literati Bookstore the night before! Here are the details.
         ☠️ ☠️ ☠️   
Born in Hungary in 1977, Benedek Totth studied American literature and now works as an editor and translator in Budapest. His translations into Hungarian include works by Stephen King, Cormac McCarthy, Hunter S. Thompson and William S. Burroughs. Dead Heat, his first novel, caused a sensation in Hungary, where it won the Margó Prize for best first novel of the year. It has been published in translation in France and Slovakia.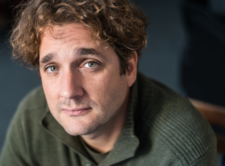 In a nameless Hungarian town, teenagers on a competitive swim team occupy their after-training hours with hard drinking and fast cars, hash cigarettes and marathons of Grand Theft Auto, the meaningless sex and late-night exploits of a world defined by self-gratification and all its attendant recklessness. Invisible to their parents and subject to the whims of an abusive coach, the crucible of competition pushes them again and again into dangerous choices. When a deadly accident leaves them second-guessing one another, they're driven even deeper into violence.
Brilliantly translated into breakneck English by Ildikó Noémi Nagy, Dead Heat is a blistering debut and an unforgettable story about young men coming of age in an abandoned generation.
         ☠️ ☠️ ☠️   
"This is a satire of the bleakest strain: there is scarcely a page that does not offend. And yet the result is utterly enthralling…As savage, reckless, and abhorrent as the world Totth delivers is, what's worse is how frighteningly real it all feels. Dead Heat is an undeniably uncomfortable novel, but so too is the truth it's trying to get at."—Quill and Quire, starred review
"Totth's novel and its translation from the Hungarian by Nagy both excel… in conveying the banality and numbness as its narrator proceeds through this parade of horrors.The juxtaposition of transgressive behavior with competitive sports recalls nothing quite so much as Jim Carroll's The Basketball Diaries. Like that book, the way in which this narrative is told makes for compelling reading even as the acts it describes can inspire shudders. Totth's debut is a harrowing experience but also a frequently gripping one."—Kirkus
"Let's say it up front: reading Dead Heat, the Hungarian writer Benedek Totth's first novel, is a shock . . . [like] the cry of love and desperation flung out by a generation that's finished before it can begin, before it can even reach maturity."—Yann Perreau, Les Inrockuptibles
"A brilliant novel, but brilliant like a black diamond and cursed so that you don't want to hold it, a tale that never lets you go, no matter how much repugnance you may feel."—Encre Noire
"Intense, brutal and relentless. As on a mad merry-go-round, you're delighted not to be able to get off before it's over. But watch out: the harsh form and subject matter will leave more modest readers shaken."—TéléStar

http://biblioasis.com/wp-content/uploads/2014/12/BIBLIOASIS-Logo-500x500-White-300x300.png
0
0
biblioasis
http://biblioasis.com/wp-content/uploads/2014/12/BIBLIOASIS-Logo-500x500-White-300x300.png
biblioasis
2019-10-15 17:21:57
2019-10-15 17:21:57
Next Week at Biblioasis: We Welcome Benedek Totth, author of DEAD HEAT