Thanks for Celebrating Our Anniversary with Us!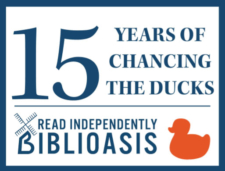 To chance the ducks: to do something despite the risk of disaster.
This October, Biblioasis has been celebrating fifteen years in the publishing business–and what a fifteen years they've been! From a one-person operation, the press has grown to publish thirty books a year; this year Biblioasis books have been nominated for the Giller and finalists for the Governor General's and Booker prizes, just to name a few of the press's accolades.
We're deeply grateful for the wonderful writers we publish and for the wonderful readers whose support allows us to keep doing what we do.
We're grateful for the media who have brought our story wider attention.
And we're grateful to the more than 225 supporters and friends who came out to help us celebrate in Windsor and Toronto last week, including our six fabulous featured readers:
K.D. Miller is the author of two previous short story collections (Give me Your Answer and Litany on a Time of Plague), a novel (Brown Dwarf), and an essay collection, Holy Writ. Her work All Saints was shortlisted for the 2014 Rogers Writers' Trust Fiction Prize and longlisted for the 2014 Frank O'Connor Award. She read from her story collection Late Breaking, currently shortlisted for the Governor General's Literary Award in the English Fiction category. She lives and writes in Toronto.
Stéphane Larue was born in Longueuil in 1983. He received a master's in comparative literature at L'Université de Montréal and has worked in the restaurant industry for the past fifteen years. He lives in Montréal. He read from The Dishwasher, his first book.
Pauline Holdstock, who read from Here I Am!, is an internationally published novelist, short fiction writer and essayist. Her novels have been shortlisted for a number of awards, among them the Best First Novel Award, the Scotia Bank Giller prize and the Commonwealth Writers' Prize. Her historical novel Beyond Measure was the winner of the BC Book Prizes Ethel Wilson Award for Fiction. The Hunter and the Wild Girl, her most recent book before Here I Am!, won the City of Victoria Butler Book Prize. Pauline lives just outside Victoria on Vancouver Island.
Catherine Leroux, who read from Madame Victoria, was born in 1979 in the Northern suburbs of Montreal. After holding various jobs she became a journalist and devoted herself to writing. Her first novel, Marche en forêt, was published in 2011 by Éditions Alto, and her newest novel is Madame Victoria (Éditions Alto, 2015). The Party Wall, her English-language debut published with Biblioasis in 2016, was selected for Indies Introduce for Summer/Fall 2016, was shortlisted for the 2016 Scotiabank Giller Prize, and won the 2016 Governor General's Award for Translation.
Taras Grescoe, who read from Possess the Air, is the author of seven non-fiction books, including Sacré Blues, The End of Elsewhere, The Devil's Picnic, Bottomfeeder, Straphanger, and Shanghai Grand. Bottomfeeder won the Writers' Trust Prize for Nonfiction, the Mavis Gallant Prize for Non-fiction, and was a finalist for the William Saroyan International Prize for Writing. He has contributed to the New York Times, The Guardian, The New Yorker, Gourmet, and The Wall Street Journal. His books have been translated into half a dozen languages. He lives in Montreal.
Martha Wilson read from Nosy White Woman. Her fiction has appeared in Best Canadian Stories 2017 and in the New Quarterly. She was runner-up for the 2017 Peter Hinchcliffe Fiction Prize and a finalist for the New South 2018 fiction prize. Her writing has also been in Real Simple, New York Times, Japan Times, Kansai Time Out, and International Herald-Tribune. She is American but for more than twenty years has made her home in Canada, where she lives with her husband and two daughters.
Thank you, everyone, for fifteen glorious years. Here's to the next fifteen!
http://biblioasis.com/wp-content/uploads/2014/12/BIBLIOASIS-Logo-500x500-White-300x300.png
0
0
biblioasis
http://biblioasis.com/wp-content/uploads/2014/12/BIBLIOASIS-Logo-500x500-White-300x300.png
biblioasis
2019-10-09 15:16:36
2019-10-09 15:16:36
Thanks for Celebrating Our Anniversary with Us!