Patrick Warner's MY CAMINO Arrives Next Month!
Announcing the July 9 publication of Patrick Warner's My Camino
Three plucky misfits cycle the Camino de Santiago—backwards.
Reeling from the Night of Nights, an unexpected blockbuster art show, Floss, a transgender New York gallery owner, invites subversive installation artist Budsy and their best friend the Apostle John to cycle the Camino de Santiago. When Floss tells her friends about her shocking experience at the hands of the King of the New York art scene, the journey becomes an anti-pilgrimage—from spiritual discovery to revenge fantasy. Moving from New York to Spain to Dublin, My Camino is a book about misfits, identity, art and spirituality narrated by the audacious Apostle John whose telling sometimes rhymes, is often hilarious and is always a blistering account of the contemporary art world.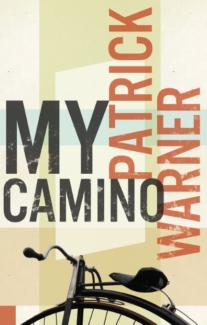 If you can't wait until July 9 to hear more about this crazy book, then read on for a Biblioasis interview with Patrick Warner:
For those who are unfamiliar with your work, can you tell us a little about yourself and your writing?
That's a hard one. Who can say with any confidence what their writing is about? I've published five collections of poetry. My poems tend to be image based with one foot in the traditional world of meter and rhyme. I will write a poem about whatever engages me—so I've written poems about shellfish, dancehall fights, leaves, turf, fishing, insurance, hotel rooms, etc. . . . My novels are also image based—breakthrough insight: I have a visual imagination. I write about what to me is blackly funny: grief, revenge, etc. I do this not because I'm Irish. In terms of style (and maybe I picked this up from poetry) but less is always more. I care a lot about sentence rhythm. I get bored easily, so I like to pack as much into a scene as possible, and I like my language to carry weight without appearing to do so. I want my stories to resonate with current themes, but not to be about those themes. So, in terms of characters, they may identify or be identified in particular ways but really my stories explore who the characters are over and above how others see them or label them. I guess what I'm saying is that I am interested more in what is broadly human than in what is socially-constructed. Between the way people portray themselves and who they actually are. The gap between those two states is where I find comedy.
You've said that the germ of this novel came when you were visiting a New York art gallery opening in 2016. Can you tell me more about that?
I'm not sure I said that. I think I may have said that around that time I was writing a long poem, one piece of which was set in a gallery. The poem died, but the man in the white suit and the gallery scene survived to become the core of My Camino.
The novel moves from New York to Spain to Dublin—tell us a bit about your relationship with those places. (And if such a relationship doesn't exist, tell us about that too!)
I have visited New York and once lived for a year on Staten Island where I worked for the branch libraries of the New York Public Library. I grew up in Ireland (though not in Dublin), moving to Newfoundland when I was 17. Until the recent death of my parents I visited Ireland regularly. Since their deaths I haven't been back, though I probably will go again soon. I've never been to Spain, but during the long cold Canadian winters I keep myself sane with thoughts of moving there and becoming close personal friends with Penélope Cruz and her sister, Monica.
You're a poet and a novelist. Tell me about the commonalities and differences of working in such different forms.
They are not so far apart as people think. In fact, the longer I work in both forms the fewer differences I see. Compression is the main one, I suppose. Also, the availability of fixed forms—though one could broadly see the middle-brow novel as a fixed form at this stage.
Budsy is obviously a play on Banksy, and the novel's a send-up of the art world. Tell us a little more about the satire of My Camino.
For art world read literary world. I know almost nothing about the art scene except what I have read and seen on the telly.
What are you reading right now?
The Lesser Blessed by Richard van Camp; Tom Dawe's New and Selected Poems.
http://biblioasis.com/wp-content/uploads/2014/12/BIBLIOASIS-Logo-500x500-White-300x300.png
0
0
biblioasis
http://biblioasis.com/wp-content/uploads/2014/12/BIBLIOASIS-Logo-500x500-White-300x300.png
biblioasis
2019-06-21 13:49:21
2019-06-21 13:51:10
Patrick Warner's MY CAMINO Arrives Next Month!