Welcome to Biblioasis' Spotlight series, a new monthly feature highlighting our brilliant backlist titles! This also includes a brief word from the authors themselves on their past work, an update on what they're up to now, or thoughts on future projects. Our featured title for November is the short story collection All Saints (April 15, 2014) by K.D. Miller.
ALL SAINTS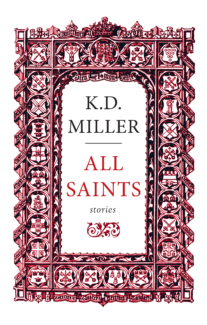 Shortlisted for the 2014 Rogers Writers' Trust Fiction Prize
Longlisted for the 2014 Frank O'Connor Award
In a linked collection that presents the secret small tragedies of an Anglican congregation struggling to survive, All Saints (April 15, 2014) delves into the life of Simon, the Reverend, and the lives of his parishioners: Miss Alice Vipond, a refined and elderly schoolteacher, incarcerated for a horrendous crime; a woman driven to extreme anxiety by an affair she cannot end; a receptionist, and her act of improbable generosity; a writer making peace with her divorce. Effortlessly written and candidly observed, All Saints is a moving collection of tremendous skill, whose intersecting stories illuminate the tenacity and vulnerability of modern-day believers.
K.D. Miller is the author of two previous short story collections, Give me Your Answer and Litany on a Time of Plague, and an essay collection, Holy Writ. Her work has twice been collected in The Journey Prize Anthology and Best Canadian Stories, and she has been nominated for a National Magazine Award for Fiction. She lives and writes in Toronto.
A WORD FROM THE AUTHOR
On Alice Drive by K.D. Miller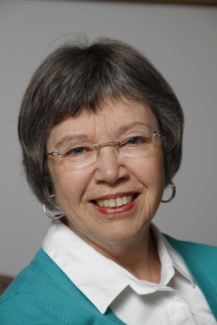 Out my study window, I can just catch sight of a little street called Edith Drive. I frequently incorporate Edith Drive into my daily walk. I have tried, and failed, to find out who Edith was and why these two short blocks are named after her. And several years ago, I spent a good part of New Year's Eve watching half of one of Edith Drive's semi-detached houses burn. The adjoining house came out of it unscathed and still habitable, while the one that caught fire was a blackened shell for two years or more.
I can't remember exactly when Edith became Alice in my imagination, or Alice Drive the working title of what I hope will be my next collection of stories. But the neighbourhood is growing as more and more characters move in.
I have published four collections of linked short stories. In each case, I have come to regard the characters as imaginary friends—a community I work with and get to know and miss, once the manuscript is in my publisher's hands. Any writer will tell you that a fictional character has a life of their own, and exercises more than a bit of control over what happens to them.
Whenever I'm working on a collection, there comes a moment when someone playing a minor role in one story convinces me that they deserve to star in a narrative all their own. In All Saints, for example, Gail, a church receptionist who is briefly mentioned in "Still Dark," takes centre stage in "Spare Change," demonstrating that there is more to her than typing, filing and picking up an office phone.
Characters don't just migrate from story to story, either, but from book to book. I was pleased to welcome Kelly into two of the stories in All Saints, twenty years after she made her debut in my first collection, A Litany in Time of Plague. It was fun to find out what she had been up to, and what was going to happen next. Right now, as I'm working on the title story of Alice Drive, I'm getting reacquainted with Pete Aspinall. Pete had a brief mention in All Saints' "October Song," then a major supporting role in the same collection's "Heroes." A lot has happened in seven years. He retired from teaching, moved into a house on Alice Drive, met René, the love of his life, and is now mourning René's untimely death. Add to that the fact that his house seems to be haunted …
But I'll let Pete tell you his own story. Once he's finished telling it to me.
Get your copy of All Saints from Biblioasis here!
And why not check out K.D. Miller's other fantastic titles here?
https://www.biblioasis.com/wp-content/uploads/2021/11/KD-Miller-spotlight.png
800
2000
biblioasis
http://biblioasis.com/wp-content/uploads/2014/12/BIBLIOASIS-Logo-500x500-White-300x300.png
biblioasis
2021-11-05 10:15:33
2021-11-10 11:25:33
Spotlight On: ALL SAINTS by K.D. MILLER