The Biblioasis Spotlight Series is back! Our November pick is Nancy Jo Cullen's queer, weird, and brilliantly messed-up debut collection of short stories, Canary (April 16, 2013). Read on for a brief word from the author on the journey and growing joy of writing, and keep an eye out for an excerpt from the collection in our newsletter later this month!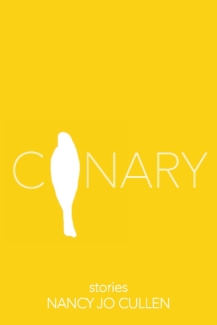 An ALA 2014 Over the Rainbow Selection • An Amazon.ca Best Book of 2013: Top 100/Editors' Pick • A Vancouver Sun Favourite Read of 2013
What has to die before you force yourself to change? That's the question facing the always quirky and often-queer characters of Canary. From the communal showers of a hot yoga studio to seedy pubs on Vancouver's East Side, from Catholic merchandise salesmen to hitchhiking teenage lesbians, the people and places of Nancy Jo Cullen's debut are asphyxiating slowly on ordinary life. Yet in this joint-smoking urban underground, we also glimpse the families, communities, friends and strangers from whom unexpected kindness comes as a breath of fresh air. Trashy but poignant, comic and profound, Canary hangs luminous above the coal-heap of fiction debuts—and proves Nancy Jo Cullen a writer of astonishing depths.
"Cullen's prose is volcanic even when she's describing the most domestic situations possible—the language is full of subterranean rumbles that simultaneously disturb and delight. The writing is always surprising, always bright, even in the most somber moments. Moving and funny, these stories will break your heart in the very best way."
—Suzette Mayr, Giller Prize-shortlisted author of The Sleeping Car Porter
Nancy Jo Cullen's poetry and fiction have appeared in The Puritan, Grain, filling Station, Plenitude, Prairie Fire, Arc, This Magazine, Best Canadian Poetry 2018, Room, The Journey Prize and Best Canadian Fiction 2012. Nancy is the 2010 recipient for the Dayne Ogilvie Prize for LGBTQ+ Emerging Writers. She's published three collections of poetry with Frontenac House and a collection of short stories, Canary, with Biblioasis. Her first novel, The Western Alienation Merit Badge, was short-listed for the 2020 Amazon Canada First Novel Award. Her fourth poetry collection, Nothing Will Save Your Life, is available now from Wolsak & Wynn.
Grab your copy of Canary here!
The Biggest Joy in Writing
I wrote the stories in Canary as my MFA thesis at the University of Guelph. My story "Ashes" came out of a writing assignment from a workshop with Michael Winter where he asked us to write something in the journalistic style of Norman Levine's "In Lower Town." That assignment allowed me to re-visit the eruption of Mount St. Helen's; the fact that it turned out to be a big metaphor in the story was not something I realized until the story was written. I don't generally plan when I'm writing (and yes, that means it takes longer, but the heart wants etc.) and I wrote most of the stories the way I write poetry; they grew from a phrase, feeling or image that I wanted to explore further. Writing my thesis was a glorious year of sitting in my room looking out over my Toronto street and down at the monks who came in and out of the Buddhist temple. I'd say to my kids, "I'm doing homework," and they left me alone. Or maybe they understood I wouldn't be policing their media consumption and jumped at the opportunity to be unsupervised.
After I wrote Canary I began work on a novel, The Western Alienation Merit Badge. Then, unexpectedly, found myself writing poetry again—something I swore I'd given up as I hadn't felt the urge to write a poem for close to a decade. Those poems are now a collection titled, Nothing Will Save Your Life. During the pandemic, I thought I should write a fluffy novel and I'm still working my way through that; of course, I had the hubris to believe writing a fluffy novel would be easy. And now again, the siren call of short stories is strong. Notes are being made, and I'm coming to think maybe the biggest joy in writing is working on short pieces, poems and stories that allow me to explore small ideas in big ways and big ideas in small ways. My most recent note includes the words "vintage lesbian vest" and the many ways that turn of phrase may go.
https://www.biblioasis.com/wp-content/uploads/2022/10/Nancy-Jo-Cullen.png
800
2000
biblioasis
http://biblioasis.com/wp-content/uploads/2014/12/BIBLIOASIS-Logo-500x500-White-300x300.png
biblioasis
2022-11-02 11:00:20
2022-11-02 11:00:20
Spotlight On: CANARY by NANCY JO CULLEN