With a change in seasons comes a new featured title in the Biblioasis Spotlight Series! For October, our pick is Patricia Young's observant and beautifully responsive poetry collection, Short Takes on the Apocalypse (October 18, 2016). Read on for a short note from the author, and keep an eye out for an excerpt from the collection in our newsletter later this month.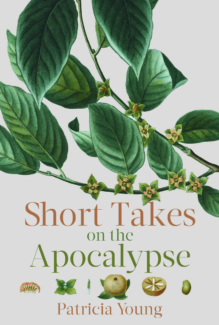 "With her sure hand wielding the knife of understanding, Young cuts not just to the bone, but well beyond into realms that transcend the here, the now and the merely personal."—Monday Magazine
This twelfth collection from Governor General's Award nominee Patricia Young features poems built entirely upon the words of others. Originating as a response to Elmore Leonard's "Ten Rules of Writing," and expanding to include poetic responses to quotations about writing from other sources—from Leonardo da Vinci to Neil Gaiman, Margaret Atwood to Jimmy Kimmel—the resulting pieces traverse a myriad of themes. Playfully exploring subjects as wide-ranging as veganism, gun violence, sex, parenting, feminism, death, and Coachella, Young bounces off the selected epigraphs with a vital energy and crackling wit.
Patricia Young is the author of twelve books of poetry, four chapbooks and one book of short fiction, Airstream (Biblioasis, 2006). A two-time Governor General's Award nominee, she has also won the Pat Lowther Memorial Award, the Dorothy Livesay Poetry Prize, the CBC Literary Competition, the British Columbia Book Prize for Poetry and the League of Canadian Poets National Poetry Competition. Her most recent collection of poems is Amateurs at Love (Goose Lane Editions, 2018). She lives in Victoria, British Columbia.
Pick up your copy of Short Takes on the Apocalypse here!
Check out Patricia Young's other works here!
A WORD FROM PATRICIA YOUNG
Conversations Across Poems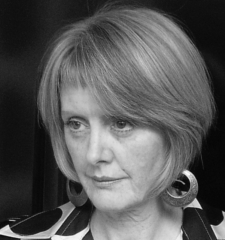 I remember coming across Elmore Leonard's ten rules for good writing and thinking how sensible and funny they were. One of his rules is never to begin with the weather. Another is never to use the words "suddenly" or "all hell broke loose". Around the same time, I read a Billy Collins poem in which he uses the word "suddenly" many times, playing off the idea that the word is forbidden, writing against the rule, doing the opposite. His poem is riddled with "suddenlys". This led to reading interviews of writers in which they often listed their own rules for writing or talked about writing generally. All of this interested me, so I wrote a few poems that spun off Elmore Leonard's rules and then kept going, more often searching for an appropriate quote after the fact. In this sense, the poems weren't exercises; they were simply poems I'd written and the attached quotation fit in some loose way. Sometimes the connection between the epigraph and the poem is clear and sometimes it's oblique. For example, when I was bitten by a beautiful (but frightened) dog I wrote a palindrome. The epigraph for this poem is by Dorothy Hinshaw Paten: "Even the tiniest Poodle or Chihuahua is a wolf at heart." The poem and the quotation aren't directly related but they do speak to each other. At least to my mind they do. Another example: Pat Conroy says, "One of the greatest gifts you can get as a writer is to be born into an unhappy family". I liked this quote, the truth of it, so paired it with a poem I'd written in three parts: "Drinkers", "Suicides" and "Insomniacs". I enjoyed the process of seeking out epigraphs for the poems in this book. I felt I was connecting with and responding to other writers, both dead and contemporary.
https://www.biblioasis.com/wp-content/uploads/2022/10/Patricia-Young.png
800
2000
biblioasis
http://biblioasis.com/wp-content/uploads/2014/12/BIBLIOASIS-Logo-500x500-White-300x300.png
biblioasis
2022-10-03 12:50:17
2022-10-03 12:50:17
Spotlight On: SHORT TAKES ON THE APOCALYPSE by PATRICIA YOUNG