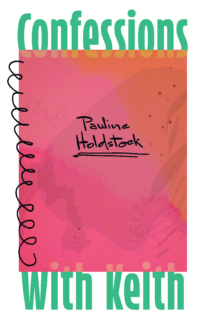 We're thrilled to share that Pauline Holdstock has won the 2023 City of Victoria Butler Book Prize for Confessions with Keith! Check out the full announcement on their website here.
Mayor Marianne Alto and co-sponsor Brian Butler announced the winner at the 20th annual Victoria Book Prize Gala on October 11, 2023 at the Union Club of British Columbia.
Established in 2004, the City of Victoria Butler Book Prize is a partnership between the City of Victoria and Brian Butler of Butler Brothers Supplies. It awards a $5,000 prize to a Greater Victoria author for the best book published in the categories of fiction, non-fiction or poetry.
Grab your copy of Confessions with Keith here.
Winner of the 2023 City of Victoria Butler Book Prize
An outrageously comic novel documents a middle-aged writer and mother's grappling with mid-life crisis—her husband's and her own.
Preoccupied with her fledgling literary career, intent on the all-consuming consolations of philosophy, and scrambling to meet the demands of her four children, the acutely myopic and chronically inattentive Vita Glass doesn't notice that her house and her marriage are competing to see which can fall apart fastest. She can barely find time for her writing career, and just when her newfound success in vegetable erotica is beginning to take off. Our heroine's only tried and trusted escape is the blissful detachment of Keith's hairdressing salon, but when her husband leaves the country, unannounced, she decides to do likewise—in the opposite direction, and with their children. Drawn from the pages of Vita's journal, this outrageously comic novel documents Vita's passage through a mid-life crisis and explores all the ways we deceive each other and ourselves.
Pauline Holdstock is an internationally published novelist, short fiction writer and essayist. Her novels have been shortlisted for a number of awards, among them the Best First Novel Award, the Scotia Bank Giller prize and the Commonwealth Writers' Prize. Her historical novel Beyond Measure was the winner of the BC Book Prizes Ethel Wilson Award for Fiction. The Hunter and the Wild Girl won the City of Victoria Butler Book Prize. Pauline lives just outside Victoria on Vancouver Island.
https://www.biblioasis.com/wp-content/uploads/2023/10/Holdstock_Victoria.png
800
2000
biblioasis
http://biblioasis.com/wp-content/uploads/2014/12/BIBLIOASIS-Logo-500x500-White-300x300.png
biblioasis
2023-10-12 11:53:26
2023-10-12 11:55:50
CONFESSIONS WITH KEITH wins the 2023 CITY OF VICTORIA BUTLER BOOK PRIZE!