Welcome back to our Biblioasis Spotlight Series! For the month of June, we're featuring David Huebert's vibrant and unflinchingly intimate debut collection of stories, Peninsula Sinking (Oct 24, 2017). Don't miss a brief note from the author below!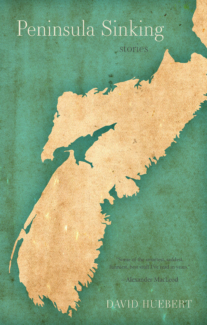 Winner of the 2018 Jim Connors Dartmouth Book Award for Fiction • Runner-Up for the 2017 Danuta Gleed Literary Award • Shortlisted for the 2018 Alistair MacLeod Prize for Short Fiction
In Peninsula Sinking, David Huebert brings readers an assortment of Maritimers caught between the places they love and the siren call of elsewhere. From submarine officers to prison guards, oil refinery workers to academics, each character in these stories struggles to find some balance of spiritual and emotional grace in the world increasingly on the precipice of ruin. Peninsula Sinking offers up eight urgent and electric meditations on the mysteries of death and life, of grief and love, and never shies away from the joy and horror of our submerging world.
David Huebert's writing has won the CBC Short Story Prize, The Walrus Poetry Prize, and was a finalist for the 2020 Journey Prize. David's fiction debut, Peninsula Sinking, won a Dartmouth Book Award, was shortlisted for the Alistair MacLeod Short Fiction Prize, and was runner-up for the Danuta Gleed Literary Award. David's work has been published in magazines such as The Walrus, Maisonneuve, enRoute, and Canadian Notes & Queries, and anthologized in Best Canadian Stories and The Journey Prize Stories. David teaches literature and creative writing at The University of New Brunswick.
"A sense of wonderment penetrates the everyday lives of characters from the Maritimes in this well-crafted, compelling collection that displays a mastery of classical short-story structure and technique. Huebert's vibrant language juxtaposes tough characters with tender preoccupations, creating narratives that are unsettling and mesmerizing, making ordinary moments in relationships thrilling and dangerous."
—Danuta Gleed Literary Award Jury Statement
A NOTE FROM DAVID HUEBERT
Coming Home
When Peninsula Sinking was released, I brought my 3-month-old baby, Rose, on the famous Biblioasis 401 tour, where she attended readings, suckling her mother's pinkie until it wrinkled and paled and she fell, finally, into stunned sleep. This June Rose turns five, and soon so will Peninsula Sinking, a book that was very much, for me, about my increasingly complex relationship to my home. 
In Peninsula Sinking, I stumbled into ecological writing because it was simply what worked for me. When I wrote about the ocean or an animal—a lonely whale, a stallion sex plane, a beloved dog's gonadectomy (the euphemism, so appropriately absurd, is "fixed")—I found that my writing gained a different and new momentum, a lyrical glitter that allowed my prose to rise, raise its hackles, turn around and face me, a strange and sudden creature I scarcely recognized. Eco, the root of ecology and economy comes from the Ancient Greek Oikos, or household. For me, and I think for most, home is very much an environmental concept—home is trees, skies, seas, the particular slump of the mid-morning sun. But I think that home, like the wilderness, is less a place than a psychological state. 
I wrote Peninsula while living in London, Ontario. The stories are mostly set in Nova Scotia, and in some sense I wrote them out of longing for the place where I now sit and write. I live on Chebucto Road, which bears the original name of this place, the Mi'kmaq word Kjipuktuk. Growing up, I never learned that word—a highly tactical obfuscation (I learned plenty about Cartier and Champlain and the Acadian expulsion). From my daughter's room, I can see the yard of Oxford School, which I attended from primary to grade nine. I regularly walk my daughters past the house I grew up in, just around the corner on Duncan Street. (How strange it is that I can't go sit in the backyard where I used to pick rhubarb for my mother and let green inch worms swirl through my fingertips). I have come back home, and one might think that I've arrived at a resting place. A part of me is deeply soothed by the familiarity of this place I have always loved. In particular, I love the grey, panting days, when it's not raining but when the air is so salty and dank that an outdoor walk will soak your clothes. I have arrived "back home," and yet, just as often, I feel ill at ease here. I feel myself a ghost walking through a past life, through the cracked concrete of the school where I wrote my first story ("Big Beard Ben"), where I broke B's tooth on the wrestling hill and learned about explorers in a transplanted language. 
One layer of my unease, certainly, is an increasing awareness of land theft and genocide and the long, tactical, violent attempt to erase Mi'kmaq culture from this place. But there's something else too. Something vague and creepy. A malaise. Perhaps it is just a necessary agitation in the feeling of home itself, a longing that refuses to arrive, directed always towards departure or return. I can't decide, so I suppose I'll just keep wondering, which is to say wandering, home. 
Pick up your copy of Peninsula Sinking here!
Check out David's latest short story collection, Chemical Valley here!
https://www.biblioasis.com/wp-content/uploads/2022/05/Huebert-Spotlight.png
800
2000
biblioasis
http://biblioasis.com/wp-content/uploads/2014/12/BIBLIOASIS-Logo-500x500-White-300x300.png
biblioasis
2022-05-27 14:23:21
2022-06-06 11:13:30
Spotlight On: PENINSULA SINKING by DAVID HUEBERT