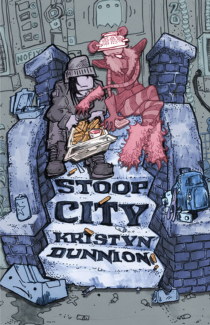 We're thrilled to announce that Stoop City by Kristyn Dunnion has won the 2021 ReLit Award in the short fiction category!
Founded in 2000, The ReLit Awards are awarded annually to book-length works in the novel, short-story and poetry categories, and are considered the preeminent literary prize in independent Canadian publishing.
Stoop City was selected from a shortlist which also included Here The Dark by David Bergen (Biblioasis), Seeking Shade by Frances Boyle (Porcupine's Quill), The Swan Suit by Katherine Fawcett (Douglas & McIntyre), The End Of Me by John Gould (Freehand), Swimmers in Winter by Faye Guenther (Invisible), Permanent Tourist by Genni Gunn (Signature Editions), Czech Techno by Mark Anthony Jarman (Anvil Press), Dominoes At The Crossroads by Kaie Kellough (Esplanade), Paradise Island and Other Galaxies by Micheal Mirolla (Exile Editions), and Goth Girls Of Banff by John O'Neill (NeWest Press).
ABOUT STOOP CITY
Welcome to Stoop City, where your neighbours include a condo-destroying cat, a teen queen beset by Catholic guilt, and an emergency clinic staffed entirely by lovelorn skeptics. Couples counseling with Marzana, her girlfriend's ghost, might not be enough to resolve past indiscretions; our heroine could need a death goddess ritual or two. Plus, Hoofy's not sure if his missing scam-artist boyfriend was picked up by the cops, or by that pretty blonde, their last mark. When Jan takes a room at Plague House, her first year of university takes an unexpected turn—into anarcho-politics and direct action, gender studies and late-night shenanigans with Saffy, her captivating yet cagey housemate.
From the lovelorn Mary Louise, who struggles with butch bachelorhood, to rural teens finding—and found by—adult sexualities, to Grimm's "The Golden Goose" rendered as a jazz dance spectacle, Kristyn Dunnion's freewheeling collection fosters a radical revisioning of community. Dunnion goes wherever there's a story to tell—and then, out of whispers and shouts, echoes and snippets, gritty realism and speculative fiction, illuminates the delicate strands that hold us all together.
ABOUT THE AUTHOR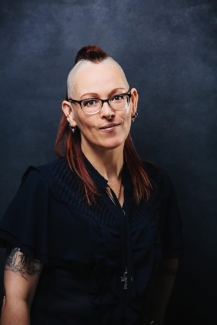 Kristyn Dunnion grew up in Essex County, the southernmost tip of Canada, and now lives in Toronto. She is the author of six books, including Tarry This Night and The Dirt Chronicles, a Lambda Literary Award finalist. Her short fiction is widely published, most recently in Best Canadian Stories 2020, Foglifter, Orca: A Literary Journal, and Toronto 2033. Dunnion works supporting homeless adults with serious mental illness, and has been a healthy food advocate for marginalized communities in Davenport-Perth, where she resides.
Order your copy from Biblioasis, or from your local bookstore!
https://www.biblioasis.com/wp-content/uploads/2021/04/SC_ReLit_Award.png
800
2000
biblioasis
http://biblioasis.com/wp-content/uploads/2014/12/BIBLIOASIS-Logo-500x500-White-300x300.png
biblioasis
2021-04-23 10:32:29
2021-04-23 10:32:29
STOOP CITY Wins ReLit Award!