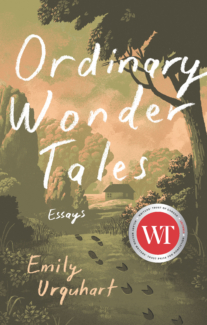 Biblioasis is thrilled to share that Ordinary Wonder Tales by Emily Urquhart (November 1, 2022) has been announced as a finalist for the 2023 Hilary Weston Writers' Trust Prize for Nonfiction! You can check out the full shortlist here. 
The 2023 jury citation for Ordinary Wonder Tales:
"Emily Urquhart's collection of essays about folklore, storytelling, and wonder weaves its own magic as it draws the reader deep into the heart of imagination and possibility. From a haunting childhood encounter to a deeply moving exploration of dementia, Ordinary Wonder Tales delights in the knowledge that the world can be both real and imagined. As we read, we discover that no trauma in a person's life ever sets them fully apart. Rather, human tragedies are endlessly absorbed and transformed by the wonder tales we share to bring us back to the fullness of life."
"Everyone at Biblioasis is thrilled for Emily," says Dan Wells, publisher of Biblioasis. "Ordinary Wonder Tales has been a favourite of everyone here at Biblioasis since its publication, a collection open to the everyday magic of everyday life, a book lyrical, meditative, humane and profound. It's a delightful gathering of essays, and we're thrilled that the Weston jury felt similarly about it."
This is the fourth of Biblioasis' books to be nominated for the Hilary Weston Writers' Trust Prize for Nonfiction. Reaching Mithymna by Steven Heighton was nominated in 2020, The Great Escape by Andrew Steinmetz was nominated in 2013, and Why Not? Fifteen Reasons to Live by Ray Robertson was nominated in 2011.
The Writers' Trust Prize for Nonfiction was first awarded in 1997. It is given annually for excellence in the category of literary nonfiction, which includes essays, history, biography, memoir, commentary, and criticism. The winning book demonstrates a distinctive voice, as well as a persuasive and compelling command of tone, narrative, style, and technique. This award has been sponsored by The Hon. Hilary M. Weston since 2011 and is funded this year by the Hilary and Galen Weston Foundation. Beginning in 2023, the prize purse has increased from $60,000 to $75,000. The winner will be announced at the Writers' Trust Awards on November 21.
Order your copy of Ordinary Wonder Tales here!
Shortlisted for the 2023 Hilary Weston Writers' Trust Prize for Nonfiction
"This book is magical in every sense of the term."—Amanda Leduc, author of The Centaur's Wife and Disfigured: On Fairy Tales, Disability, and Making Space
A journalist and folklorist explores the truths that underlie the stories we imagine—and reveals the magic in the everyday.
"I've always felt that the term fairy tale doesn't quite capture the essence of these stories," writes Emily Urquhart. "I prefer the term wonder tale, which is Irish in origin, for its suggestion of awe coupled with narrative. In a way, this is most of our stories." In this startlingly original essay collection, Urquhart reveals the truths that underlie our imaginings: what we see in our heads when we read, how the sight of a ghost can heal, how the entrance to the underworld can be glimpsed in an oil painting or a winter storm—or the onset of a loved one's dementia. In essays on death and dying, pregnancy and prenatal genetics, radioactivity, chimeras, cottagers, and plague, Ordinary Wonder Tales reveals the essential truth: if you let yourself look closely, there is magic in the everyday.
Emily Urquhart is a journalist with a doctorate in folklore. Her award-winning work has appeared in Longreads, Guernica, and The Walrus and elsewhere, and her first book, Beyond the Pale: Folklore, Family, and the Mystery of Our Hidden Genes, was shortlisted for the Kobo First Book Prize and the BC National Award for Canadian Nonfiction. Her most recent book, The Age of Creativity: Art, Memory, my Father and Me, was listed as a top book of 2020 by CBC, NOW Magazine and Quill & Quire. She is a nonfiction editor for The New Quarterly and lives in Kitchener, Ontario.
https://www.biblioasis.com/wp-content/uploads/2023/09/wt-owt.png
800
2000
biblioasis
http://biblioasis.com/wp-content/uploads/2014/12/BIBLIOASIS-Logo-500x500-White-300x300.png
biblioasis
2023-09-20 11:47:47
2023-09-20 11:47:47
ORDINARY WONDER TALES a finalist for the 2023 HILARY WESTON WRITERS' TRUST PRIZE FOR NONFICTION!