BIBLIOASIS WEEKLY ROUNDUP (WED.DEC.2-WED.DEC.9)
Zoroaster's Children made the Taylor longlist, the best-of mentions kept rolling in, and great discussions on art and culture abounded. Here's a roundup of last week's goings-on at Biblioasis:
ZOROASTER'S CHILDREN MAKES TAYLOR PRIZE LONGLIST
You might recall reading about our brilliant-but-often-overlooked author Marius Kociejowski a few weeks ago. His new collection of travel essays, Zoroaster's Children, had just gotten a rave review in Maclean's— but we were worried thatmight be the end of major publicity for his book. Not so! We are excited to announce that Zoroaster's Children has made the RBC Taylor Prize longlist. Each year, the Taylor Prize is awarded to a non-fiction book that "best combines a superb command of the English language, an elegance of style, and a subtlety of thought and perception." We'd say Marius fits the bill! The shortlist will be announced on Jan 12th, and we've got all our fingers crossed.
BOOKS IN THE BLOOD
Biblioasis and our publisher Dan Wells, an alumnus of Western's graduate program in History, were the focus of an excellent and detailed article in the Western News. The piece details the perseverance, fantastic effort, and happy accidents that allow Biblioasis, or any independent press, to exist in a world of online shopping and e-readers. If you're interested in learning about the press' present and history, the origins of our logo, or just seeing some beautiful shots of the shop, give it a read!
GREATEST HITS AND YEAR-END LISTS
Death, taxes, and the inclusion of Anakana Schofield's Martin John on 'best of' lists seem the new normal this holiday season. This week, three of Canada's major news outlets published (or in the National Post's case, finished publishing) their 'best of' lists for 2015 and Biblioasis books found their way into all three! The National Post placed Martin John third among this year's top 99 books, a list which featured a wonderful illustration of Anakana by the very talented Chloe Cushman. Martin John, Confidence, & Arvida made the Globe 100, the Globe & Mail's unnumbered offering of this year's best lit. CBC Books published their similarly gargantuan Best of 2015 list, which featured Martin John and the Governor General's award-winning My Shoes Are Killing Me among the likes of David Suzuki and famed Young Adult author Gordon Korman (a favourite of our excellent bookseller, Bob Stewart).
SUPER SECRET FESTIVAL OF LIT
The good folks over at All Lit Up are rolling out a new sort of advent calendar-inspired feature. Each day they highlight several books under a specific genre: they've done First Nations voices, LGBT voices, etc. On Monday, they featured short stories — and guess which author showed up on their list? Our very own Kevin Hardcastle. "We see many books every season by debut authors but rarely do they come with endorsements like Debris," wrote the editors. "With this much high praise, we knew it had to be good. And it was. Like any reader with a newly discovered literary treasure, we're going to tell everyone we know until they listen." Check out the full list. Big thanks to ALU!
CULTURE TALKS, WINDSORITES LISTEN
Last Thursday, the Ontario Ministry of Tourism, Culture and Sport made Windsor the final stop on their "Culture Talks" tour through the province. Officials have spent the past little while meeting with the public — including many workers in Ontario's culture industry — to get feedback on the government's 10 year strategic plan for the arts. In our city, Biblioasis publisher Daniel Wells was called on to chat with TIFF artistic director Cameron Bailey about the importance of art to our community, not just as a cultural practice, but as a significant economic driver. Attendance was great and discussions abounded!
DON'T FORGET: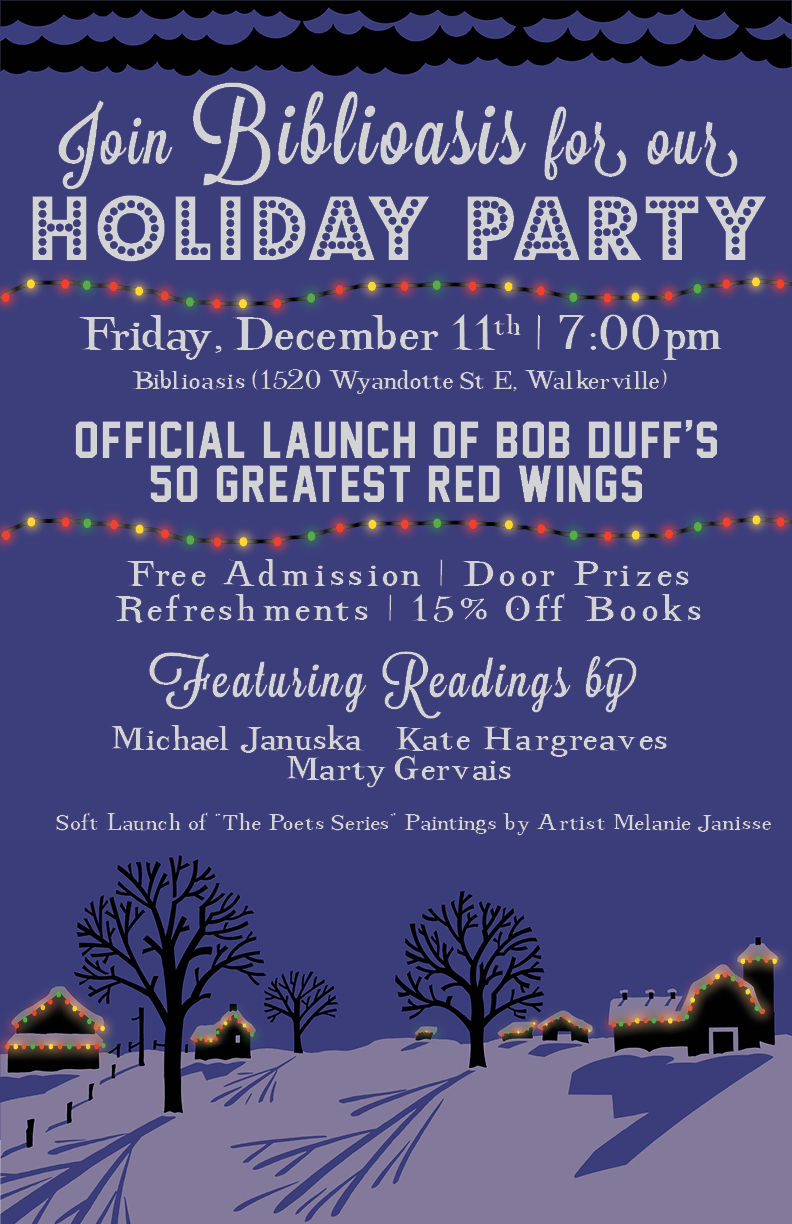 The Biblioasis Holiday Party is tomorrow evening at 7pm! The combination launch-party/reading/schmoozer is sure to be the most joyful (not to mention joyously literary) night of the holiday season.
http://biblioasis.com/wp-content/uploads/2014/12/BIBLIOASIS-Logo-500x500-White-300x300.png
0
0
biblioasis
http://biblioasis.com/wp-content/uploads/2014/12/BIBLIOASIS-Logo-500x500-White-300x300.png
biblioasis
2015-12-10 09:00:14
2015-12-10 12:44:40
BIBLIOASIS WEEKLY ROUNDUP (WED.DEC.2-WED.DEC.9)