THE SINGING FOREST, ON PROPERTY, THE AFFIRMATIONS, THE DAY-BREAKERS, HAIL THE INVISIBLE WATCHMAN, THINGS ARE AGAINST US, POGUEMAHONE: Media Hits!
IN THE NEWS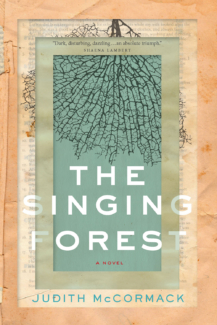 The Singing Forest by Judith McCormack (September 21, 2021) was highlighted during a book segment on CBC's The Next Chapter. Author Wendy McKnight was on the show to recommend three historical fiction novels, including The Singing Forest! The conversation aired on March 26, 2022, and was replayed on March 28, 2022. You can listen to or read the full conversation here, where the comments about The Singing Forest start at 6:45.
Wendy McKnight says:
"I think I may have saved the best for last. I just found this book so beautifully written, even despite the fact that it's at times very horrifying and upsetting. [Judith McCormack] does a really masterful job of weaving a story from present-day Toronto and then going back to pre-World War II Belarus … And so that idea that people can go through times and can still maintain their dignity and their sense of self is such a strong theme that it's just so beautifully done."
Get your copy of The Singing Forest here!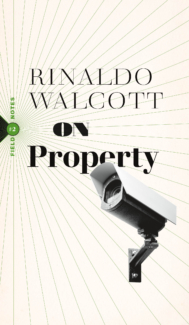 Rinaldo Walcott, author of On Property (February 2, 2021), is being featured by the Writers' Trust Amplified Voices campaign, an effort to highlight books that were published by BIPOC or racialized Canadian authors during the COVID-19 pandemic. A video conversation between Rinaldo Walcott and Canisia Lubrin was released today, where they discuss On Property. You can watch the full video conversation here.
Learn more about the Writers' Trust Amplified Voices campaign
here
.
"So the challenge for the persistence of human life is how will we redistribute everything that has come out of the dread and the horror but also the intimacies of these encounters." —Rinaldo Walcott
Order On Property here!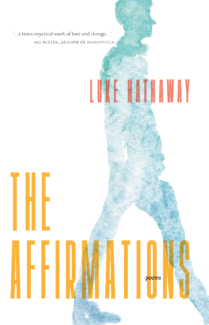 The Affirmations by Luke Hathaway (April 5, 2022), was reviewed by Jackie Wong in The Tyee: "On Affirmations and Letting Life Change Us." The review was published on March 23, 2022. Check out the full review here.
Wong writes:
"There's something healing about watching people wrestle with and arrive on the other side of a long winter of the land and spirit, whether onscreen or on the page. Accordingly, Luke Hathaway's The Affirmations is just the thing to read now as we defrost from another pandemic winter and notice the green buds on tree branches, a promise of renewal almost in spite of all we've seen."
Order The Affirmations here!
THE DAYBREAKERS & HAIL, THE INVISIBLE WATCHMAN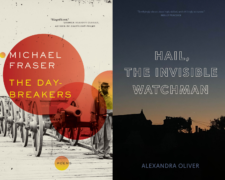 The Day-Breakers by Michael Fraser and Hail, the Invisible Watchman by Alexandra Oliver (April 5, 2022), have been reviewed on Marrow Reviews by Catherine Owen. The review was published online on March 24, 2022. Take a look at the full review here.
Owen writes:
"Two new poetry titles from Biblioasis, as distinct as can be envisioned, apart from their attentions to the specificities of sound, reassure this reviewer that a variety of approaches to the motivations behind poetry persists. Alexandra Oliver's Hail, the Invisible Watchman points to the validity of artifice in craft beyond emotion's call (an Eliotian acolyte perchance?), while Michael Fraser's stunning collection The Day-Breakers attends to how feeling exists within diction, inside an era's particular lexicon of pain and triumph."
Order The Day-Breakers here!
Order Hail, the Invisible Watchman here!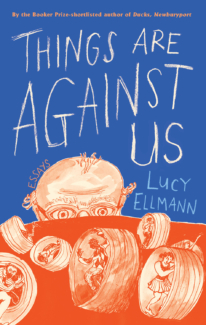 Lucy Ellmann, author of Things Are Against Us (September 28, 2021), was interviewed by Nahlah Ayed on CBC Ideas. The episode aired on Thursday, March 24, and was posted online earlier that evening. Listen to the full interview here.
From the interview:
Nahlah Ayed: We hear it everywhere, group chats, social media, political commentary: people are overwhelmed with not just what's happening in the world, but also by the amount of information that we get about what's happening in the world. How do you cope with the 'too-muchness' of everything?

Lucy Ellmann: Well, one way is to read 18th-century novels. Nineteenth-century will do, too. They're very involving. They're beautiful. They're funny. They're full of satire. A kind of thing that no longer exists. Almost no one understands satire anymore. I think it's because, I don't know, education doesn't exist, I guess, or we just all lost our sense of humour.

I think you have to get back to humour and nature. And I think, taking a walk and getting away from the machines. But if you go for a walk, everyone else is still on a machine out there. So they need their machines forcibly confiscated when they leave their house so that at least outdoors, there's some kind of community life where you actually face each other.
Order Things Are Against Us here!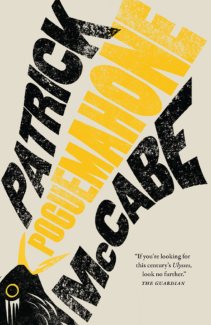 Poguemahone (May 3, 2022) by Patrick McCabe has been reviewed by Kirkus Reviews. The review will be published online on March 30, 2022.
The reviewer writes:
"A searing family drama and bittersweet evocation of nostalgia for lost youth.

Irish novelist McCabe's new work is a leap beyond his previous accomplishments in fiction; a sprawling, epic novel in verse, the book builds on the tradition of lyric poetry as a method of storytelling, shot through with a postmodern Beat sensibility. The tale begins in the present as narrator Dan Fogarty arrives at the nursing home where his sister, the mercurial Una Fogarty, lives. From there, the narrative quickly moves back in time to the early 1970s to a communal house in London's Kilburn district, where the siblings spent their early adulthood among an endless parade of flatmates, besotted poets, and various other hippies and hangers-on. At the center of this bohemian gyre is the Scottish poet Troy McClory, and the anything-but-rosy romance between Troy and Una becomes something of a leitmotif throughout the story. Swirling around this torrid relationship, the book details the siblings' childhood during WWII and their coming-of-age against the backdrop of the Vietnam War, while the lingering specters of alcoholism, mental illness, and suicide are never far from the margins of the text. Despite these bleak themes, the novel is not without its share of humor—early '70s pop-culture references abound, and the Joycean linguistic play is a pleasure to read. Structurally, the book is a marvel; McCabe's inventive use of enjambment and stanza layout push the boundaries of what is possible in narrative storytelling. The vernacular, drunken verse format may be daunting at first, but after a few pages the narrative develops a hypnotic rhythm, as if one is sitting on a barstool listening to the narrator unspool his story over a pint (or three). At this point, the reader has merely to hang on and enjoy the ride.

A moving saga of youth, age, and memory—by turns achingly poetic, knowingly philosophical, and bitterly funny."
Order your copy of Poguemahone here!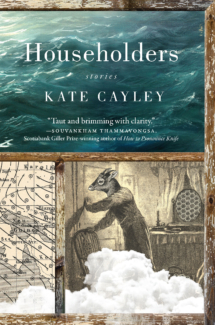 Kate Cayley, author of Householders (September 2021), was interviewed by James Tennant for Get Lit CFMU.
The episode aired on March 24, 2022 and is available online here.
Get your copy of Householders here!
https://www.biblioasis.com/wp-content/uploads/2022/03/MEDIA-ROUND-UP_Mar29.png
800
2000
biblioasis
http://biblioasis.com/wp-content/uploads/2014/12/BIBLIOASIS-Logo-500x500-White-300x300.png
biblioasis
2022-03-29 11:14:01
2022-03-31 16:07:10
THE SINGING FOREST, ON PROPERTY, THE AFFIRMATIONS, THE DAY-BREAKERS, HAIL THE INVISIBLE WATCHMAN, THINGS ARE AGAINST US, POGUEMAHONE: Media Hits!