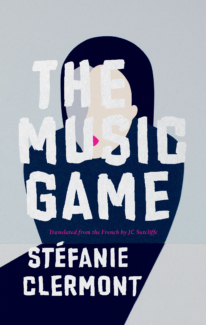 We're thrilled to share that JC Sutcliffe has won the 2023 French-American Translation Prize for Fiction for her translation of The Music Game by Stéfanie Clermont! Read the official announcement here.
Since 1986, the French-American Foundation, with the longstanding support of the Florence Gould Foundation, has awarded an annual prize for exceptional translations from French to English in both fiction and nonfiction. JC is joined by the nonfiction co-winners Kieran Aarons and Cédrine Michel, for their co-translation of Self Defense: A Philosophy of Violence by Elsa Dorlin (Verso Books).
The awards ceremony is open to the public and will be held on Tuesday, May 23, 2023 at Hearst Tower in NYC. More information and a link to RSVP, may be found here.
A huge congratulations to JC from all of us at Biblioasis!
Get your copy of The Music Game here!
Winner of the 2023 French-American Translation Prize for Fiction
Friends since grade school, Céline, Julie, and Sabrina come of age at the start of a new millennium, supporting each other and drifting apart as their lives pull them in different directions. But when their friend dies by suicide in the abandoned city lot where they once gathered, they must carry on in the world that left him behind—one they once dreamed they would change for the better. From the grind of Montreal service jobs, to isolated French Ontario countryside childhoods, to the tenuous cooperation of Bay Area punk squats, the three young women navigate everyday losses and fears against the backdrop of a tumultuous twenty-first century. An ode to friendship and the ties that bind us together, Stéfanie Clermont's award-winning The Music Game confronts the violence of the modern world and pays homage to those who work in the hope and faith that it can still be made a better place.
JC Sutcliffe is a writer, translator and editor. She has lived in England, France and Canada. The Music Game is the ninth Québécois novel she has translated.
Born and raised in Ottawa, Ontario, Stéfanie Clermont travelled throughout Canada and the United States, working at a wide variety of jobs, before settling in Montreal in 2012. The Music Game, her first book, won the prestigious Ringuet Prize of the Quebec Academy of Arts and Letters, the Quebec Arts Council's prize for a new work by a young artist, and the Adrienne Choquette Prize for short stories. It was a finalist for the Grand Prix du Livre de Montréal and was included in Le Combat des livres, the French-language counterpart of Canada Reads.
https://www.biblioasis.com/wp-content/uploads/2023/05/French-Am-Prize.png
800
2000
biblioasis
http://biblioasis.com/wp-content/uploads/2014/12/BIBLIOASIS-Logo-500x500-White-300x300.png
biblioasis
2023-05-04 16:05:20
2023-05-05 11:19:22
THE MUSIC GAME wins the 2023 FRENCH-AMERICAN TRANSLATION PRIZE for Fiction!