Our February pick for the Biblioasis Spotlight Series is Rinaldo Walcott's powerfully concise, investigative, and compassionate contribution to our Field Notes series, On Property (Feb 2, 2021). Enjoy a brief note from the author about the book, and don't miss an excerpt later this month in our online newsletter, The Bibliophile.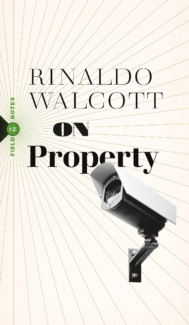 Nominated for the Heritage Toronto Book Award • Longlisted for the Toronto Book Awards • A Globe and Mail Book of the Year • A CBC Books Best Canadian Nonfiction of 2021
From plantation rebellion to prison labour's super-exploitation, Walcott examines the relationship between policing and property.
That a man can lose his life for passing a fake $20 bill when we know our economies are flush with fake money says something damning about the way we've organized society. Yet the intensity of the calls to abolish the police after George Floyd's death surprised almost everyone. What, exactly, does abolition mean? How did we get here? And what does property have to do with it? In On Property, Rinaldo Walcott explores the long shadow cast by slavery's afterlife and shows how present-day abolitionists continue the work of their forebears in service of an imaginative, creative philosophy that ensures freedom and equality for all. Thoughtful, wide-ranging, compassionate, and profound, On Property makes an urgent plea for a new ethics of care.
"Masterful. A powerful tract … Rinaldo Walcott's gift is that he makes what seems preposterous to most seem like common sense: abolish property as a completion of abolishing slavery as a means to solving the savagery of modern policing. A mad idea? Perhaps, but I found it hard to argue with his logic. As the Rastafari would say: bun Babylon!"—Globe and Mail
Rinaldo Walcott is a Professor in the Women and Gender Studies Institute at the University of Toronto. His research is in the area of Black Diaspora Cultural Studies, gender and sexuality.
Get your copy of On Property here!
Community and Change
The publication of On Property has been a wild ride. It has been quite the experience to see the different kinds of communities that have engaged the book. Activists working for the end of policing; lawyers who do civil rights work and want to rethink the terms of their practices; readers generally interested in social issues; students interested in abolition; and many others in-between. How do I know this? People have stopped me in the street, at protests and parades; they have asked me to join their Zoom rooms to engage them in conversations about the book; and they have written to me (including letters disputing my arguments too, not everyone like what I had to say). On Property set out to get at the foundation of what kind of society we have created and why it does not work for many of us. Many readers find it a hopeful book and especially are interested in the ideas about the commons in the book. It is this idea of the commons that now fuels my interests in pursuing further reading, thinking and writing about utopia. My next project will explore utopia not as some set of wild and unachievable ideas but as something necessary for getting us a bit closer to the beloved community we so desperately need. On Property opened up for me the urgency of the political project of transformation.
https://www.biblioasis.com/wp-content/uploads/2023/01/Walcott-Spotlight.png
800
2000
biblioasis
http://biblioasis.com/wp-content/uploads/2014/12/BIBLIOASIS-Logo-500x500-White-300x300.png
biblioasis
2023-02-09 14:10:41
2023-02-09 14:11:53
Spotlight On: ON PROPERTY by RINALDO WALCOTT