TWO BIBLIOASIS TITLES SHORTLISTED FOR THE 2021 RATHBONES FOLIO PRIZE
Biblioasis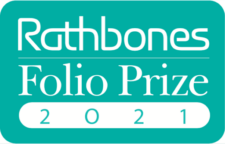 is thrilled to announce that two of our forthcoming 2021 titles have been shortlisted for the 2021 Rathbones Folio Prize: A Ghost in the Throat by Doireann Ní Ghríofa and As You Were by Elaine Feeney! The finalists were revealed on Wednesday, February 10, 2021. The winner of the Rathbones Folio Prize will receive £30,000. The award will be announced on March 24, 2021.
In a statement, publisher Dan Wells said, "I speak for everyone at Biblioasis when I say we're ecstatic that Elaine's and Doireann's books have made this supercharged list. One a work of nonfiction, one fiction, each so different in tone and style, but each equally brilliant. It's what I like so much about the Folio: that nonfiction and fiction rub against one another like this, that such different, divergent books can be together on the same list. We can't wait to share each of these wonderful books with North American readers."
Doireann Ní Ghríofa's A Ghost in the Throat will be published in Canada and in the US on June 1, 2021, and Elaine Feeney's As You Were comes out on October 5, 2021. 
Launched in 2013, the Rathbones Folio Prize is the only literature prize open to all works of fiction and non-fiction originally published in the English language. It ran for the first time in 2014, but it was suspended in 2016 following the ending of its initial two-year sponsorship from The Folio Society. It later secured sponsorship from Rathbone Investment Management, enabling it to increase its prize money to £30,000 while securing the future of the prize, mentorships and sessions until at least 2023.
Last year the prize was awarded to Valeria Luiselli for her "fiercely imaginative" autobiographical third novel, and her first to be written in English, Lost Children Archive (Fourth Estate). Poet Raymond Antrobus won the year before with his "exceptionally brave, kind" debut collection The Perseverance (Penned in the Margins).
The jury members for this year's prize include the T.S. Eliot Prize-winning poet Roger Robinson, the Irish writer, editor, and broadcaster Sinéad Gleeson, and novelist and short story writer Jon McGregor. A Ghost in the Throat and As You Were are two of the eight finalists for the award. The short list also includes Handiwork by Sarah Baume (Tramp Press), Indelicacy by Amina Cain (Daunt Books), Poor by Caleb Femi (Penguin), My Darling from the Lions by Rachel Long, In the Dream House by Carmen Marie Machado (Serpent's Tail), and The Mermaid of Black Conch by Monique Roffey (Peepal Tree Press).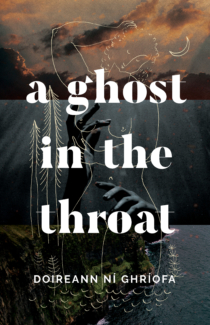 A Ghost in the Throat is Doireann Ní Ghríofa's hybrid memoir, historical unveiling, and feminist translation of the female body. In 1773, an Irish noblewoman discovers her husband has been murdered. Grief-stricken, she kneels beside his body and drinks handfuls of his blood—and later composes the extraordinary poem Caoineadh Airt Uí Laoghaire, a keen to lament the dead that Peter Levi will famously call "the greatest poem written in either Ireland or Britain during the eighteenth century." In the present day, a young mother narrowly avoids tragedy in her own life, and, upon rediscovering the poem she first read as a child, becomes obsessed with learning the full story of its composition.
In a kaleidoscopic blend of memoir, autofiction, and literary studies, Doireann Ní Ghríofa tells the mesmerizing story of her own self-discovery through her efforts to give voice to Eibhlín Dubh Ní Chonaill. A moving study of the power of language to transcend eras and draw together the intimate experiences of women's lives, A Ghost in the Throat is an astonishing story about one woman freeing her voice by reaching into the past and finding another's.
Doireann Ní Ghríofa is the author of six critically-acclaimed books of poetry, whose awards include the Rooney Prize for Irish Literature and a Seamus Heaney Fellowship (Queen's University). Her debut book of prose is the bestselling A Ghost in the Throat, which finds the 18th-century poet Eibhlín Dubh Ní Chonaill haunting the life of a contemporary young mother, prompting her to turn detective, and of which the Sunday Times writes: "Sumptuous, almost symphonic, in its intensity … As readers, we should be grateful for her boldness. Without it, we would not have had one of the best books of this dreadful year."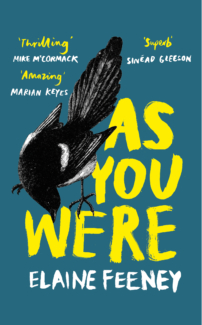 In her darkly humorous novel As You Were, Elaine Feeney tells the story of a young woman asking the questions most people never think to ask, or questions people typically keep to themselves. Who doesn't prefer confiding in Google and a shiny magpie rather than telling their loved ones the truth?
Sinead Hynes is a tough, driven, funny young property developer with a terminal cancer diagnosis—but no one knows it: not her fellow patients in a failing hospital, and certainly not her family. She has confided only in Google and a magpie. Yet she can't go on like this, tirelessly trying to outstrip her past and in mortal fear of her future. Across the ward, Margaret Rose is running her chaotic family from her rose-gold Nokia. In the neighbouring bed, Jane, rarely but piercingly lucid, is searching for a decent bra and for someone to listen. And Sinead needs them both. As You Were is about intimate histories, institutional failures, the kindness of strangers, and the darkly present past of modern Ireland;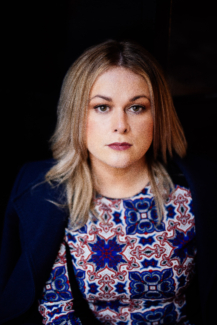 about women's stories and women's struggles; about seizing the moment to be free. Wildly funny, desperately tragic, inventive and irrepressible, As You Were introduces a brilliant new voice.
Elaine Feeney is an award-winning writer from Galway and teaches at The National University of Ireland, Galway. She has published three collections of poetry, including The Radio was Gospel and Rise and the award-winning drama, WRoNGHEADED with The Liz Roche Company. As You Were, her debut novel, was published in 2020 by Vintage. It was shortlisted for Novel of the Year at the Irish Book Awards and was included in The Guardian's top debut novels for 2020. It appeared widely in best books of 2020 including in The Telegraph, The Irish Independent, The Evening Standard, The Guardian, The Observer and The Irish Times.
PRAISE FOR A GHOST IN THE THROAT
 Winner of the 2020 Nonfiction Book of the Year from the An Post Irish Book Awards
Winner of the 2020 Foyles Nonfiction Book of the Year
Shortlisted for the 2021 Rathbones Folio Prize
Longlisted for the Republic of Consciousness Prize
"A Ghost in the Throat is something strange and very special: a ravishingly immersive telling of the way in which a poet and mother's obsession with a poet and mother who died centuries ago makes their different lives chime like bells."—Emma Donoghue, author of The Pull of the Stars and Room
"Past versus present, blood versus milk, birth versus death, the Irish language versus the English: dichotomies abound, but the questions of women's lived experiences and who history remembers link them all."—The Paris Review
"Lush, lyrical prose that dazzles readers from the get-go … sumptuous, almost symphonic, in its intensity … As readers, we should be grateful for [Ní Ghríofa's] boldness. Without it, we would not have had one of the best books of this dreadful year."—Sunday Times
"Sensational, genre-straddling work of scholarship and memoir."—The Guardian
"Ní Ghríofa's one-of-a-kind literary quest, the unflinching intimacy of her life writing, and the stunningly lush, sumptuous sentences through which she tells her story made us fall in love with this book. If you're anything like us you'll read it, and recommend it, fervently, and when someone turns around and says I read A Ghost in the Throat you'll recognize that look in their eye, and you'll know you're part of the same community of book lovers who have experienced something truly special."—Foyles Books
PRAISE FOR AS YOU WERE
A Guardian Best Debut of 2020
An Irish Times Best Book of 2020
Shortlisted for the 2020 Irish Book Awards Novel of the Year
Shortlisted for the 2021 Rathbones Folio Prize
"Funny, visceral, so well observed … I was blown away."—Douglas Stuart, Booker Prize-winning author of Shuggie Bain 
"An absolute tour de force: raw, sharp and wild. Elaine Feeney writes with such love for and understanding of her characters. It's the literary equivalent of a stiff drink beside a warm fire: a book that will rattle you before it settles you."—Lisa McInerney, author of The Blood Miracles 
"Riveting … I was exhilarated reading this"—Roddy Doyle
"As You Were was just (effing) amazing. Brimful of brilliant characters – what an exciting, visceral, poetic read. I adored the lack of sentimentality. Sinéad Hynes is complex and excellently realised – a role model too, for I found her (sometime) selfishness thrillingly refreshing. As You Were gives permission to Irish women to put themselves first, and considering what we've come from, that's seismic. Elaine Feeney is such a talent. I LOVED it!"—Marian Keyes
https://www.biblioasis.com/wp-content/uploads/2021/02/FolioPrize_blogheader-1-scaled.jpg
1024
2560
biblioasis
http://biblioasis.com/wp-content/uploads/2014/12/BIBLIOASIS-Logo-500x500-White-300x300.png
biblioasis
2021-02-16 16:38:13
2021-02-17 09:40:56
TWO BIBLIOASIS TITLES SHORTLISTED FOR THE 2021 RATHBONES FOLIO PRIZE