Summer is ending, and autumn is nearly here! For the month of September, our featured pick for the Biblioasis Spotlight Series highlights award-winning Quebec author Catherine Leroux with her English-language debut, The Party Wall (translated by Lazer Lederhendler). Read on for a deeply insightful note from Catherine, and be sure to keep an eye out later this month for an excerpt in our newsletter!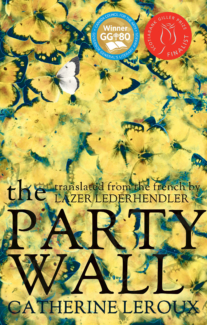 Winner of the Governor General's Literary Award for Translation • Shortlisted for the 2016 Giller Prize • Selected for Indies Introduce Summer/Fall 2016 • Winner of the Prestigious France-Quebec Prize • Nominated for the Quebec Bookseller's Prize
Catherine Leroux's The Party Wall shifts between and ties together stories about pairs joined in surprising ways. A woman learns that she may not be the biological mother of her own son despite having given birth to him; a brother and sister unite, as their mother dies, to search for their long-lost father; two young sisters take a detour home, unaware of the tragedy that awaits; and a political couple—when the husband accedes to power in a post-apocalyptic future state—is shaken by the revelation of their own shared, if equally unknown, history.
Lyrical, intelligent, and profound, The Party Wall is luminously human, a surreally unforgettable journey through the barriers that can both separate us and bring us together.
"…an intoxicating blend of the familiar and the uncanny, brilliantly executed … The Party Wall has the narrative force of a Hollywood film, while also offering richly executed portraits of the characters' interior lives."—Montreal Review of Books

"… superbly crafted … Leroux skillfully reveals the inner worlds of her achingly human characters and the intricate bonds that connect them to each other. Images from this beautiful and moving book will haunt readers."—Publishers Weekly
Catherine Leroux was born in 1979 in the Northern suburbs of Montreal. Her first novel, Marche en forêt, was published in 2011 by Éditions Alto. The Party Wall, her English-language debut published with Biblioasis in 2016, was selected for Indies Introduce for Summer/Fall, shortlisted for the Scotiabank Giller Prize, and won the Governor General's Award for Translation. Her subsequent novels, Madame Victoria and L'avenir were shortlisted and won various awards. Catherine lives in Montreal where she devotes her time between writing, translation and editorial work.
Get your copy of The Party Wall here!
Check out Catherine's third book, Madame Victoria, here!
A WORD FROM CATHERINE LEROUX
Canaries in the Coal Mine
I started writing The Party Wall in 2011. At the time, the book felt slightly hyperbolic, especially the chapters situated in the near future: Canada recovering from years of right-wing, divisive, autocratic government; the Prairies' soil gone sterile due to droughts; the coasts flooded by torrential rains. Political and racist violence permeating every sphere of life.
More than a decade later, it doesn't quite seem like an exaggeration anymore. Back then, the effects of climate change were akin to the first subtle, almost unreal symptoms of an illness, while today, they are unescapable in their devastating potency. The turbulence of the world in which Ariel and Marie evolved now seems tame compared to the schizophrenic landscape created by social and political leaders, both abroad and at home.
What are we to make of these stories, that could have been read a decade ago as anticipatory literary attempts to define still-hazy outlines on the horizon, now that these shapes have materialized into our new reality? I believe it's a matter of shifting one's perspective. Through the crises, the characters still love and fight and dream and fail. They still come to life regardless of the time in which they are read. Because of that, they remain capable of opening spaces in our minds where we can think and feel our present, where we may hold hope.
I've always liked the idea of novelists as canaries in the coal mine. I did wonder what they might do once the gas has filled the tunnel. For now, against all odds, they are still singing.
https://www.biblioasis.com/wp-content/uploads/2022/08/Leroux-Spotlight.png
800
2000
biblioasis
http://biblioasis.com/wp-content/uploads/2014/12/BIBLIOASIS-Logo-500x500-White-300x300.png
biblioasis
2022-09-07 10:42:51
2022-09-20 09:41:16
Spotlight On: THE PARTY WALL by CATHERINE LEROUX