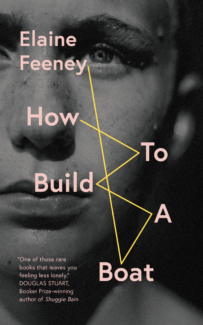 We're thrilled to share that this morning at 4 AM ET, the Booker Prizes announced the longlist for the 2023 Booker Prize. Among them is How to Build a Boat by Elaine Feeney which will be published by Biblioasis on November 7, 2023. 
The 2023 Booker judges on How to Build a Boat: "The interweaving stories of Jamie, a teenage boy trying to make sense of the world, and Tess, a teacher at his school, make up this humorous and insightful novel about family and the need for connection. Feeney has written an absorbing coming-of-age story which also explores the restrictions of class and education in a small community. A complex and genuinely moving novel."
"We fell in love with Elaine Feeney as a person and as a writer when we published her debut novel, As You Were, a few years ago," says Dan Wells, owner and publisher of Biblioasis. "We loved the beauty of her writing, the generous humanity of her characterization, while at the same time her unflinching willingness to explore the world in all of its at times uncomfortable complexity. How to Build a Boat, her second novel, brings all of these talents to the fore. What we're most grateful for with this Booker nomination is that it should help us bring more readers to Elaine's marvellous work."
How to Build a Boat was first published in the UK in spring of 2023, where it has since received wide acclaim. This is the third of Biblioasis' books to be nominated for the Booker Prize. Case Study by Graeme Macrae Burnet was longlisted in 2022, and Lucy Ellmann's Ducks, Newburyport was shortlisted in 2019.
 The Booker Prize was first awarded in 1969. Its aim was to stimulate the reading and discussion of contemporary fiction. The shortlist will be announced online on September 21, 2023.
Order your copy of How to Build a Boat from Biblioasis here!
A funny and deeply moving novel about a boy, his dream, and the people who lend him a hand, by the acclaimed author of As You Were
Jamie O'Neill loves the colour red. He also loves tall trees, patterns, rain that comes with wind, the curvature of many objects, books with dust jackets, cats, rivers and Edgar Allan Poe. At age thirteen, there are two things he especially wants in life: to build a Perpetual Motion Machine, and to connect with his mother, Noelle, who died when he was born. In his mind these things are intimately linked. And at his new school, where all else is disorientating and overwhelming, he finds two people who might just be able to help him.
How to Build a Boat is the story of how one boy and his mission transforms the lives of his teachers, Tess and Tadhg, and brings together a community. Written with tenderness and verve, it's about love, family and connection, the power of imagination, and how our greatest adventures never happen alone.
Elaine Feeney is an award-winning poet, novelist, short story writer and playwright from the west of Ireland. How to Build a Boat, longlisted for the Booker Prize 2023, is Feeney's second novel. Her 2020 debut, As You Were, was shortlisted for the Rathbones Folio Prize and the Irish Novel of the Year Award, and won the Kate O'Brien Award, the McKitterick Prize, and the Dalkey Festival Emerging Writer Award. Feeney has published three collections of poetry, including The Radio Was Gospel and Rise, and her short story "Sojourn" was included in The Art of the Glimpse: 100 Irish Short Stories, edited by Sinéad Gleeson. Feeney lectures at the National University of Ireland, Galway. 
https://www.biblioasis.com/wp-content/uploads/2023/08/Feeney.png
1000
2000
biblioasis
http://biblioasis.com/wp-content/uploads/2014/12/BIBLIOASIS-Logo-500x500-White-300x300.png
biblioasis
2023-08-01 14:31:58
2023-08-01 14:31:58
HOW TO BUILD A BOAT longlisted for THE BOOKER PRIZE 2023!